Prisoner with 'liquor bottle' stirs up Dhanbad Covid hospital
CM asks local authorities to investigate after pictures go viral on social media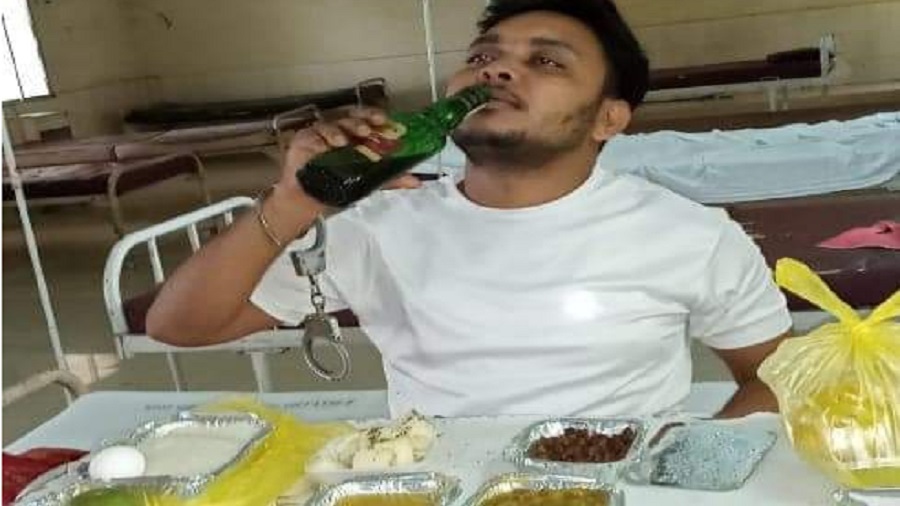 One of the photographs that went viral showing a prisoner drinking from what appears to be a liquor bottle at the Dedicated Covid Hospital in Dhanbad on Saturday
Shabbir Hussain
---
Dhanbad
|
Published 23.08.20, 06:34 PM
|
---
A photograph of a prisoner apparently drinking liquor at the district's Covid hospital that went viral on social media on Saturday night prompted the Dhanbad administration to order a probe and tighten vigilance at the BCCL-run health unit.
A team of officials led by Dhanbad SDO Raj Maheshwaram visited the Dedicated Covid Hospital within the Central Hospital of Dhanbad at Jagjivan Nagar and ordered a probe into the circumstances under which the prisoner was supposedly able to order liquor.
Several photographs of the prisoner went viral. In one, he is seen showing off what looks like a liquor bottle, while he is seated in front of a table with food in silver foil containers. Another shows him drinking from the bottle with his open handcuffs hanging from his right hand.
The photographs were tagged to chief minister Hemant Soren's twitter handle on Sunday morning at 8.27am after which Hemant Soren directed Dhanbad deputy commissioner Uma Shankar Singh to investigate the matter.
"We have carried out a detailed investigation into the issue and interacted with everyone, right from ward boys to others. We will submit a detailed report before the deputy commissioner," SDO Maheshwaram told the media, adding that FIRs would be lodged against all those involved.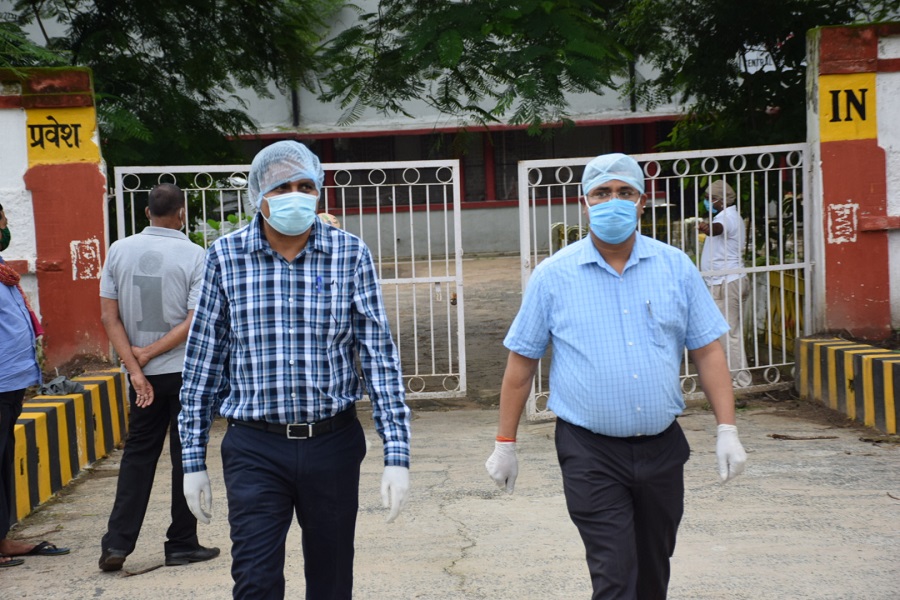 The SDO said the administration would take strict action against the prisoner who was handcuffed again on Sunday morning.
The prisoner, who was arrested for extortion and assault, however, tested negative for Covid after an RTPCR confirmatory test was conducted on Sunday. "We will, therefore, hand him over to Katras officials who will send him to jail," said nodal officer of the Covid hospital Dr Alok Vishwakarma.
The prisoner, a resident of Shiv Muhalla locality of Katras, was questioned by the SDO and Baghmara DSP Nitin Khandelwal in the presence of the nodal officer. "During questioning, the prisoner said he requested a constable to loosen his handcuffs as he wanted to take a bath. That is how the handcuffs came off," said Dr Vishwakarma.
Maheshwaram explained the prisoner was subjected to a rapid antigen test for Covid as per norms. Once he tested positive, he was sent to the dedicated Covid hospital.
Asked how he could organise liquor in the hospital, the SDO said he had asked Bharat Coking Coal (BCCL) officials who run the hospital to better administer the premises. "We have asked them to note details of all those coming to the hospital to meet patients," the SDO said.
"We have also made arrangements for screening of material going inside the hospital so that incidents like this can't be repeated in future" said Maheshwaram.
Facilities at the dedicated Covid were always scant, patients have claimed. On July 7, a group of patients held a demonstration and threatened to go on hunger strike after insects were found in vegetables served for breakfast.
The next day, a group of 23 journalists admitted there complained of irregular and poor quality of food and the lack of cleanliness. Again, on July 21, patients staged another demonstration renewing their complaint about poor hygiene and inadequate facilities, namely, lack of drinking water at night.
Doctors have also complained about cleanliness. It was only after they raised a hue and cry, that BCCL authorities provided them with proper furniture which they could use for rest.
BCCL has changed the catering contractor. But owing to repeated complaints about poor upkeep, a new house-keeping agency has been recruited. It will begin work from Monday.