President's Medal for 7 Jharkhand cops
3 feted for key operation to nab dreaded Maoist from a crowded football field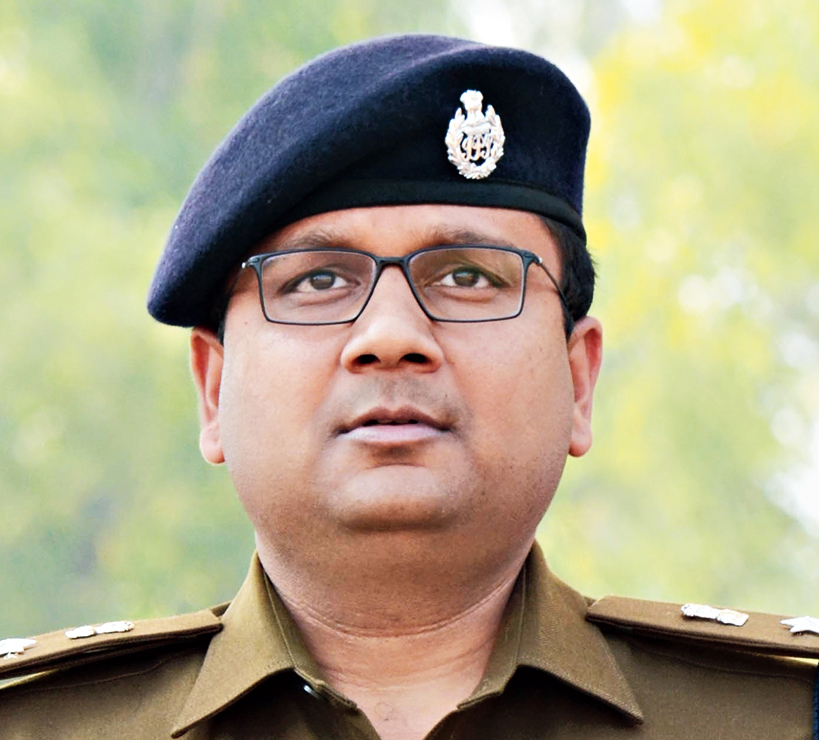 Anish Gupta
The Telegraph file picture
---
Ranchi
|
Published 25.01.19, 06:35 PM
|
---
As many as seven personnel of Jharkhand Police will be awarded the President's medal, according to a communiqué issued by New Delhi on the eve of Republic Day on Saturday.
A list of awardees released by the Union home ministry states Ranchi SSP Anish Gupta, West Singhbhum ASP (operation) Manish Raman and his bodyguard Raju Soy will be feted for gallantry.
Four others — DSP rank official posted in Jamshedpur Sudhir Kumar, ASI Devendra Kumar Singh posted in Ranchi traffic police and Bokaro constables Bhanu Pratap and Praful Kiro — will be rewarded for meritorious service.
"This is a moment of pride for Jharkhand Police. They will be honoured with a medal and citation. The home ministry will announce a schedule later," Jharkhand Police IG (HR) Naveen Kumar Singh said.
Singh said the names of the prospective candidates, picked through a rigorous selection process, were recommended by Jharkhand Police to the home ministry.
Soft-spoken Gupta, a 2008 batch IPS, had started his career as Ghatshila SDPO and is known for his people-friendly image.
"Never in my wildest dreams did I think of getting selected for this prestigious medal. I want to share my joy with all the law-abiding citizens of Jharkhand," Gupta, who joined as Ranchi SSP in February last year, said.
Raman was a CRPF officer before he became the ASP (operations) in West Singhbhum.
He joined the CRPF in 2006 and was posted in West Singhbhum from August 2015 to lead anti-Naxalite operations.
His name was recommended from the state quota.
Soy, another braveheart, is his bodyguard.
"I am overwhelmed. As security personnel, we try to maintain the dignity of the uniform and protect civilians and the state from rebels," Raman said.
Gupta was West Singhbhum SP when a team of five, including himself, Raman and Soy, had nabbed dreaded CPI(Maoist) rebel Sandeep on November 2, 2017.
Sandeep, a special area committee member carrying a reward of Rs 45 lakh on his head, had come to watch a football match at Rocket grounds in Jetia, about 17km from the district headquarters.
"It was a golden opportunity, but full of risks because we had no time to plan a strategy. We had to catch him amid a 5,000-strong crowd. We knew that we couldn't use weapons because innocent civilians would have suffered collateral damage," Raman said.
Raman along with Gupta and Soy came to the ground while two other cops were asked to stay alert about 250 meters away.
"We overpowered an unsuspecting Sandeep and whisked him away. It was a quick and successful operation," Raman added.
ASI Devendra Kumar Singh is known for his efforts that frequently go beyond the call of duty. He joined police in 2000 and was transferred to Ranchi traffic police in 2016.
State and district police acknowledged his service with a cash prize and citation at least on 72 occasions.
If Devendra finds a lost moneybags, documents or mobile phones, he not only tracks the owners concerned, but also ensure safe delivery of the items.
The elderly, children and patients caught in traffic snarls have often found a helping hand in Devendra .
"Good behaviour in cops impresses civilians. An elderly person was injured in a road accident near Argora traffic post last year. While passers-by were filming the incident, Devendra quickly called an ambulance and alerted cops at other traffic signals to ensure the ambulance is not caught in any snarl. He is a good human being," an employee in the traffic department said.
Devendra said the President's medal was huge honour him.
"My children and wife are happy. People's love and respect are the biggest assets for me," he said.
Bhanu Pratap and Praful Kiro, both belonging to 1999 IPS batch — are deputed at Bokaro civil court and Bokaro police lines, respectively.
Rupesh Kumar, a constable at Bokaro police lines who have worked with both, said, "They have shown exceptional integrity and honesty during their 19 years of service have never been punished so far,"
Bokaro SP Karthik S. said the duo would be handed over the medals at the state foundation day on November 15.