Powerful poll barbs fly in Dhanbad
Aged man can't even walk four steps: Raj Sinha on rival candidate Mannan Mallick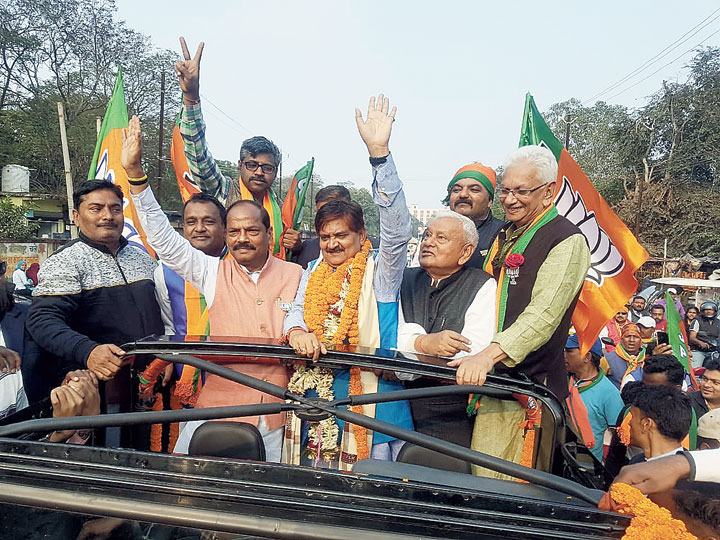 ---
|
Dhanbad
|
Published 14.12.19, 08:47 PM
---
Barbs are flying thick and fast in Dhanbad Assembly seat even as people bemoan the dry taps, the power cuts and traffic jams, the lack of even an interstate bus terminus, let alone an airport.
Attacking the age of his rival, BJP sitting MLA Raj Sinha, 58, said the Congress had fielded Mannan Mallick, 74, only to appease "a community" when the "aged man can't even walk four steps".
"Even I won't be able to walk at his age but the Congress made him their candidate to appease a community as part its divisive agenda," charged Sinha, accusing Mallick of not carrying any development work during his tenure as MLA between 2009-14.
Sinha, while speaking at the Narendra Modi rally in Dhanbad on December 12, added he recently got an invitation from a media house for a debate on Dhanbad's development. "I asked the organisers who will be opposite me. I was told Mannan Mallick. I put forward the condition that I will participate only if Mallick is there but I am still waiting for the call. I know he will never come face to face with me on a debate on development. He never carried out any development work during his tenure."
A day ahead of that, Mallick while campaigning in Nutandih, Dhanbad, called Dhanbad ke vidhayak (MLA Raj Sinha) busy in jumlebaazi (false promises) while roads are getting worse by the day. He also attacked Sinha on not giving clear answers on inflation.
"Residents of Dhanbad are deprived of basic facilities such as water, power and roads. They are not interested in communal and divisive Hindu-Muslim issues," said Mallick.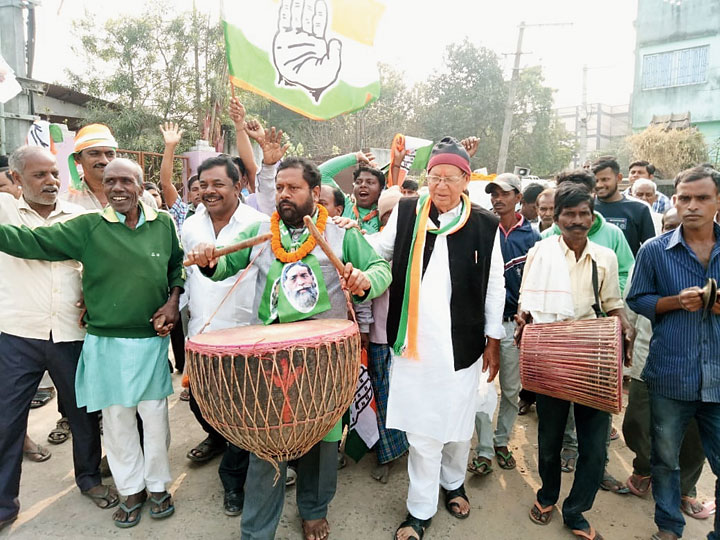 Mallick, a science graduate and lawyer, in his rallies, makes it a point to speak on the development work carried out by him between 2009 to 2014, including the revival of the closed state Medha dairy unit at Barmasia, construction and repair of several roads and work to improve water supply in Dhanbad.
Mallick, who defeated Raj Sinha in the latter's debut election in 2009 by a wafer-thin margin of 902 votes, is also trying to cash in on the discontent among Dhanbad residents at the failure of BJP dispensation to start an airport in the coal capital, and instead allot it to Bokaro.
Mallick also rubs in the irregular water and electricity supply and lack of flyovers in Dhanbad as failures of the ruling party.
Sinha, a history postgraduate who entered active politics in 1996 after being appointed the district president of the youth wing of BJP, became the district general secretary of party in 2002. He narrowly lost his first election in 2009, but defeated Mallick in 2014 by a convincing margin of 52,997. Harping on the BJP's nationwide development work, Sinha said: "We will complete the rest of the work, roads, water supply and even establishing an airport in the next tenure."
Voters in Dhanbad know their quality of life is hampered. Sanjay Sinha, cyber café operator at Binod Market in Hirapur, said: "Water is a basic issue, so is power. We find it hard to run our business due to power cuts."
Pharma sales representative Dharmendra Kumar said it was tedious to visit doctors and medicine distributors at various places of the town due to traffic jams. "Flyovers would have helped," he said. "I would like the next MLA to concentrate on bringing the project of flyover to the coal town as his first priority."
Dhanbad votes on December 16