Potters optimistic but sales yet to pick up for Diwali
Focus on clay idols this year keep hopes afloat despite business loss and meagre profit margin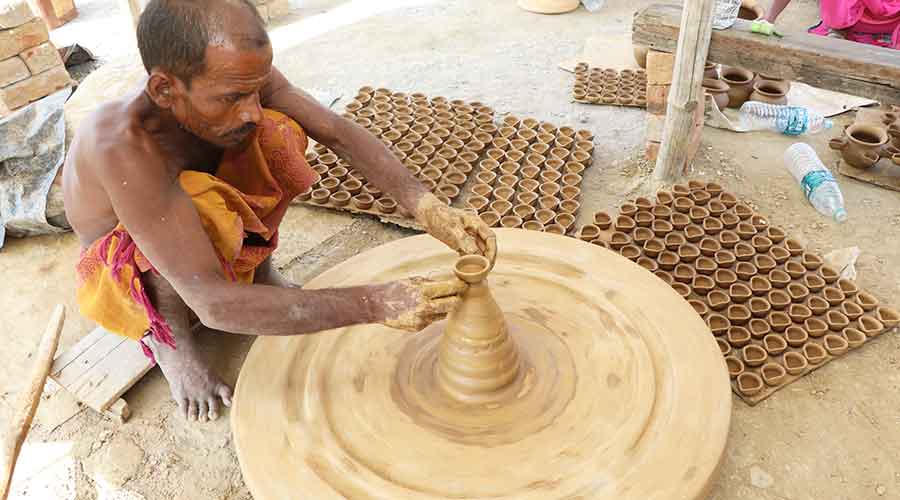 ---
---
Potters in steel city are preparing earthen lamps (diyas) for Diwali but with little hope of sale during the Covid pandemic.
"We have been making earthen lamps for over half a decade now, however, demand is very low this year due to the pandemic," said Anil Kumhakar , a potter at Kumhar Para in Baradwari.
Already hit by the pandemic, potters who failed to do business during the just concluded Durga Puja complained of minimal sale, business loss and meagre profit margin during the Diwali festivity too.
Dhanbad potters on the other hand are expecting better business during this Diwali since people are focusing on clay made articles including idols and diyas.
Jitendra Pandit, a potter of Kumharpatti locality said, "the recent turn of events like call of prime minster to light diyas during the initial phase of lockdown on April 5 and also for lighting earthen diyas during the Bhumi Pujan of Ram Temple at Ayodhya has brought the focus on earthen diyas and we hope that the situation will be better this year for us as people are expected to celebrate Diwali with traditional spirit."
"Our profession was on the down since the last two three decades due to the arrival of Chinese lights in the market but the situation has slightly improved this year," said Jitendra who works at a school dress making unit.
"Nobody can survive with the sole income of clay pot making which is a declining trend," he said.
The Covid-19 protocols have restricted the scope of celebrating Diwali like previous years in order to curb public gathering and maintain social distancing to prevent new cases of infections.
"We are taking risk by investing our money for making products for sale during Diwali. These earthen lamps would usually be sold days ahead of the festival but this time the sale looks difficult in the pandemic. Everything is in God's hand," said another potter.
Officials of civic bodies like Jamshedpur Notified Area Committee ( JNAC ) and Mango Notified Area Committee (MNAC ) have started visiting places in Sakchi, Mango and Sonari where members of the potters community reside to keep a check on whether they are following Covid-19 protocols while preparing the earthen lamps.
A Potter in Sonari pointed out, "People are hesitant to visit us to avoid any infection so that's why we're keeping fingers crossed and not hoping for a bumper sale like previous years during Diwali."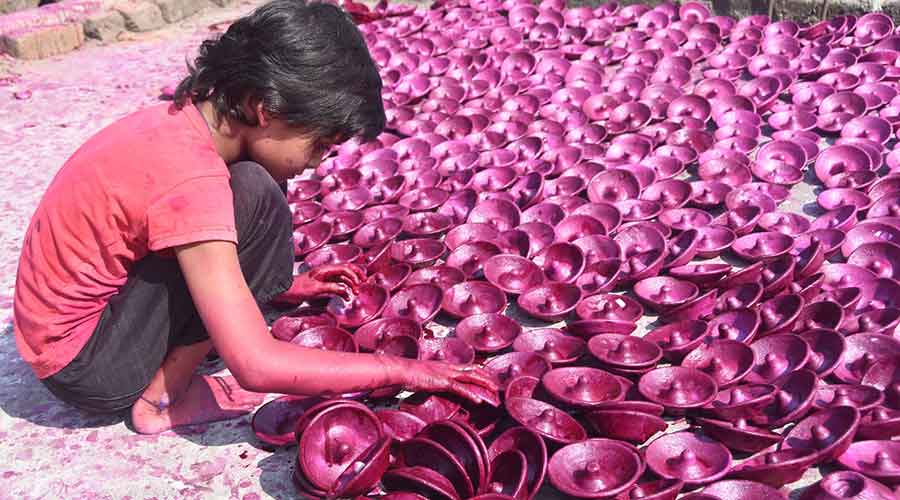 Rajendra Pandit, from Dahuatand locality of Dhanbad, said, "We have procured two trucks of clay this year instead of only one truck during the last year as we are expecting better business this year."
"We have also received some orders for the clay idols of Laxmi and Ganesh but the clay toys and Gharonda orders are yet to come," said Rajendra.
"We would request the administration allow us to sell our products on the road side for two three days ahead of Diwali as we can afford to have permanent set up for sell of such articles which have only seasonal demand" said Rajendra.
Surendra Pandit of Kumhar Patti locality said, "we are optimistic about good sell this year and therefore working with full potential and one of reason for the our expectation is also the trend of all festivals being celebrated with simplicity this year due to impact of lockdown and pandemic and the best way to celebrate Diwali should lighting earthen diyas rather than insisting flamboyance spending lot of money on crackers etc."