Portal soon for Covid patients' kin in East Singhbhum
Tool will keep family members updated on the condition of those admitted at hospitals and care centres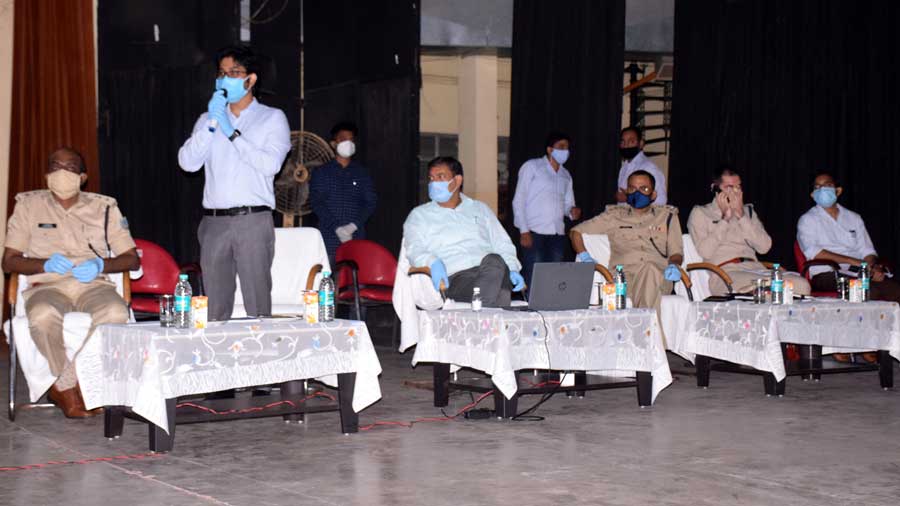 ---
---
Family members of Covid-infected persons who are admitted at various hospitals will no longer be anxious about the patients' condition as the East Singhbhum district administration will soon develop a portal to bridge the gap.
Each of the Covid-designated hospitals in the steel city will have a system through which the family members of each patient will know his or her condition by means of a portal.
A decision to this effect was taken at a high-level meeting of administrative officials, district health officials and representatives of various hospitals at Ravindra Bhawan in Sakchi on Tuesday.
The meeting was presided over by Kolhan commissioner Manish Ranjan and attended by, among others, deputy inspector-general (Kolhan) Rajiv Ranjan Singh, East Singhbhum deputy commissioner Suraj Kumar, senior superintendent of police M. Tamil Vanan and district civil surgeon Rajendra Nath Jha.
"It was a review meeting related to Covid-19 case detection in the district and treatment at the various hospitals. But the main focus of the meeting was how to increase the number of beds for coronavirus patients and intensify testing of suspected patients," the civil surgeon told The Telegraph Online.
Jha pointed out that stress was laid on better coordination among private labs that conduct testing for Covid-19 so that the pandemic can be tackled more effectively.
On the proposed portal, the civil surgeon said the district administration has been instructed by the Kolhan commissioner to develop such a website as soon as possible so that the patients' kin may not have to remain anxious about their condition at the hospital.
During the meeting, which started at 11am and continued till 3pm, the management of various hospitals, including Tata Main Hospital, Tata Motors Hospital, Mercy Hospital and MGM Medical College Hospital, expressed their views on various matters, including the scope for increasing the bed capacity for the treatment of the Covid-19 patients.
The number of coronavirus cases has crossed the 12,000 mark in the East Singhbhum district. In the past 24 hours, 429 new cases were detected, taking the total number to 12,246. The new cases were detected following rapid antigen testing of about 10,000 samples.
Seven persons died of Covid-19 in the past 24 hours, taking the total number of deaths in the district to 300.