Pollution scan on Jharkhand rivers
A campaign would see assessment of pollution levels of two important rivers, Subernarekha and Damodar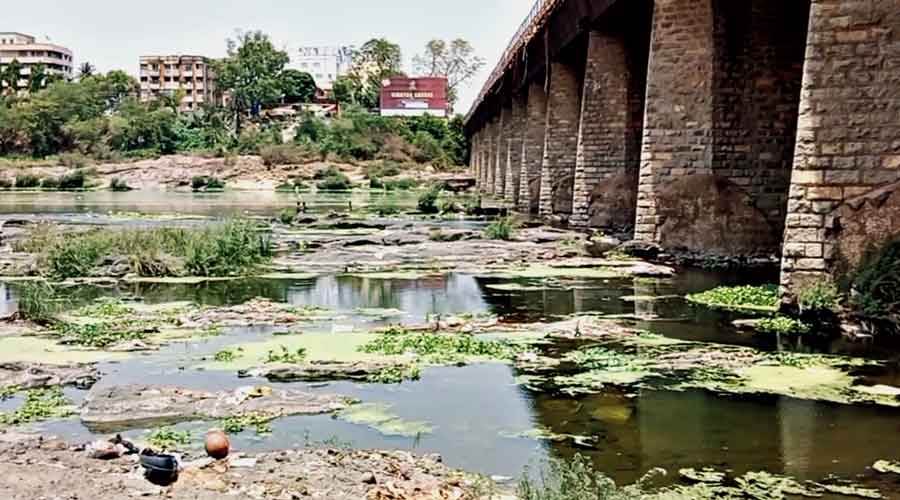 Water hyacinth, puja paraphernalia and waste along River Subernarekha in Jamshedpur.
Bhola Prasad
---
Jamshedpur
|
Published 05.05.22, 01:45 AM
|
---
Several NGOs espousing the cause of river conservation, environment protection and biodiversity will join hands in assessing pollution levels of two important rivers, Subernarekha and Damodar, in Jharkhand.
The campaign has been planned under the patronage of Independent MLA and former cabinet minister Saryu Roy and would have NGOs such as Yugantar Bharati, Nature Foundation, Damodar Bachao Andolan (save Damodar movement), Subernarekha Kshetra Vikash Trust and Damodar Kshetra Vikash Trust beginning pollution assessment tour of Subernarekha from May 22 on the occasion of International Day for Biodiversity.
"The assessment visit of Subernarekha will be between May 22 and 24 and begin at Nagri and Dhurwa in Ranchi, followed by visit to Tatisilve, Namkum and Muri (all in Ranchi) and Chandi (in Seraikela-Kharsawan district) on May 23 and culminate with visit at Bahragora Mosaboni and Jamshedpur on May 24," said Saryu Roy, who represents Jamshedpur East constituency in the Jharkhand Vidhan Sabha.
"Similarly, the pollution assessment visit to Damodar river would begin from June 5 to mark the World Environment Day and it would start with tour to Maithon, Sudamdih, Jharia and Dhanbad, followed by visit to Chandrapura and Bokaro on June 6, Bokaro Thermal, Tenughat and Ramgarh on June 7, Patratu, Bhurkhunda, on June 8 and culminate with visit at Chandwa and Chulhapani in Latehar on June 9," added Roy.
"On June 9, there will be workshops, seminars and worship of river simultaneously at 30 sites of Damodar to create awareness among masses on river protection and prevention of pollution of water bodies," said M.K. Jamuhar, the convenor of the assessment tour.
"Due to activities of NGOs like Yugantar Bharati, Nature Foundation and movements by people's organisations, the pollution level at Damodar had nosedived during the Covid-induced lockdown. However, with the relaxation of Covid directives and with the start of industrial activities, the pollution level due to industrial effluents at river is increasing daily which is causing direct and indirect adverse impact on community health," added Jamuhar.
Apart from collection of samples at river banks to gauge pollution level indexes, documenting the impacts on animals and testing of soil samples from near the rivers to be carried out by the NGOs with help of students from various universities and colleges.
There will be efforts to spread awareness on environment and water bodies conservation through presentation of skits, dramas, plantation of saplings and cleaning of river banks with help of masses.
"We would appeal to civic bodies, state pollution control board to work together and people should also join this campaign as it is a social issue," said Roy.
The assessment tour would test samples of water collected from rivers for dissolved oxygen (DO), pH, dissolved solid (TDS) and hardness and also measure levels of iron, calcium, magnesium, cobalt, nitrate, cadmium, lead and zinc in the water.