Pollution protest near mill
Protesters from villages around the rice mill raised slogans against the mill's poor dust management methods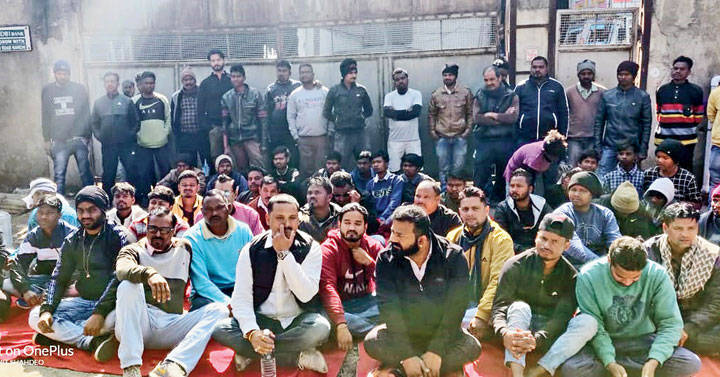 ---
|
Ranchi
|
Published 11.01.20, 07:12 PM
---
Around 300 people staged a demonstration on Saturday in front of Shakambari Rice Mill in an industrial area in Tupudana to protest against the pollution caused by the facility .
The demonstration, which started around 8 in the morning, continued till 2.30pm.
Protesters from villages around the 5km periphery of the rice mill raised slogans against the mill's poor dust management methods.
Residents of villages such as Balsiring, Bemat, Jojosiring, Kuta Toli and Tonko said they were most affected by the pollution.
"Effluents from the mills have polluted water bodies in our villages. The dust pollution makes breathing difficult for us. We can't even dry washed clothes in the open. Our houses have become dirty. If the mill owner does not take proper action to control pollution, another protest will take place soon," Rajesh Nayak, who took part in the demonstration, said.
Deepak Mahto, another agitator, supported Rajesh.
"Ranchi was known for its clean environment, but now the situation is completely different. All types of factories are being run here at the cost of the environment. Through this demonstration, we want to draw the attention of the authorities concerned towards the problem of rising pollution," Mahto said.
Mill owner Anish Gupta said he would soon initiate steps to control the dust pollution.
"We had taken measures earlier, too, but they didn't prove effective. Now we have planned to take the help of experts to ensure that villagers do not suffer," Gupta said.
A mill employee, however, said the task was not easy.
"Dust is generated during dumping of rice at a place for packing in gunny bags, cleaning of paddy grains and removal of husk and polishing. Controlling it is not easy. Other mills in the locality also contribute to pollution, but villagers chose to protest against our mill. Some local politics is also involved in this," the employee said.
Member-secretary of Jharkhand State Pollution Control Board Rajeev Lochan Bakshi said the issue would be looked into.
"So far, none of the villagers affected by pollution has has approached the pollution control board. Once the matter officially comes to our knowledge, we will look into it seriously," Bakshi said.