Police solve UP contractor murder case in Giridih
A special investigation team, headed by sub-divisional police officer Navin Kumar Singh, has arrested all the five accused in the homicide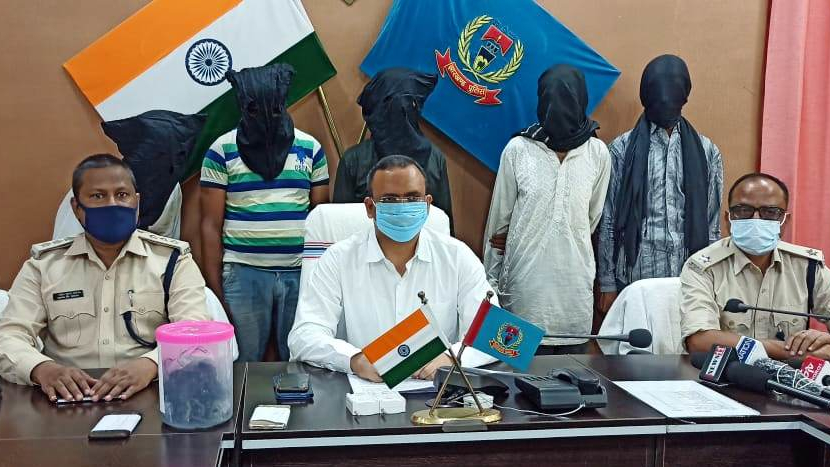 SP, Giridih, Amit Renu with the five accused in the contractor murder case.
Telegraph picture
---
Bokaro
|
Published 21.09.20, 04:58 AM
|
---
Police have solved the murder of a contractor from Uttar Pradesg, whose headless body was found in a farmland at Parsan, Jamuniataad under Dhanwar police station, 21 days ago. 
A special investigation team headed by sub-divisional police officer (SDPO) Navin Kumar Singh, has arrested all the five accused in the homicide.
Amit Renu, SP, Giridih, said that it was one of the difficult murder cases the police team handled here.  After the body was found, a massive search operation was conducted in the area. Almost 24 hours later, the severed was found in a water-filled pit, situated 500 meters away from the spot where the body was discovered.
Neighbouring districts were notified to determine the identity of the person, but it did not throw up any leads. More than a week later, information relating to a missing man of similar age was received from Bhadoi police in Uttar Pradesh.  
Satyanderanath Mishra (39) alias Dablu alias Pandit, an affluent contractor from Bhadoi, left his house on 30 August, saying he was going to celebrate Muharram with his friends Maksud Ansari and Ibrahim Ansari at their native place in Giridih.
His brother Harenderanth Mishra and other relatives came to Giridih and confirmed that the deceased was Pandit on seeing his photos, clothes and shoes. .
Acting on information, police conducted a raid and arrested Ibrahim from his house in Herodih. During interrogation, Ibrahim confessed that he and his cousin Maksud worked in a construction company at Kolapur area in Bhadoi. They got acquainted with Pandit as he was a local contractor. After sometime, Maksud borrowed two lakh rupees from Pandit, but failed to return it on time. This prompted Pandit to visit Maksud's house and ask for his money. During his visits, he came in contact with Maksud's wife and developed an affair with her.
When Maksud came to know about this, he asked Pandit to stop visiting his house. But he did not listen, and continued with his visitations during his absence. Maksud shared his agony with Ibrahim and other close ones in Giridih and hatched a plan to kill Pandit.
The SDPO informed that the police also arrested Maksud Ansari, his father Navi Miya, and Ibrahim's father Khalil Miya, along with two of their friends Hazart and Nizam Miya. 
Following his arrest, Maksud confessed to the crime and said that his father Navi Miya supported his decision to kill Pandit. 
Maksud and Ibrahim drove down to Giridih with Pandit, where Hazarat and Nizam were waiting for them. They purchased alcohol and chicken on the way and partied on the farmland. 
Pandit was made to consume liquor and marijuana in excess to get him incapaciated. Maksud then beheaded him and disposed of the head. Later, they went to Ibrahim's house and burnt their own blood stained shirts, along with Pandits mobile, belt and wallet. 
The police have recovered four mobile handsets, two motorbikes and ashes of the deceased's mobile and wallet.