Police release photos of PLFI chief, henchmen
Awards promised for information on breakaway faction of Maiosts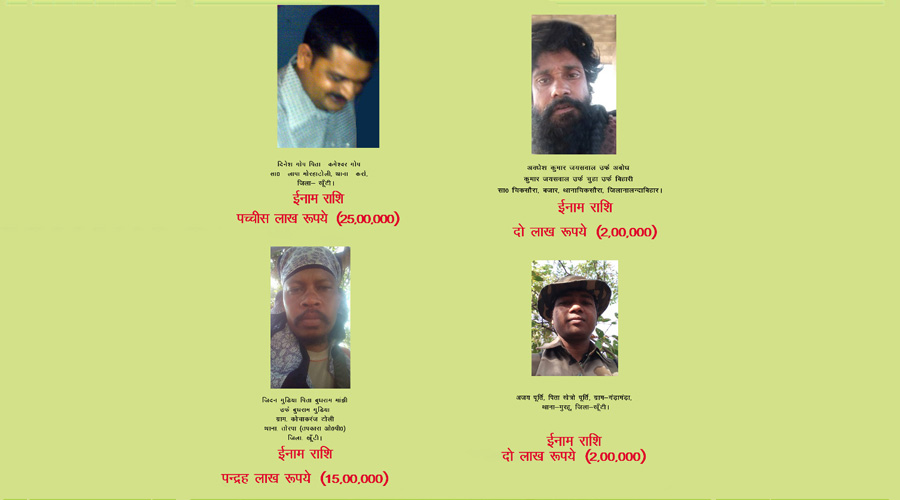 Pictures of People's Liberation Front of India (PLFI) leaders that have been released by police in Ranchi on Friday.
Telegraph picture
---
Ranchi
|
Published 04.12.20, 07:05 PM
|
---
Jharkhand police on Friday released photos of Dinesh Gope, the chief of People's Liberation Front of India (PLFI), and six operatives of the breakaway faction of CPI (Maoists), seeking information about their whereabouts and also announced cash rewards for those who provide tip-offs.
An official statement from police headquarters read: "Anyone having clues about these PLFI rebels and their illegally amassed properties may inform DIG (Ranchi) at 9431706118, Ranchi SSP (9431706136), Khunti SP (9431706116), Gumla SP (9431706376), Simdega SP (9431116444) or Chaibasa SP (9431706451). The identity of the informants will strictly remain confidential and those giving successful tip-off will be given the entire cash amount registered against the rebel."
PLFI supremo Gope, who is wanted in over dozen cases of arson, extortion, and murders, among others, in Ranchi, West Singbhum, Simdega, Gumla and adjoining districts, is carrying a reward of Rs 25 lakh on his head. 
The six PLFI rebels on the state police's most wanted are Jiden Guriya with a Rs 15 lakh reward on his head, Tilkeshwar Gope, alias Rajesh Gope, with a reward of Rs 10 lakh, Awadesh Kumar Jaiswal, alias Abodh Kumar Jaiswal, alias Chuha, alias Bihari, with a reward of Rs 2 lakh. Also, Ajay Purti, Sanichar Soren and Mangra Lugun are carrying rewards of Rs 2 lakh each on their heads. Awadesh is from Nalanda (Bihar), Sanichar from Gumla, Mangra from West Singhbhum and the rest are from Khunti district.
An officer said the move to release pictures is a part of the police's drive against the extremist forces. 
"While police are constantly undertaking anti-Naxalite and anti-PLFI operations, it is now seeking public support to flush them out from the state. The Covid-19 induced nationwide lockdown has dented the flow of illegal money to rebel camps. As a result, they are now trying to instil fear among people by resorting to extortion for sustenance. Without enough resources, they are even trying to set up bases near urban pockets using different covers and this will be the right time to hit them hard," he said.