Police on Saturday arrested five dreaded extremists of Jharkhand Prastuti Committee (JPC) from the forests of Jamuari under Katkamdag block in Hazaribagh district.
Announcing this success, Vishnugarh sub divisional police officer Om Prakash on Sunday said information came to them that notorious extremists and former JPC commander Basant Ganjhu alias Purushottam Ganjhu was present in Jamuari with one of his associates. He said Basant was planning to commit some big crime in this area.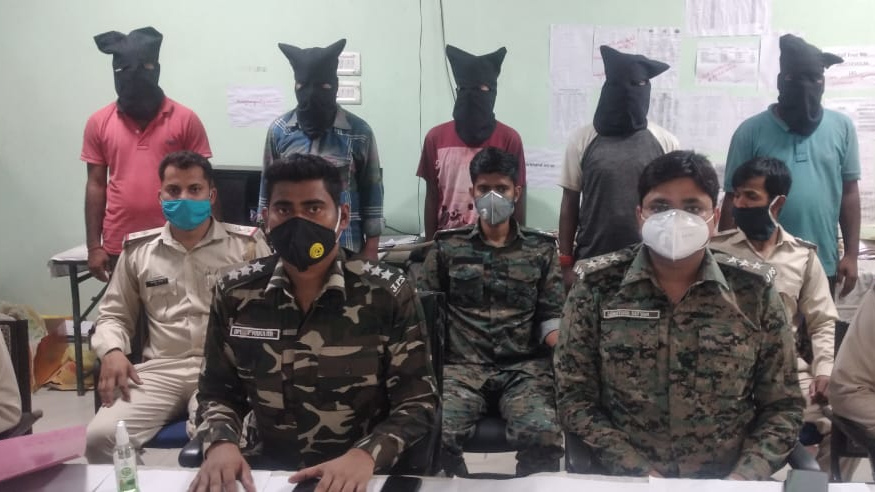 Police officials with arrested five extremists in Hazaribagh on Sunday. Vishvendu Jaipuriar
Om Prakash said he led a team raiding that area and arrested Basant with Baijnath Rajwar from the spot.
"Basant was wanted in around 22 different cases lodged in police stations of Hazaribagh, Giridih
and Chatra. On their information, we arrested their other associates RajeshKumar Yadav, Mohammad Waris and Sanjay Kumar Pandey from different places of Hazaribagh and Chatra. We have recovered pistols from each of the five," he said, adding that other than five country-made pistols, they have recovered 23-live bullets and five smartphones from their possession.
He said Chatra police also co-operated in this operation with Tandwa sub divisional police officer Ashutosh Satyam and his team, who was also part of this operation.
Bandh observed in Huntergunj against erratic electricity
All shops and other business establishments remained closed and vehicles remained off the road to protest against the erratic power supply in Huntergunj block of Chatra district on Sunday.
The bandh was called by residents, who were angry with the negligent attitude of the electricity department officials. They said that since the last few days they were facing regular power cuts and the area gets power only for one or two hours a day.
"We don't want electricity, better take away your poles, wires and meters. We don't need it now," residents shouted in anger.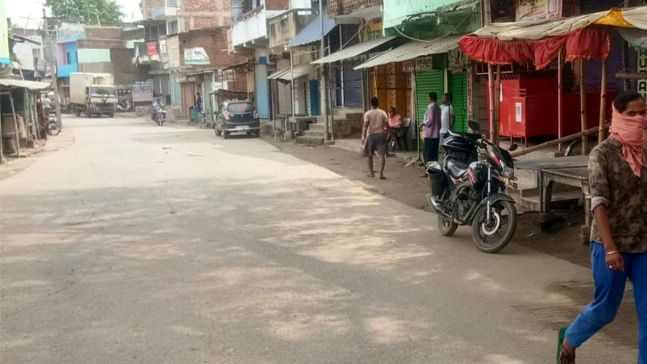 Shops remained closed in Huntergunj of Chatra on Sunday. Vishvendu Jaipuriar
On Saturday evening, residents took out a rally raising slogans against the officials and said if the situation does not improve then they will launch phase-wise agitation.
Residents said they want permanent posting of assistant engineer and junior engineer rank officials at Huntergunj so that they can approach them easily followed by action.
Protest for jobs in Dhanbad fertilizer factory
Members of a local organisation, Vam Janwadi Sangharsh Morcha on Sunday staged a demonstration in front of Hindustan Urvarak and Rasayan Limited's (HURL) upcoming fertilizer factory at Sindri demanding Jobs for the local residents in the factory.
The protestors also burnt the effigy of HURL administration.
President of Vam Janwadi Sangharsh Morcha, Nripendra Jha said, "When the government is laying stress on providing jobs to local people, the HURL management is neglecting local residents and instead providing jobs to outsiders through different contractors."

Four bike-lifters arrested in Dhanbad
Dhanbad police on Sunday arrested four bike-lifters including Prince Kumar and Md Saif of Hariharpur police station area, and Md Salman and Sunil Kumar of Chandrapura police station area, and seized five bikes from their possession.
Bagmara DSP Nitin Khandelwal said, "We arrested two persons Prince and Saif first in connection with a bike theft case from Hariharpur police station, and later on their identification arrested two more persons Sunil and Salman from Chandrapura police station area."