Police crack Jemco trader murder case, 6 arrested
Shooters were hired for the incident that took place in broad daylight on Thursday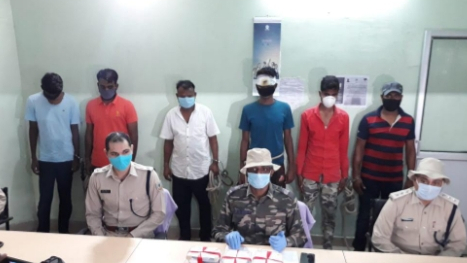 ---
---
In a major breakthrough, the police on Sunday solved trader Moni Das's murder case by arresting six persons within 72 hours of the incident that had taken place at Jemco under Telco thana area on July 30 in broad daylight.
Those arrested were identified as Nitesh Singh (28), Sunny Thakur (20), Bablu Das (34), Pavan Kumar (19), Pankaj Majhi (20) and Rohit Mishra (22), all residents of Telco localities.
The police seized two pistols, which had been used in the murder, and five cell phones.
The murder was conspired over encroachment of government land and also supply of building material by the victim. Moni had a criminal background and was arrested for allegedly killing one Birre Singh at Telco in October 2010. After he was released from jail on getting acquitted in the case in 2018, he had started a business of building material supply and had also allegedly started grabbing government land in Telco and Birsanagar area.
While running his business Mahanand Nagar-based 33-year-old Moni had apparently developed enmity with Bablu Das, who is also a resident of the same area.
Senior superintendent of police M Tamil Vanan said Bablu Das was the main accused, who had conspired Moni's murder by engaging paid shooters.
"Soon after Moni Das (33) was shot dead at his brother Kishore Das's hardware shop on July 30, we had set up a special investigation team (SIT) led by the superintendent of police (city) Subhash Chandra Jat, who successfully cracked the case within 72 hours of the incident. The SIT had taken help of the technical cell of the district police for tracing the criminals. Two of them are currently lodged in Ghaghidih Central Jail," said Vanan while talking to reporters.

The senior SP pointed out that Bablu Das had arranged the shooters through one Bhim Kamath, who's presently lodged in the Central Jail. Kamath passed the buck to another jail mate Krishna Gope, who in turn arranged the shooters by contacting two others, Nitesh Singh and Sunny Thakur. Nitesh and Sunny had finally hired the shooters identified as Rohit Mishra and Pankaj Majhi, and murdered Moni by pumping bullets into his chest.
Vanan said that the case was very complex one as there was no CCTV footage available for tracing the shooters and conspirators associated with the case, but the SIT succeeded in nabbing the culprits, who have in fact confessed their crime.