Police bust wife plot to kill forest officer husband
Hazaribagh police nab contract killers, woman absconding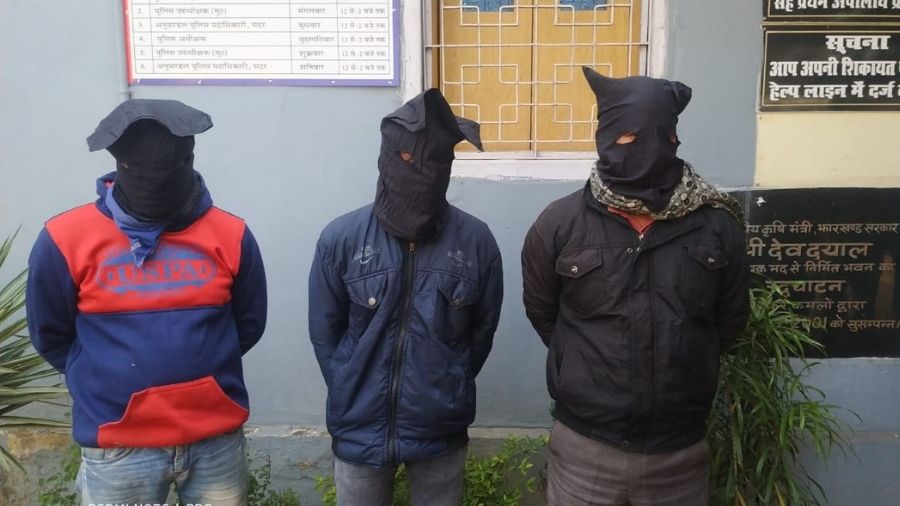 ---
Hazaribagh
|
Published 08.12.20, 09:46 PM
|
---
In a dramatic move, the Hazaribagh Police saved a forest officer's life, whose wife had plotted his murder by hiring three contract killers. 
Superintendent of Police Karthik S on Tuesday confirmed the arrest of the three killers, Naveen Rana, Indad Hussain and Mohammad Noman, who were paid Rs 90,000 in advance by the officer's wife to execute the murder. 
The officer, a native of the Meru village near Hazaribagh, is posted at Gaya in Bihar and lives in a rented house with his wife.
The police, according to Karthik, received a tip-off, based on which they put the trio's mobile phones on surveillance. 
He further said that an investigation confirmed that the officer's wife had an extra-marital affair with Naveen, one of the arrested youths, and hence they planned to kill him. 
The trio hatched the conspiracy after the woman agreed to pay them Rs 2 lakhs, out of which Rs 90,000 was paid in advance.
With the officer's wife passing all information about her husband's movement, the trio started their journey to Gaya, making the police come on high alert. 
Karthik had made up a team led by sub-divisional officer Kamal Kishore and comprised other officers-in-charge of several police stations. This team started following the killers' car, in which they had planned to go to Gaya.
Their plan was to strangulate the officer in the night and his wife had agreed to keep the main door of the house open.
The police team intercepted the car on Ranchi-Patna(NH-33) near Ichak Mor,14 kilometers away from Hazaribagh district headquarters and arrested the trio while they were on their way to Gaya on Monday night. They recovered gloves and the advance amount from the car. 
Karthik said that the officer's wife escaped after getting the news of the arrest, and added that the police are looking for her to carry out further investigation.
The arrested killers told the police that the wife was also eyeing the officer's government job following his death.