Torture case: Treatment call for tribal man in Latehar district
Anil Singh had earlier this month alleged that he was picked up by Garu thana official on the midnight of February 23 and accused of supporting the Maoists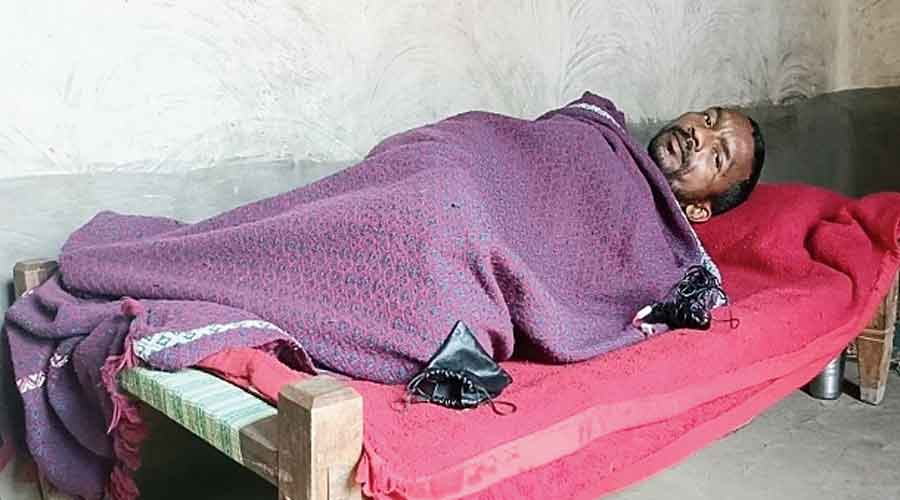 Anil Kumar Singh lies at his house in Latehar on Thursday.
Bhola Prasad
---
Jamshedpur
|
Published 12.03.22, 01:06 AM
|
---
The deterioration in the health condition of a 42-year-old tribal man, who was allegedly flogged by police on the suspicion of being a Maoist supporter last month in Jharkhand's Latehar, has prompted activists to plead for urgent medical facilities from the district administration.
Anil Singh had earlier this month alleged that he was picked up by Garu thana official on the midnight of February 23 and accused of supporting the Maoists.
After being allegedly beaten and tortured in the police station, he was let off the next morning and told that he was picked up by mistake.
Singh's medical report provided by the Sadar Hospital in Latehar indicates injuries in both buttocks and deep abrasion on hip and buttocks.
The incident had prompted chief minister Hemant Soren to direct the state police to conduct a probe into the incident and initiate action against the errant cops.
Acting on a probe report submitted by Mahuadand sub-divisional police officer (SDPO) Rajesh Kujur, Latehar superintendent of police Anjani Anjan had sent accused Garu police station officer-in-charge Ranjit Kumar Yadav to the police barrack.
"He (Singh) is the sole breadwinner for his family comprising wife Manita Devi and three children (two minor sons and a minor daughter). He is not able to sit because of the pain and is barely able to walk. Since that fateful day, he has not been able to work in the field to earn a livelihood. There is immense pain in the lower portion of his body. I have petitioned the Latehar deputy commissioner Abu Imran on Wednesday to immediately arrange for his proper treatment," said the RTI activist Lal Mohan Singh.
On the request for medical attention, Imran said: "I will ask officials to look into the issue and arrange for his medical treatment."
The RTI activist also alleged that the police had refused to lodge an FIR in violation of the CrPC provisions.
The victim, a native of Kuku village under Ganeshpur panchayat in Garu block of Latehar, had gone to Chipadohar police station (which covers his village) on March 2 to lodge an FIR against Garu thana officials.
"However, Chipadohar thana OC (Sujit Tiwary) refused to register my complaint asking me to go to the police station where the incident took place. He also said that since an SIT has been formed to probe the case, a separate FIR cannot be lodged," Singh had earlier The Telegraph.
"Section 177, 178 and 179 of the CrPC talk about jurisdiction in case of criminal trial and investigation. It makes it clear that the place where the offence has occurred or the place where it has occurred partly and partly in other such place, every such place shall have the jurisdiction for the said offence.
Under Section 154 of the CrPC, a police officer is bound to register an FIR when a cognisable offence is brought to its notice," Jharkhand High Court advocate Shailesh Poddar said.