Plantation drive to counter air pollution in coal city
Forest department swings into action as per National Clean Air Programme, plans to plant over 4000 saplings across the district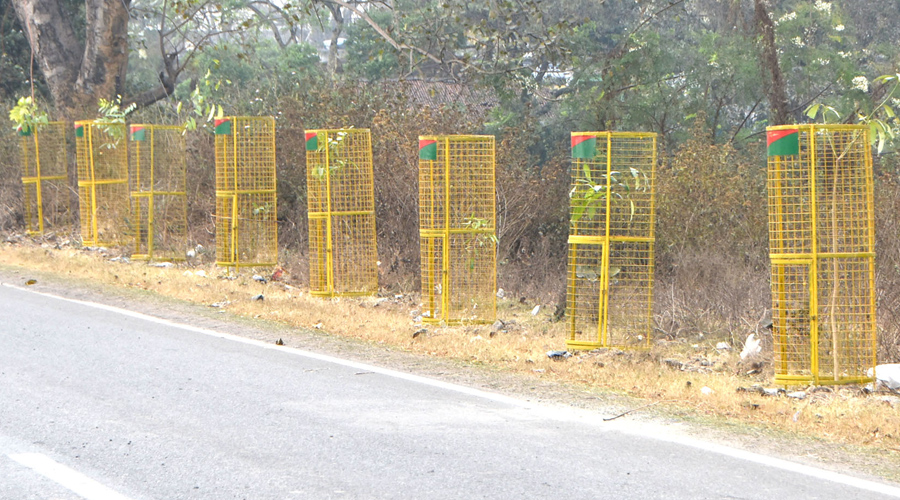 The saplings (guarded with iron cages) planted on the roadside by Dhanbad forest department at Phushbangla-Putki Road in Dhanbad.
Picture By: - Gautam Dey.
---
Dhanbad
|
Published 19.02.21, 09:27 PM
|
---
As per the National Clean Air Programme (NCAP), Dhanbad gears up to control air pollution with a plantation drive planned by the forest department. The district forest department is carrying out intensive plantation drives of more than 4000 saplings in different parts of the district including the worst affected areas of Jharia coalfield region.
Apart from this, the tendering process for procuring a continuous ambient air quality monitoring station (CAAQMS) has also been initiated by pollution regulator Jharkhand State Pollution Control Board (JSPCB).
Notably, as per the NCAP under which Dhanbad has been selected among 102 cities or towns of the state pollution has to reduce by 20-30% by 2024 in comparison to the pollution level of 2017 through various interventional measures.
Jharkhand State Pollution Control has also provided Rs 3 crore during January last year out of Rs 10 crore approved for the purpose of various interventional measures to reduce pollution including intensive roadside plantation, installation of paver blocks on roads, installation of Continuous Ambient Air Quality Monitoring station, etc.
Dhanbad Municipal Corporation (DMC) has purchased two trucks with a water sprinkler of Qualitative Enviro Engineers last month at a cumulative cost of Rs 50 lakh which sprays atomized water up to 50 feet in air developing mist which in turn sticks with the pollutant and brings it down on the ground.
Giving details of the plantation drive being carried out by the district forest department, division forest officer of Dhanbad, Bimal Lakra said, "An amount of Rs 1.35 crore out of a Rs 3 crore fund has been approved for step by step plantation work and we have spent around Rs 1.27 crore for the purpose."
"We have planted saplings of fruit plants as well as flowering plants and timber," he said and added that they have been provided with the fund in October last year for preparing the iron made sapling guard. He also added that the majority of plantation work has been carried out on both sides of Phusbunglow Putki Road which is around 9 km in length.
"The first year of sapling plantation exercise will be completed by March-end and for the next two years protection of those plants would be ensured," said Lakra and added that the other activities planned at the district level included the installation of paver blocks on the roadside to be carried out by Dhanbad Municipal Corporation while installation CAAQMS will be carried out by JSPCB.
Echoing sentiments regional officer of JSPCB, Ram Narayan Chaudhary said, "We have already initiated the tendering process for installation of two CAAQMS for ensuring regular monitoring of the air pollution level in different areas. One CAAQMS is already in operation at Digwadih in Dhanbad."
Due to high PM10 level, Dhanbad has been ranked among the worst polluted cities or towns of the country for the last several years.