Pitch for much-loved Keenan to pad up once again
Thaw between JSCA & Tatas, Ganguly at BCCI's helm ease way for stadium revival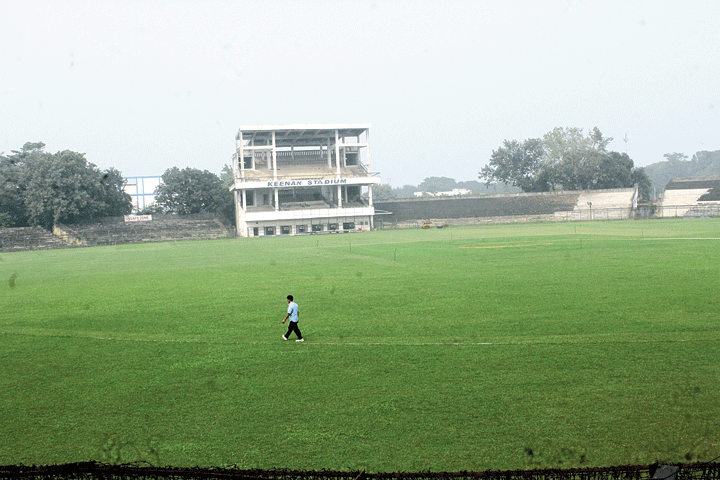 Second innings hope: Keenan Stadium in Jamshedpur on Tuesday
Bhola Prasad
---
Jamshedpur
|
Published 05.11.19, 06:55 PM
|
---
Keenan Stadium, which has seen the likes of Viv Richards and Sourav Ganguly hit it out of the park in its heydays, may soon be back on the international cricket pitch.
The Jharkhand State Cricket Association (JSCA) has shown interest in setting up another international venue apart from its stadium in Dhurwa, Ranchi.
The newly elected JSCA managing committee, during its annual general meeting at The Bengal Club in Jamshedpur last month, discussed the revival of the Keenan, a long-held demand of the cricket association's Jamshedpur-based members.
At the meeting, it was decided that talks would be held with custodian Tata Steel,
suggesting that the state cricket outfit was indeed serious in putting the steel city back on the international cricketing map.
The last ODI at Keenan was held on April 12, 2006, between India and England, as a part of the TVS Cup series.
A JSCA member said he had informal talks with a senior Tata official regarding Keenan a couple of days ago.
While not coming on quote, the JSCA said: "The Tata officer appeared very positive. It seems everyone, from the JSCA to the Tatas, is enthusiastic after the election of Sourav Ganguly at the helm of the BCCI. We are very hopeful that talks with the Tatas over Keenan's revival should resume within a month or even earlier."
He added that earlier this year, the state cricket outfit's former secretaries Rajesh Verma and Debashish Chakraborty had met senior Tata Steel officials on the question of Keenan's revival but no headway was made then. "The climate was not very conducive then. Instead of elected office bearers, the BCCI was being run by the committee of administrators under the Supreme Court's orders. Now, with the COA having no role to play and Ganguly becoming the boss, the JSCA and Tatas are keen to work together to revive Keenan. The JSCA wants a long-term pact with the Tatas on the Keenan."
Rajesh Verma, who remains a member of the JSCA, quipped: "Yes, things now look very positive."
Another source in the JSCA added that the state cricket authority and Tata Steel had strained relations from the time Jharkhand born over who would control cricket in the state. Gradually, Ranchi and its Dhurwa stadium became the centre of high-profile matches while Keenan, built in 1939 after Tata executive Sir John Lawrence Keenan, and for decades the prime venue in eastern India after Calcutta's Eden Gardens, was relegated to the sidelines.
But now, there was a visible thaw between the JSCA and Tatas, the insider added.
The Tatas, on their part, had been taking steps to revamp the stadium. The Naoroji Pavilion and the Old Pavilion, which were in terrible shape, have been repaired. But, the galleries, declared unsafe, have to be renovated. On the cost, the JSCA official said either the JSCA would have to invest or a 50-50 pact between the two parties needed to be chalked out.