Pit-water supply to tide over the Katras water scarcity
Jharkhand Mineral Area Development Authority measures to ensure continuous supply after pipeline repairs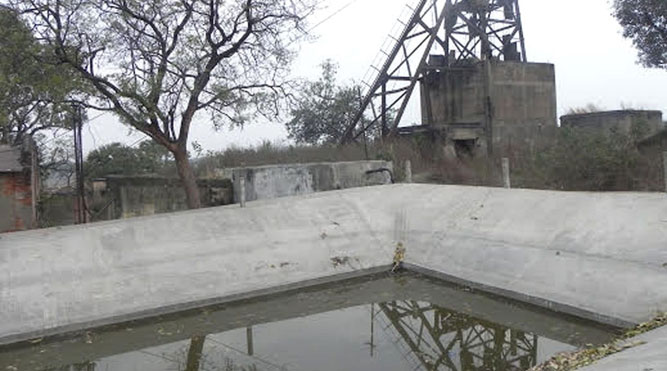 The Dharmabandh mine pit water reservoir in Katras
Gautam Dey
---
Dhanbad
|
Published 09.07.20, 12:17 AM
|
---
The Jharkhand Mineral Area Development Authority will beef up the pit-water supply in the town through the Dharmabandh-based plant of the Bharat Coking Coal Ltd to tide over the water scarcity in Katras town.
A motor pump of around 175 horsepower will be installed in the plant by the Authority in addition to the existing 175 horsepower plant of the BCCL.
It will also carry out other repairs at the plant to ensure continuous water supply.
The JMADA has recently relaunched the pit water supply in Katras through the Dharmaband pit of the BCCL after three years, after  necessary repairs of the pipeline from Dharmabandh pit to the Tetulia based plant.
The technical  member-cum-executive engineer of the JMADA, Indresh Shukla, told The Telegraph Online, "We have relaunched the water supply through Dharmabandh last month and prepared an estimate to install our own motor pump, as we are currently dependent on BCCL motor to draw water."
Due to paucity of water in Topchanchi lake, which is one of the main sources of water supply in Katras, water supply is made only during alternate days in different parts of Katras, including Katras Bazar, Panchgarhi, Sijua, Loyabad and Bhatmurna.
"The pit water can be used for all other purposes like dishwashing, cloth washing  and bathing but not drinking though we carry out proper filtration of the water before carrying out the supply," said Shukla.
"We will ensure a year-long supply of pit water in Katras instead of making a stopgap arrangement during the water crisis,"Shukla said. 
He added that due to irregular supply of water during the summer season or often after a gap of two three years, the machines in  the plant are damaged and require large investments to carry out repairs.
Notably, around 15 lakh gallons of water is supplied daily to half to Katras, with a population of around five lakh from Dharmabandh.
The Dharmaband pit water, which usually  remains  unused in an abandoned underground colliery of BCCL at Katras, had been supplied occasionally several times in 1994, 1995, 2004 and 2016 in different parts of Katras and adjoining areas of Dhanbad.