Pipe leaks spur water woes in Jamshedpur
Around 5,000 homes spread over Govindpur, Chhotagovindpur, Sarjamda and Sopdera, aren't getting water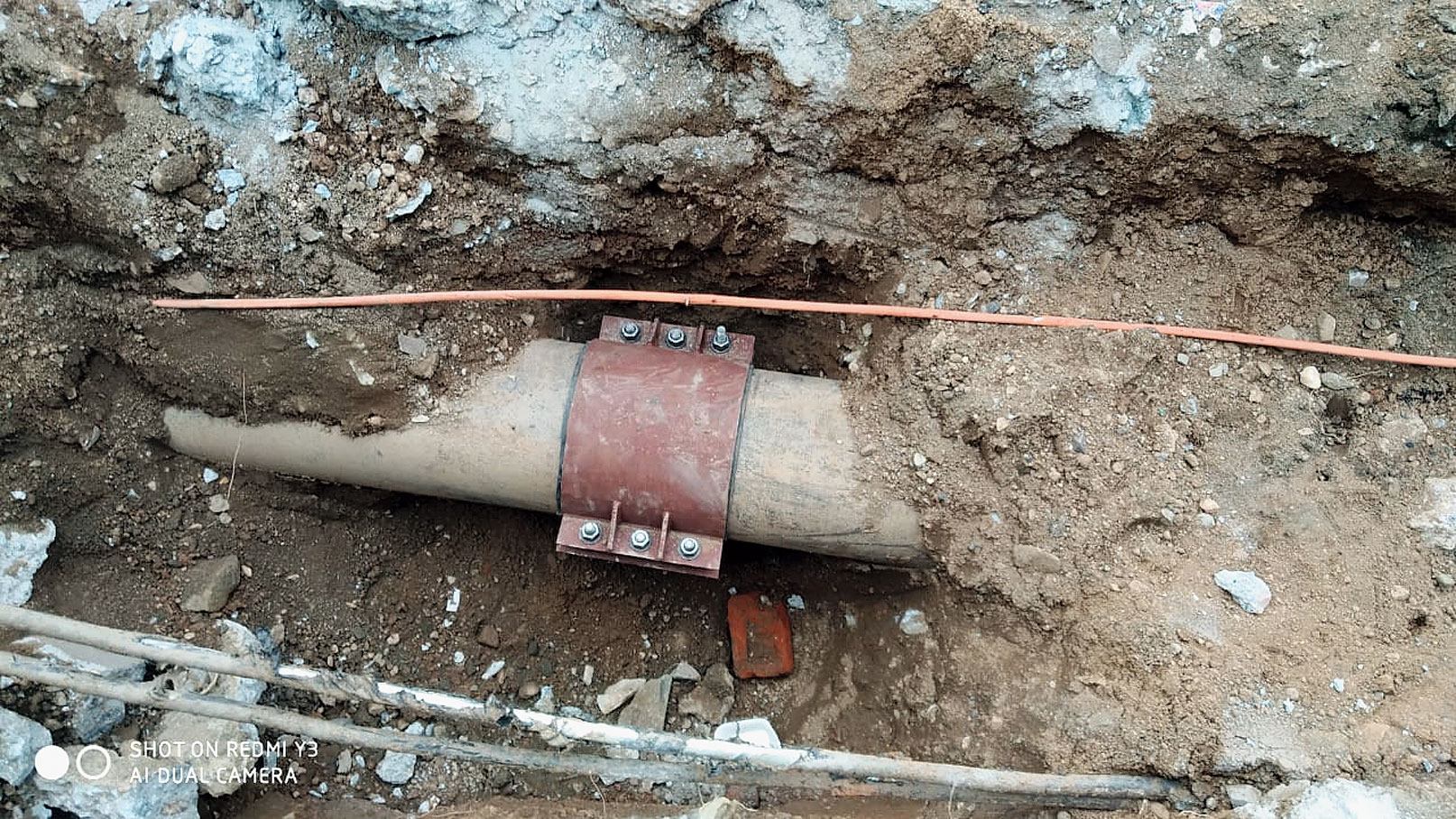 ---
---
Over 5,000 households on the eastern fringe of the steel city are being deprived of drinking water for weeks because the main pipeline of a Rs 108 crore water project, commissioned barely a month ago to serve those areas, have developed leaks due indiscriminate road digging by various government and private entities.
Water released from four water towers of the Chhotagovindpur drinking water project is meant for 17,000 households of the area. But as many as 5,000 homes spread over Govindpur, Chhotagovindpur, Sarjamda and Sopdera, aren't getting water after the pipes were damaged by a panchayat samiti of Chotagovindpur, a private school and a private telecom company.
Drinking water and sanitation department executive engineer of Jamshedpur Shishir Kumar Soren said the private telecom company was laying cables at the very spot where the department had laid pipes.
"The agency assigned the work by the department had dug the ground to a depth of 3 metre to lay pipes. The private telecom company is finding it easy to lay cables there as the soil is still soft," Soren told The Telegraph, adding that they had complained to the district administration and BSNL, the mother feeder for the private company, to take necessary action.
But so far, no action has been taken.
Sources said a private school damaged the main pipeline while erecting a pillar for a boundary wall. The pipeline was damaged at another point while workers were digging the ground to build a panchayat bhavan at Sarjamda.
The Chhotagovindpur drinking water project aims to providing tap water to 24,900 households in the eastern part of the steel city, including densely-populated areas of Govindpur, Chhotagovindpur, Sarjamda, Sopodera and Parsudih. Water is being drawn from the Subernarekha river and is processed at a filtration plant near Hudco Lake.
The water department has already constructed four water towers in Sarjamda (2.5 million litres), Gadra (3 million litres), Haludvani (2.3 million litres) and Chhotagovindpur (2.2 million litres). A fifth water tower (2 million litres) is under construction at Parsudih.
As of now, 17,000 households have been given water connections. The remaining 7,900 houses will be given connections once the Parsudih water tower is ready.
Soren said the department was trying to plug the leaks, but added that it was a time consuming effort. "We have to release water through the day to detect the leaks," he said.
Local residents are naturally upset. "We are having to fetch water from far off places. The water department must take stern action against those responsible for damaging the pipeline," said Judhistir Sardar, a resident of Sarjamda.