Pickpockets plague buses
'Stop-bus protest' by drivers and conductors of Ranchi buses against pickpockets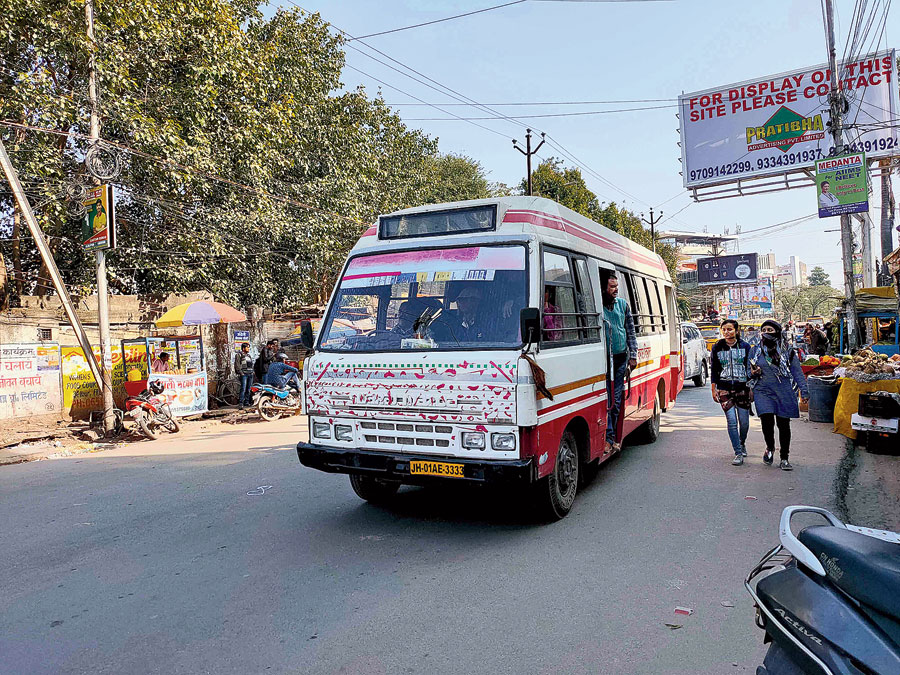 An RMC bus at Lalpur Chowk in Ranchi on Thursday.
(Manob Chowdhary)
---
Ranchi
|
Published 13.02.20, 06:51 PM
|
---
The services of 25 of 51 city buses that ply between Dhurwa and Kutchery were disrupted for three-and-half hours on Thursday morning as drivers and conductors protested against pickpockets operating at will on the buses.
And after the buses started plying as usual, at least two incidents of purse theft were reported.
The stop-bus protest was held from 7am to 10.30am.
"Every day, reports of pickpockets stealing come our knowledge and several times I have asked Ranchi Municipal Corporation officials to take a proper step but so far nothing has been done and we have to face the wrath of passengers victimised by pickpockets," said a driver, who did not want to be identified.
A bus conductor echoed him saying pickpockets assault them when confronted.
"We have identified some of the pickpockets and often try to restrain them from doing so but they threaten us with dire consequences in case of disclosure of their identity," the conductor said, also requested anonymity. "Sometimes we feel guilt as we find ourselves helpless in providing security to the passengers. Most of the pickpockets are drug addicts and have knives or sharp-edged weapons. They board the bus in groups and mostly strike between Doranda and Kanta Toli Chowk."
Another driver said: "Yesterday (Wednesday) when a train from Lohardaga came and passengers were boarding the bus, pickpockets were standing at the gate. When I told him to move away he punched me on my face and escaped. Passengers think we are in cahoots with the pickpockets."
Additional municipal corporation Jyoti Kumar Singh admitted that the bus service was affected but said it was a very minor protest.
"Services started after we gave proper assurance of security to the city buses around 10.30am. We have written to the senior superintendent of police in this matter and also alerted our enforcement team," Singh said.
A driver, however, said assurances of RMC officials were perfunctory at best.
"At 11.15am, a purse of Tamar resident Vishnu Munda containing Rs 3,000 cash and another purse of Ram Singh Jogi containing Rs 2,000 cash and some important documents were stolen at Kanta Toli," the driver said.