Pharmacies, hospitals run out of life-saving drug amid rise in black fungus cases
Patients need 5mg dosage per kilogram body weight, say doctors; Jharkhand govt writes to pharma companies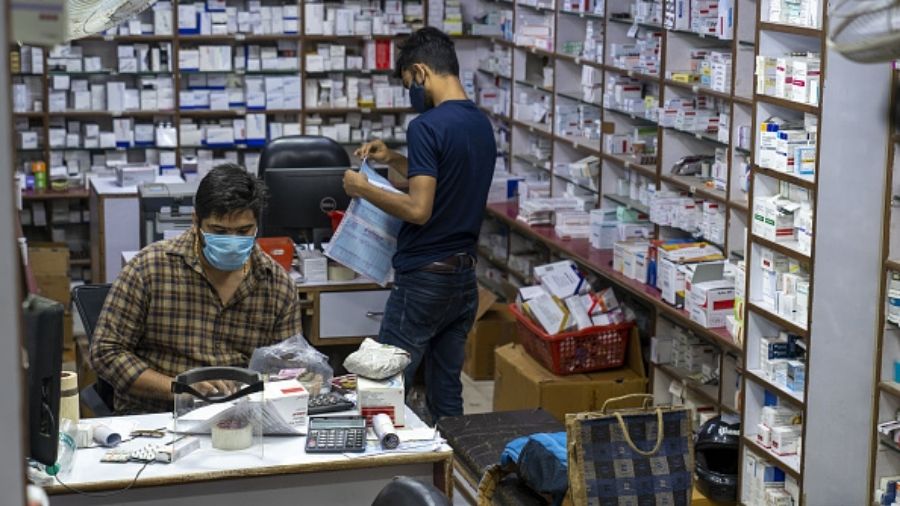 ---
|
Ranchi
|
Published 18.05.21, 03:38 PM
---
Many pharmacies and hospitals in Jharkhand have run out of a life-saving drug used for treatment of mucormycosis amid an alarming rise in cases of Covid-induced black fungus in the state, doctors said on Tuesday, warning that several patients may die if they are not provided the necessary medication on time.
Amphotericin B, an antifungal medicine which plays a critical role in treatment of black fungus, was not available at pharmacies in Ranchi on Tuesday. While some private hospitals had stocks that may last for one or two more days, most government hospitals stopped administering this medicine to patients as they did not have enough vials available in their pharmacy, sources said.
Dr Anindya Anuradha, an ophthalmologist who has been treating mucormycosis patients at Bhagwan Mahavir Medical Superspecialty Hospital in Ranchi, admitted that there was an acute shortage of the anti-fungal injection and that many patients were in dire need of it.  
"There is a shortage of Amphotericin B across the state. This drug is critical in treatment of mucormycosis and we would need several hundred vials of it for treating patients," said Dr Anuradha. "The dosage of Amphotericin B is 5mg per kilogram weight of the patient. So, we would need at least 6 vials for treating one 60 kg patient in a day. And some critical patients are even on double dosage," she added.
On Tuesday, at least three patients were undergoing treatment for Covid-induced mucormycosis at state-run Rajendra Institute of Medical Sciences (RIMS), while five were admitted at Medica. As per records with hospitals in Ranchi, at least four mucormycosis patients have died this month.
In the wake of the acute crisis of this drug, the Drugs Control Directorate of Jharkhand has written to pharmaceutical companies asking for supply of Amphotericin B or other drugs with the same composition as early as possible.
"We have written to some pharmaceutical companies and asked them to supply drugs for treatment of mucormycosis. Hopefully, we will get supplies within a week," said Surendra Prasad, joint secretary of the Drugs Control Directorate. "Usually, pharma companies do not manufacture such drugs in bulk as they were not needed in such huge quantities earlier," he added.
Mucormycosis, also called black fungus, is a rare infection caused by exposure to mucor mould found in soil, plants, manure and decaying fruits and vegetables. This infection usually affects the lungs, the nasal tract and the sinus of the patient and has a fatality rate of 50 per cent, say doctors.
The treatment involves use of anti-fungal drugs and surgical measures. If the fungus infects a patient's brain, then he or she is administered a double dose of Amphotericin B, say doctors. Some of the patients may not survive even after surgical removal of their eye.