Pep talk for jawans on Home Guard Foundation Day
Governor Droupadi Murmu boosts morale of Home Guard jawans who have been helping local police to maintain law and order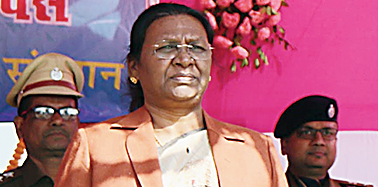 Governor Droupadi Murmu at the Home Guard Foundation Day celebrations in Dhurwa, Ranchi, on Friday.
Picture by Prashant Mitra
---
Ranchi
|
Published 21.12.18, 07:39 PM
|
---
Governor Droupadi Murmu on Friday boosted the morale of Home Guard jawans at an event organised to observe Home Guard Foundation Day at Central Training Institute in Dhurwa.
"The Home Guard battalion was raised first in 1946 in Mumbai. After the Chinese invasion in 1962, it was organised on a country level. Since its inception, Home Guard jawans have been helping local police to maintain law and order. We should boost their morale. They are already efficient, but we should motivate them to give their best," Murmu said.
Murmu's words of appreciation came after the jawan presented the foundation day parade and demonstrated their skills in fire-fighting in the presence of chief secretary Sudhir Tripathi and DG (Home Guard and fire brigade) B.B. Pradhan besides other senior officials.
On the welfare of the jawans, Murmu said, "We should ensure proper utilisation of Home Guard jawans. None of them should be dro-pped from service without proper reason. We should also think about their family. They should also receive respectable honourarium. Efforts should be made to bring them and their family under health insurance," Murmu said.
Home Guard Foundation Day is usually observed on December 6, but this year it was observed on December 21.
Pradhan said the event was delayed because of a national-level programme to celebrate the foundation day in New Delhi on December 6.
"One December 6, a country-level programme for Home Guards, fire brigade and civil defence was organised at Vigyan Bhawan in New Delhi. Home minister Raj Nath Singh along with DGs (Home Guards and fire services) from different parts of the state were present," Pradhan said.
There are as many as 30,000 Home Guard jawans in Jharkhand.
The jawans appreciated the governor's kind words.
"Home Guard jawans perform duties similar to policemen, but they receive hardly one-fourth of the salary received by cops. Each Home Guard jawans get just Rs 400 per day. After hearing words of appreciation from the governor and seeing her commitment towards the welfare of Home Guard jawans, I feel happy," Deepak Kumar said.