Pension scheme fillip for 40000 coal loaders
Scheme will cover workers aged 18-40 years whose monthly income is below Rs 15,000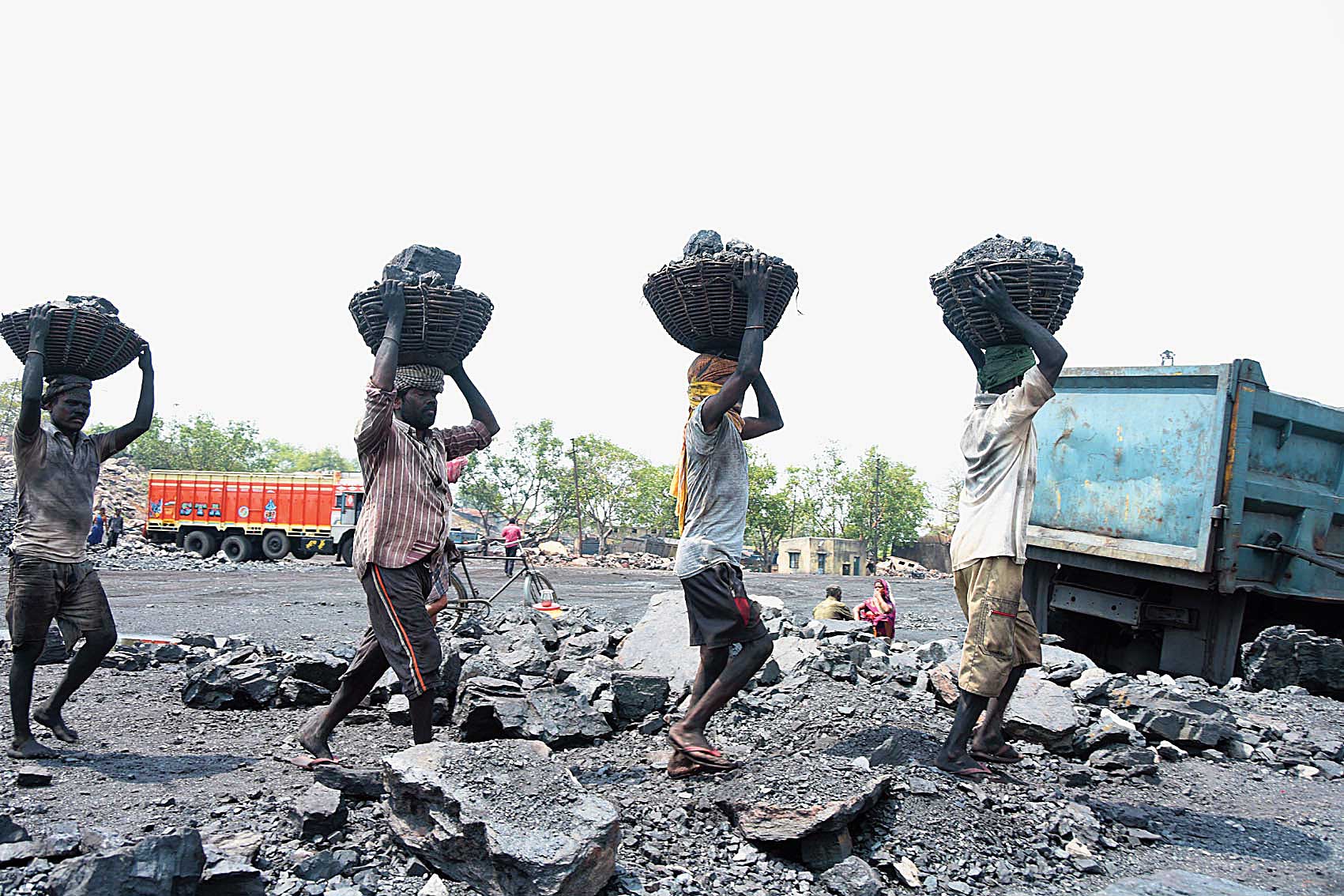 Workers at Godhar colliery in Dhanbad in May last year.
Picture by Gautam Dey
---
Dhanbad
|
Published 28.02.19, 07:17 PM
|
---
Around 40,000 people engaged in loading and unloading coal at various BCCL and ECL mines here will benefit from the newly launched Pradhan Mantri Shram Yogi Maan-dhan Yojana, a pension scheme for workers in the unorganised sector.
The scheme will cover workers in the age group of 18-40 years whose monthly income does not exceed Rs 15,000. They will have to deposit an amount, ranging between Rs 55 and Rs 200 a month (depending on age), and after they turn 60, each will get Rs 3,000 as pension every month.
The district labour employment and training department is all set to organise camps in colliery areas to enrol eligible workers. Rough estimates suggest around 80,000 workers are engaged in the unorganised coal sector in Dhanbad, out of which half fit the 18 to 40 age bracket.
District labour enforcement officer Harendra Kumar Singh said he had designated two labour superintendents for organising a camp each in Dhanbad, Baghmara, Jharia and Baliapur before March 5.
Deputy commissioner A. Dodde said the scheme would not just benefit coal workers, but also labourers in construction projects and at brick kilns. "Registration of over 400 workers (outside colliery) has already been carried out," he added.
Assistant labour commissioner of Dhanbad Pradip Robert Lakra said the list of workers in the unorganised sector further included servants, maids, cobblers, rag-pickers, washer men/women, rickshaw-pullers, landless farmers, those engaged in midday meal schemes and cottage industry employees, among others.
"They can register themselves for the scheme at the nearest common service centre by submitting a copy of the Aadhaar card and bank details," Lakra said, clarifying that those workers covered under the Employees Provident Fund Organisation, Employees State Insurance Scheme and National Pension Scheme will not be eligible.
"The monthly instalment is to be paid till a person turns 60. In case of death of the registered subscriber before the age of 60, his immediate dependant will get a pension of Rs 1,500 a month," Lakra said.
Again, if a subscriber quits the scheme before 10 years, he/she will get back the premium amount with whatever interest will be accrued. "On quitting the scheme after 10 years, a worker will get back his principal amount, besides the same amount deposited by the government, and interest on both amounts," Lakra added.
Indradeo Paswan, a labourer at BCCL's coal loading site in Lodna, Jharia, welcomed the pension scheme, but underscored that the ambit should be widened. "I am 45 and hence, no longer eligible to become a beneficiary. While I am happy that over 1,000 co-workers at Lodna will benefit from the scheme, it will be rather nice if the age limit is increased by a few years."