Pedal-power push to get stronger by Durga Puja
Phase 2 of app-based bicycle sharing system rolls out in October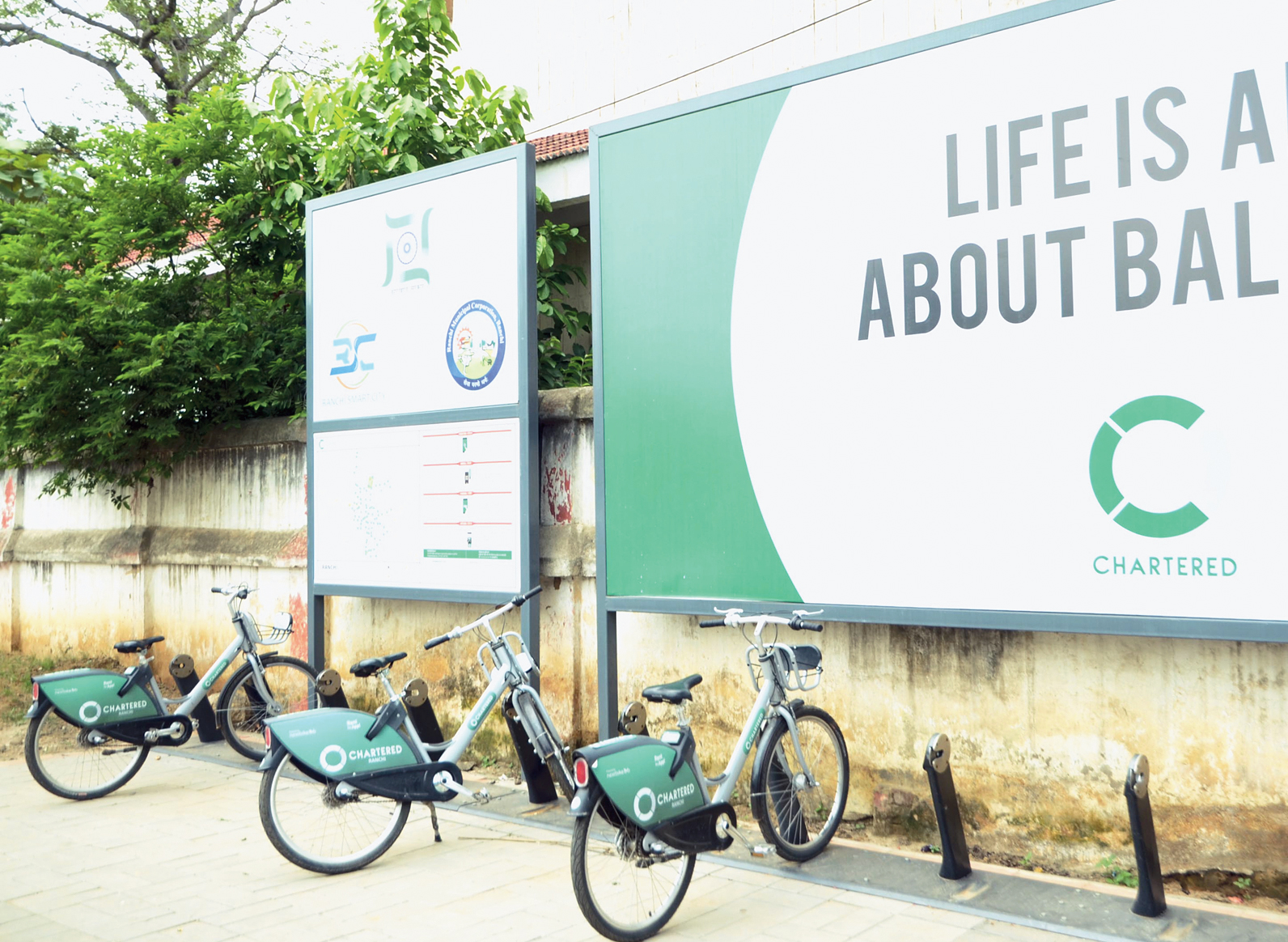 The bicycle stand at Morabadi in Ranchi on Monday.
Picture by Prashant Mitra
---
Ranchi/Jamshedpur
|
Published 15.07.19, 11:00 PM
|
---
The Ahmedabad-based company that had rolled out the app-based bicycle sharing service in the state capital is doubling down on Ranchi.
The company, Chartered Speed Limited, has requested Ranchi Municipal Corporation (RMC) for a no-objection certificate for 60 more docking stations on different routes.
"The private agency has intimated us that they are ready to roll out the facility within a month of clearance by the civic body on the docking stations. They have submitted their request to the authorities," Rakesh Kumar Nandkeolar, general manager (technical), Ranchi Smart City Corporation Ltd, said on Monday.
"We hope to launch the facility before Durga Puja (in October) and provide facility for the visitors to take benefit of the rides during the festive season," Nandkeolar added.
The state cabinet had in August 2017 okayed the plan to roll out 1,200 cycles from 120 docking stations in two phases from November 2018 as a component of the Ranchi Smart City project. However, the plan could not roll on time owing to delays in assembling imported spares and setting up a software control room.
The first phase was launched in March this year with 600 German-made cycles from 60 docking stations along two important routes — Kanke Road-Chandni Chowk-Suchana Bhawan-Main Road, and Kokar-Lalpur-Circular Road-Kutchery Chowk-Morabadi.
"The second phase will see 600 more bicycles in 60 more docking stations on routes between Karamtoli Chowk and Kokar via Booty Mor, Ratu Road and Project Bhawan via Shahjanand Chowk, Argora Chowk and Birsa Chowk, Birsa Chowk and Main Road, and Shahjanand Chowk and Main Road via Kadru. We are ready with the bicycles and also will install facilities in the docking stations within a fortnight after receiving clearance of the civic body," a Chartered Bikes official said.
The company has faced problems, including motorists parking their two-wheelers and even four-wheelers in or near the cycle docks and arguing with dock security guards when stopped. However, the company official said things have improved with media coverage, people becoming more aware, and the RMC also deputing guards for the docks.
Nandkeolar of the Smart City Corporation said the facility has received tremendous response.
"Initially there were some issues with damages to the cycles but that has reduced significantly with people being aware about use. More than 1,600 persons used the bicycles daily on average in the first phase. There are not much parking issues (anymore) as people after initial hiccups have got aware and are parking it in the designated docking stations," he said.
How to ride
The Charteredbike app is available on both Android and iOS platforms. The subscription fee is Rs 35.40 a day, Rs 236 a month and Rs 1,180 a year. There are also nominal user charges (Rs 5), but the first 30 minutes are free. People who do not have access to smartphones can purchase tickets at the docks.