Passenger held at Tatanagar for stealing CRPF jawan's luggage
Accused Irshad Ansari sent to jail, says railway police officer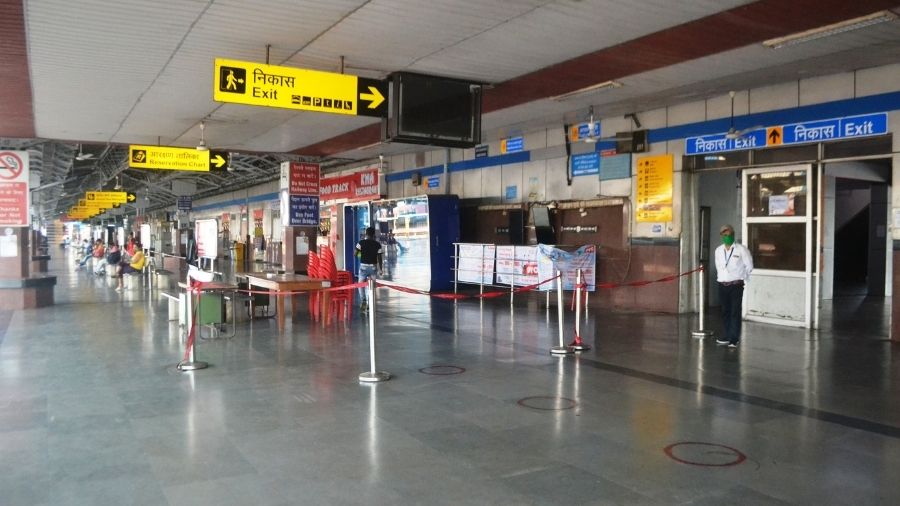 Platform No. 1 at Tatanagar railway station on Tuesday.
Picture by Animesh Sengupta
---
Jamshdepur
|
Published 08.06.21, 08:39 PM
|
---
A passenger on board the Howrah-Mumbai Mail was arrested for stealing a piece of luggage belonging to a CRPF jawan from Tatanagar station on Tuesday. 
The accused, identified as Irshad Ansari, was travelling in an AC coach from Howrah to Mumbai and had got down at the Tatanagar station when it halted for a while around midnight. 
OC, Government Railway Police, Tatanagar, Jadu Shao said Ansari (28) was arrested at Chakradharpur station for stealing the luggage of a CRPF jawan from Tatanagar station at midnight. 
"We have recovered the stolen material from the arrested person who was a passenger of Howrah-Mumbai Mail. We sent the accused to jail on Tuesday, " said Shao while talking to The Telegraph Online. 
According to the railway police, three CRPF jawans had come to the Tatanagar station around 11 pm on Monday for boarding in Howrah-Pune Azad Hind Express, which was scheduled to arrive at the Tatanagar station at 1.30 am. 
"As the train was to come two-and-half hours later, the three jawans had fallen asleep on platform No 1 having kept their luggage beside them. In the meantime, the Howrah-Mumbai Mail arrived on platform No 1. As soon as the train arrived, Ansari got down from the train and briskly moved on the platform, looking for prey. On seeing the three jawans in deep slumber, he picked up a big bag and returned to his train fast," said the GRP. 
According to the OC, Ansari had an upper berth in the 46 B-3. 
"While carrying a bag in the middle of the journey, the accused went to his berth and started inquiring after opening it. The fellow passengers suspected something was wrong. Some of the passengers soon informed the TTE who subsequently informed the cops in the train, putting them on alert," said Shao. 
The OC said the Howrah-Mumbai Mail had by the time reached Chakradharpur where Ansari threw away the CRPF jawan's bag, having kept the valuables, and the cops caught him at the very moment. 
Shao said the cops recovered the bag and on searching, they found the ID card and cellphone number of a CRPF jawan. Subsequently, they contacted the jawan and after getting it verified that Ansari had stolen the bag from the Tatanagar station, the railway police arrested him. 
The railway police said Ansari worked at a factory in Mumbai and was returning to his workplace from Bengal.