Passenger & goods trains to travel faster from now
South Eastern Railway increases speed limit in various sections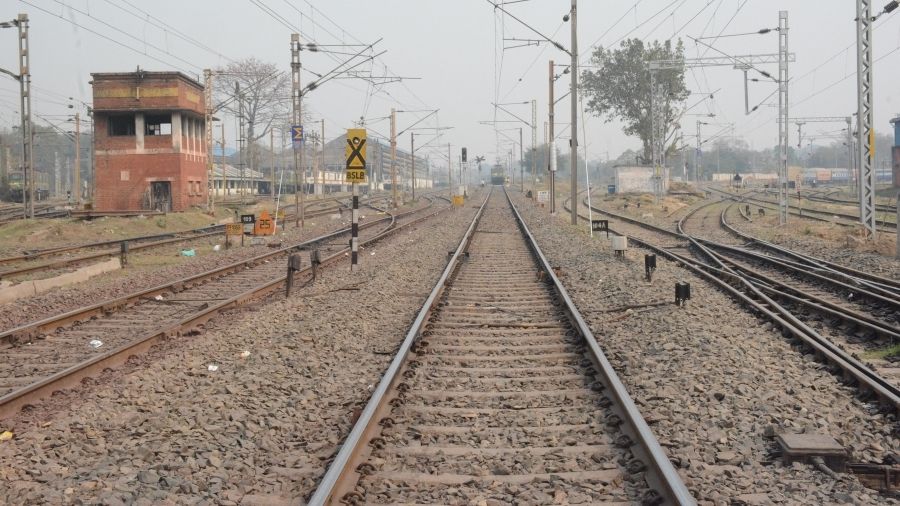 Railway tracks between Tatanagar and Kharagpur section of South Eastern Railway.
Picture by Bhola Prasad
---
Jamshdepur
|
Published 10.03.21, 05:44 PM
|
---
South Eastern Railway has raised sectional speed limits of trains in nine sections covering a length of around 435km in an attempt to ensure faster movement of  passenger and freight trains. 
According to sources at Garden Reach, the Calcutta-based headquarters of South Eastern Railway, in Tatanagar-Kharagpur and Kharagpur-Andul sections, speed of all passenger and goods trains has been raised from 110 kmph to 130 kmph, and in Rupsa-Baripada section speed has been raised from 70 kmph to 100 kmph. 
In Banspani-Jaroli and Barajamda-Gua sections under Chakradharpur division of SER, the speed limit of trains has been increased from 50 kmph to 65 kmph. Speed has been also enhanced in Bimalgarh-Barsuan, Baripada-Bhanjpur, Hijli-Nimpura and Muri-Hatia sections.
Moreover, data available from SER headquarters suggest that during the 2020-21 financial year there has been an improvement of 91 per cent  in average speed of freight trains in comparison to the previous year.
SER chief public relations officer Sanjay Ghosh said, "The increased speed limit of trains was implemented from Tuesday in all the nine sections after successful trials." 
He added that all the nine sections underwent massive track and signal strengthening work during the last two years which helped implement the decision. " Increasing the speed limit of trains will also help improving punctuality of both passenger and goods trains in the zone, " he added.