Passenger buses allowed to stop by Dhanbad Railway Station at night
Keeping the security of travellers in mind, the district administration has decided to bring about the changes in traffic rules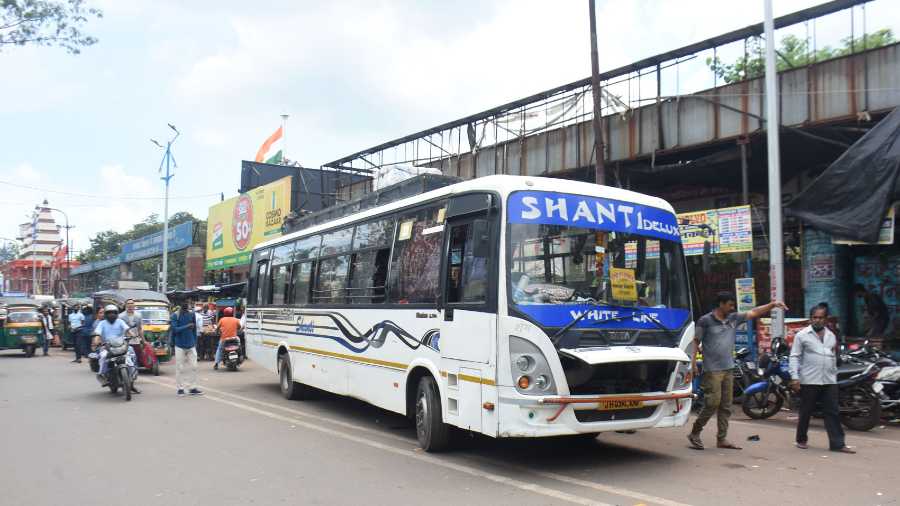 ---
Dhanbad
|
Published 05.10.21, 06:08 PM
|
---
Taking the security of railway passengers into account, Dhanbad district administration has decided to tweak the new traffic rules. Thereby, making it possible for buses to stop by the railway station between 11 am to 8pm.
However, the buses have been allowed to stop for only five minutes to pick the passengers heading towards their respective destinations - Katras, Bokaro, Hazaribagh, Aurangabad, Bihar Sharif, Asansol Burdwan etc.
The new route plan for the night operation of passenger buses running between 11 PM to 8 PM, all the buses departing from Bartand based Bus Depot and heading towards Bokaro Ranchi Purulia route will be plying through City Centre- Raju Yadav Chowk (Bekar Bandh) - DRM Chowk – Railway Station Road- Bank More.
Notably the stoppage for the buses on station road had been banned on September 3 in accordance with the new traffic plan of the district administration to control the traffic snarls in Dhanbad town area.
Talking to The Telegraph Online today Om Prakash Yadav, District Transport Officer of Dhanbad, said "Only minor changes have been made in traffic plan that had been made effective from September 3 to allow stoppage of five minutes on the station road."
"The decision to allow the buses to stop at station road during the night for five minutes has been made in view of the security of the railway passengers. They were facing difficulty in reaching Bartand railway station, which is around two kilometres away from here due to unavailability of auto rickshaw," said Yadav.
"We have simultaneously notified the entry of transport vehicles including mini-trucks for loading and unloading of goods from 11 pm to 8 am," said Yadav. He maintained that the arrangement was already in practice as per the traffic plan made effective from September 3 but they have notified again in a bid to avoid confusion.
The bus operators however termed the measure as discriminatory as it is favouring night travellers only.
Sanjay Singh, vice president of Dhanbad Bus Owners Association said "It is like favouring a few passengers who arrive during the night at Dhanbad Railway station while depriving others who reach here the city during day time."
"We will again demand the district administration to allow short span stoppage of five minutes for buses at the station road during the night as has been allowed for the buses during the night," he asserted.