Partial nude demonstration for BSL jobs
STATE DIGEST: Arrest in petrol pump employee robbery case; plasma therapy motivator surprise; Dhanbad portal for online redressal; IEDs in Palamau; fire accident in Bokaro; Communist parties oppose farm bills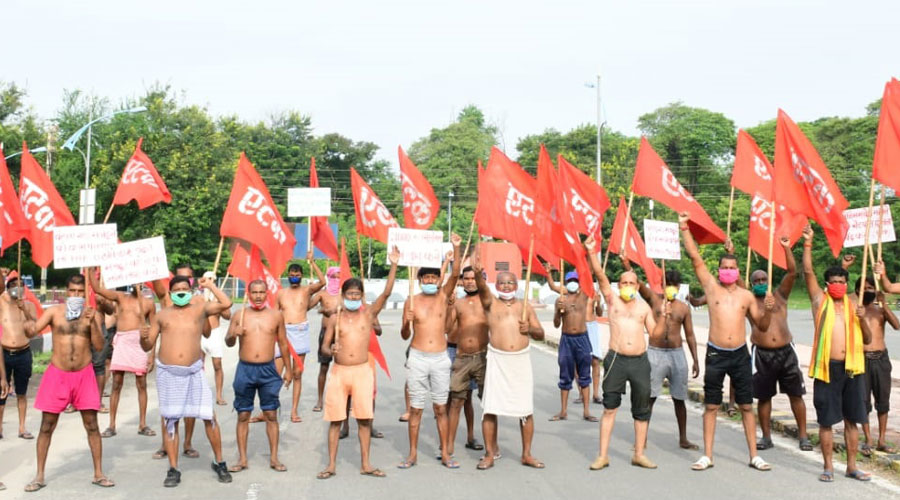 ---
---
Contract workers of Bokaro Steel Plant staged demonstrations partially nude demanding to be reinstated to their jobs lost during lockdown.
The protesters under the banner of Bokaro Ispat Kamgar Morcha an outfit affiliated to AITUC, marched on the road in Ghandhi Chowk shouting slogans and waving red flags.
The workers worked for a private company engaged in Ingot Mold Foundry in BSL.Around 65 of them were removed three months ago.
Pran Singh, a contract worker who was leading the agitation said that the labourers have been working in the IMF for more than 20 years.
"We are jobless since past three months. We have approached senior officials many times but no one is listening to our plea. So today we are forced to stage a demonstration," Singh said.
The protesters threatened self-immolate if they were not hired back.
A BSL officer said the contract with the private company was not renewed as there is no work hence the workers were removed.
BSL is seeing a rise in agitations. On Thursday hundreds of workers staged demonstrations in front of BSL's headquarter demanding job and compensation.
Arrest in petrol pump employee robbery case
Ramgarh police have arrested one of the five assailants who had stolen Rs six lakh from an employee of a petrol pump.
On September 21, Rajendra Bedia, an employee of Danish petrol pump was going to deposit the amount in the bank when he was robbed near Ghutuwa Basti Kabristan area.
Ramgarh superintendent of police Prabhat Kumar said after the robbery, a team was constituted and with the help of technical cell they managed to identify the criminals. He said one of the involved, Manish Kusahawa(20) was arrested from Hutpa village under Muffasil police station of Hazaribagh district.
Kumar said the police have recovered Rs.55,320.
Plasma therapy motivator surprise
The general secretary of Bengali welfare society Gopal Bhattacharya expressed surprise over the appointment of NGO Shubh Sandesh as the authorized motivator for plasma therapy at PMCH.
Bhattacharya is a blood donation motivator of Jharkhand State AIDS control society.
"Our organisation always organises blood donation camps whenever the PMCH based blood bank faces any blood crisis while Shubh Sandesh has never organized any camp and neither motivated any person for blood donation," said Bhattacharya.
He said organisations like his and Rotary Club were ignored while selecting a motivator for the plasma therapy.
Dhanbad portal for online redressal
The Dhanbad district administration has developed an exclusive portal for redressal of various complaints of residents.
The issues range from non disbursement of old age or widow pension and pension for physically challenged to non receipt of food grains.
Dhanbad Deputy Commissioner, Uma Shankar Singh conducted the portal's trial run on Friday.
"The portal developed by district unit of National Informatics Center and District Mineral Foundation Trust will help to avoid unnecessary rush at the district collectorate for redressal of complaints during the time of pandemic when social distancing is key to check the spread of infection as people can register their complain from their places or any common service center of even their respective block offices using the portal," said Singh.
The portal will be launched officially in a couple of days.
IEDs in Palamau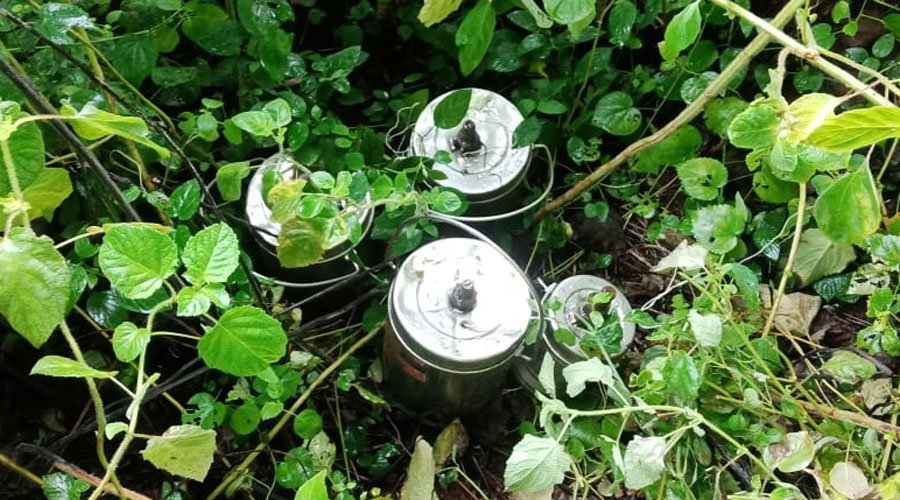 Four improvised explosive devices were discovered by the security forces near the road between Masurya and Chak pickets in Palamau.
The stretch is always on high alert for Maoist rebels.
SP Palamau Sanjeev Kumar said the bombs were kept hidden in the shrubs meant for security forces.
The bomb disposal squad of the Jharkhand Jaguar neutralised the explosives on Friday after its discovery on Thursday.
Kumar said the explosives were not planted in the Masurya Chak pickets axis but were abandoned and camouflaged in the shrubs to be used later by the CPI Maoists to strike the security forces.
Communist parties oppose farm bills
Communist parties on Friday took out a protest march on Hazaribagh roads opposing the recently passed farm bills.
The march was led by veteran communist leader and former parliamentarian Bhuvneshwar Prasad Mehta.
CPM district secretary Ganesh Kumar Citu said march started from District Mor and ended at Indrapuri Chowk in town.
Fire accident in Bokaro
A massive fire broke out in the godown of the Shriram Sales at Bhalotia lane on Friday.
About half a dozen fire extinguishers took eight hours to douse the flames completely, and saved other shops located nearby from getting affected by the fire, said Amitabh Chaudhary, a police officer.
The loss is being assessed.
Around seven years ago Shriram Sales had a similar fire accident. At that time, goods worth lakhs of rupees were burnt to ashes. The cause of the fire was stated to be a short circuit.