Parsudih residents threaten to boycott Panchayat polls
Poor electricity, non-availability of drinking water and poor road condition are some of the basic issues which locals want to get addressed soon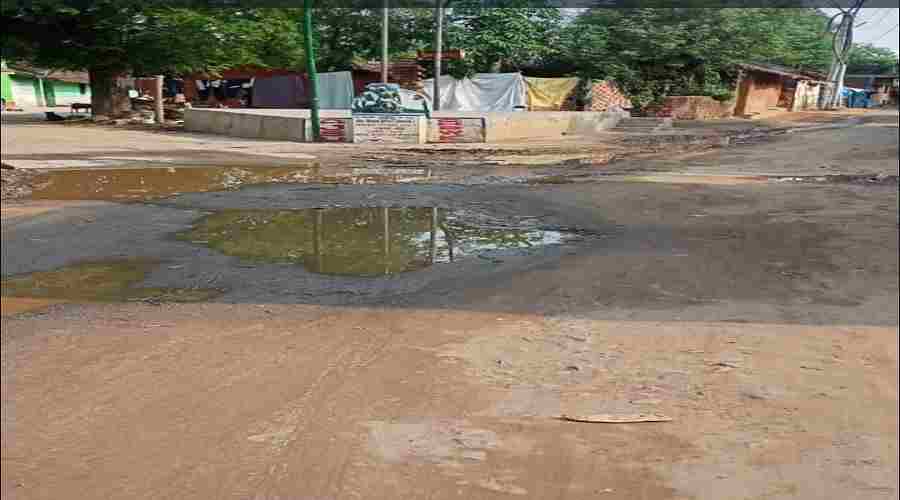 Condition of potholed road in one of the Panchayat areas of Parsudih.
Animesh Sengupta
---
Jamshedpur
|
Published 13.05.22, 09:43 PM
|
---
Resenting lack of basic amenities, people of Parsudih area have given boycott call to panchayat elections.
The agitated residents of the area on Friday distributed pamphlets to residents to convince them to boycott polls. The panchayat elections in rural belts in Parsudih is scheduled on May 27. Preparation from the administration's level is going on in full swing. 
Poor electricity, non-availability of drinking water and poor road condition are some of the basic issues which locals want to get addressed soon.
"During every election whether Lok Sabha or Assembly elections or panchayat elections, we were assured by the politicians of proper electricity and drinking water supply, but such assurances have never materialised. This is the reason for which we have decided to boycott the Panchayat elections, " said Ajay Hembram, a resident of Gadra panchayat in Parsudih.
Another resident, Demka Soy, a prominent tribal leader, has also supported the call for panchayat elections boycott. 
"We will boycott the panchayat elections in our area to get our demands fulfilled at the earliest. We are doing this to draw the attention of East Singhbhum deputy commissioner Vijaya Jadhav, who can find out the reason behind the miserable civic conditions such as lack of proper electricity and drinking water and pathetic condition of roads in the rural areas of Parsudih, " Soy said. 
Residents of some other areas like Sarjamda, Rahargora, Haludbani, Gadra and Shankarpur are also calling for the poll-boycott. District Panchayat Raj officer, Rajni Kant Mishra expressed his ignorance about the poll-boycott appeal. 
"We are not aware about the appeal for Panchayat elections-boycott in Parsudih's rural areas. We will get the matter verified through the Block Development Officer concerned and will find out remedial measures soon," said Mishra.