Parking rogues misuse smart cycle stands
Ahmedabad firm claims security guards are being manhandled, urges action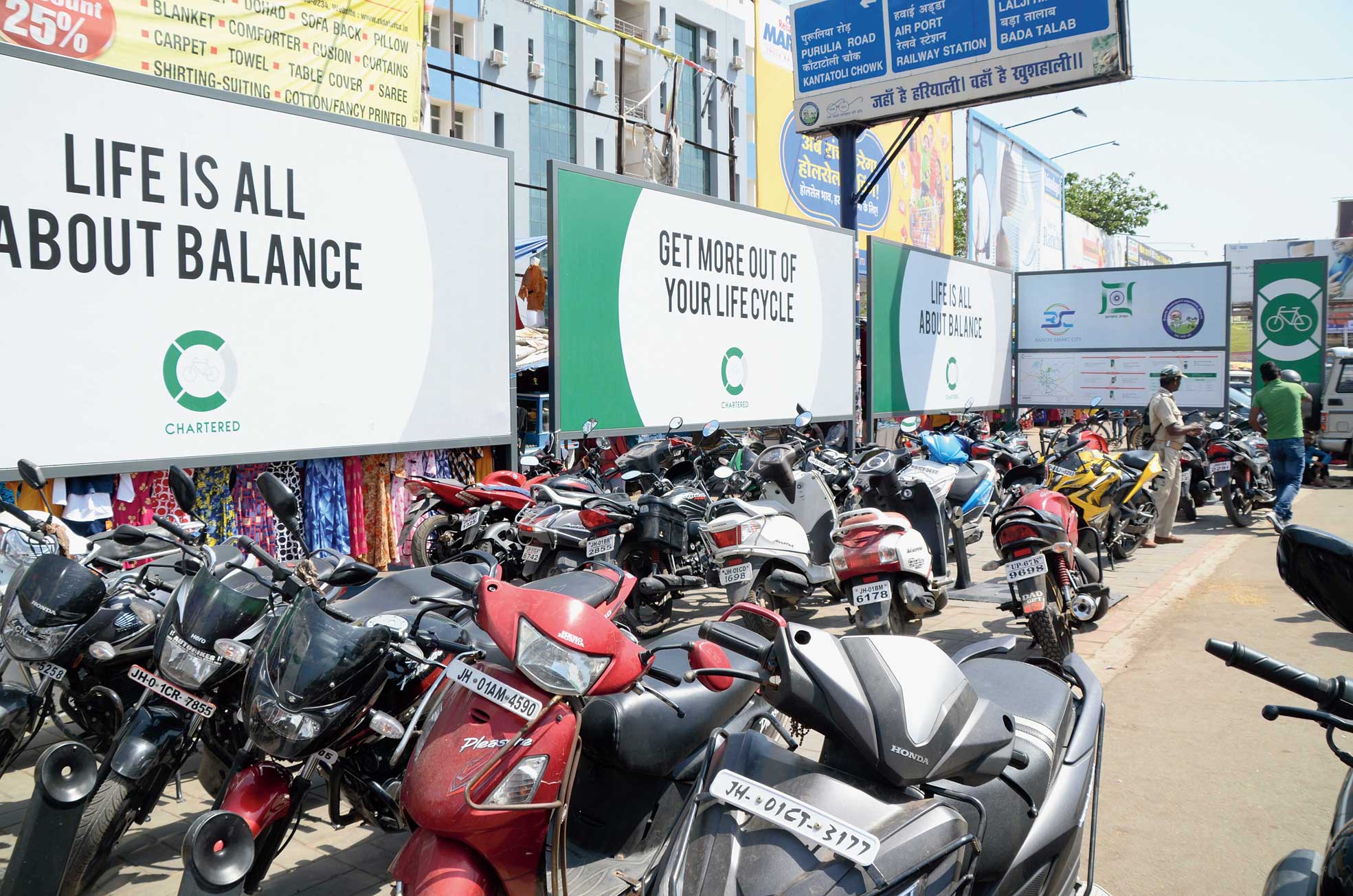 Two-wheelers parked at the smart cycle stand on Main Road in Ranchi on Sunday.
Picture by Manob Chowdhary
---
Ranchi
|
Published 31.03.19, 06:31 PM
|
---
The problem of illegal parking is impeding the smooth functioning of smart cycles-for-citizens project in the capital.
Ahmedabad-based company Chartered Speed, which is operating the app-based bicycle sharing scheme, has written to Ranchi Smart City Corporation Ltd about people forcefully parking their vehicles at the cycle stations.
In the letter sent three days back, the company has urged Ranchi police, traffic department and Ranchi Municipal Corporation to ensure action against those openly flouting parking rules.
Ranchi Smart City Corporation comes under the state urban development department.
"Ever since we launched the smart cycle service, we have been facing a series of problems. As part of the promotion, we offered free rides for a week. It was a bitter experience. Vandals damaged as many as 150 cycles. A number of cycles were stolen, but were recovered later as they were fitted with GPS tracker. Now we are facing a different problem. Our cycle stations are being used for unauthorised parking. Our security guards were manhandled a number of times.
We have informed the matter to the CEO of Ranchi Smart City Corporation Ltd," an official of Chartered Speed said.
He said the phenomenon was more noticeable in crowded and commercial localities where people had to pay parking fees on an hourly basis.
"They use our space for free parking. Recently, we have noticed RMC parking staff asking people to keep their bikes and four-wheelers in our cycle stands, but charging fees nonetheless," the official said.
Vimal Singh, a resident of Morabadi and a regular user of smart cycles, said he too faced problems on a number of occasions.
"Last week, I had to wait for half an hour to park the cycle on the Main Road stand. Ultimately, I had to remove a few bikes to make space for the cycle. One of the bike owners objected and picked up a quarrel with me. He argued it was a public place where anybody could park their vehicles. These kind of people, who lack civic sense, were those who had destroyed the cycles," Singh said.
Ranchi traffic SP Ajit Petetr Dungdung said the department had not received any letter from the state urban development department so far.
"We will surely take action if we get a specific directive," he said.
In the first phase, Chartered Speed had launched 600 cycles that rolled out from 60 stations on March 3.
In the next phase, an equal number of cycles will hit the road and an additional 60 stations will be set up.
What steps can be taken to ensure the smooth running of the cycles? Tell ttkhand@abpmail.com