Parents demand for inoculation of school staff before reopening
Jharkhand Abhibhavak Manch has written to the state education department urging them to make provision for vaccination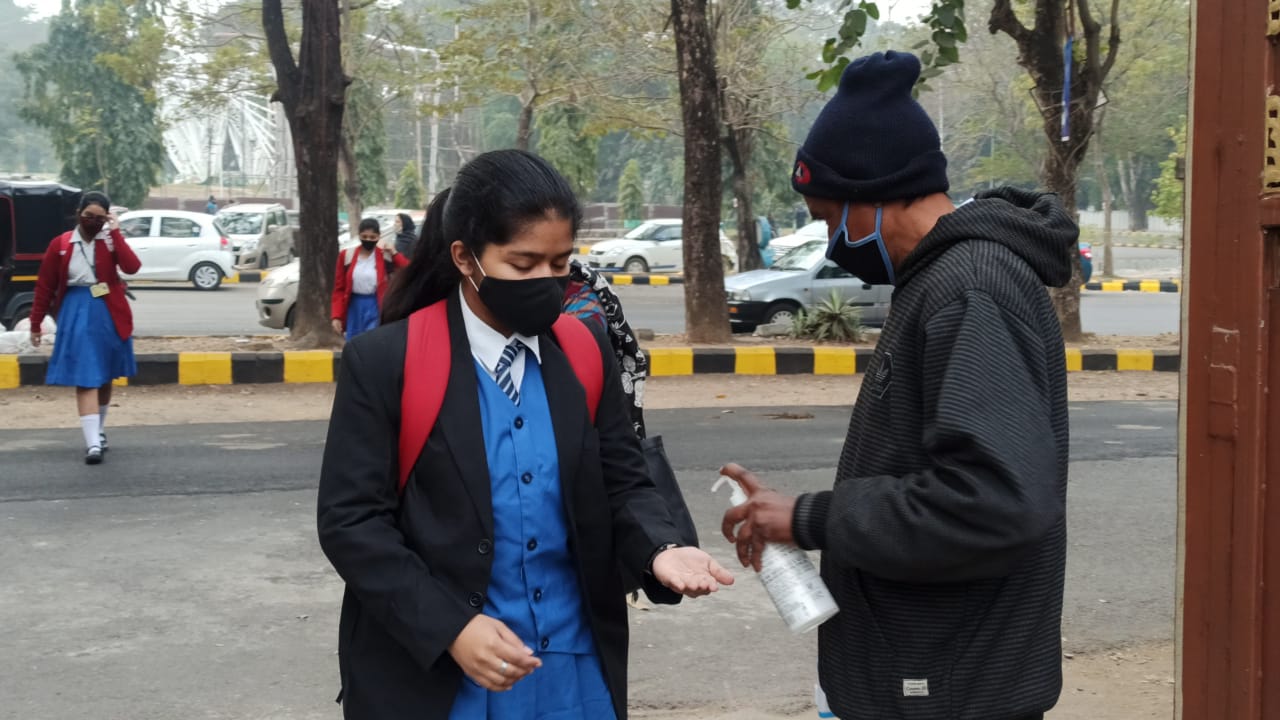 A student using sanitiser outside a school in Jharkhand
File Picture
---
Ranchi
|
Published 22.02.21, 07:57 PM
|
---
A group of parents has urged the state government to ensure all staff of schools are vaccinated against the coronavirus in the interest of students since schools have been allowed to open for classes  VIII, IX and XI from March 1 in addition to the existing class X and XII. 
In a letter addressed to the state education department, by Jharkhand Abhibhavak Manch (JAM), a parents' body affiliated to Federation of Parents Association on Monday, said that the government needs to make provisions for the vaccination of school staff.
Ajay Rai, president of JAM, said that the school staff, both casual and permanent ones, must be inoculated to curb the spread of covid-19 within the educational premises. "Like government is giving Covid-19 vaccine doses to all the frontline staff and health workers, it should now make similar arrangements for inoculating school administration and their workers on priority basis before schools resume," he said, while seeking serious consideration of the state government to ensure safety of the kids.
Rai maintained that the government in its own submission has claimed that Covid-19 is still not over and has appealed to all to maintain all the standards of hygiene and safety norms. The resurgence of infection in a few states posing fresh concerns has even prompted Jharkhand health department to step up surveillance, mainly at transit points like railway stations and airports to prevent chances of new infections.
Currently, Jharkhand is witnessing a steady decline in the number of Covid-19 cases but the detection of 10 infected persons from a family in Jamshedpur's Sakchi area, which according to officials could be a case of cluster infection, has been troubling many parents.
Although the state government in its latest unlock order has asked all schools to resume only after taking due consent of the parents, Rai believed that inoculating school administration would be the safest way to move forward.
"Talking about my own case, I am still not sure if I would dare to send my kid to school from next month. At the same time, the online mode of teaching has not been fruitful. Amid such a situation, both students and their parents are under extreme stress, as the slightest could lead to the spread of virus. Therefore, we demand the government to ensure proper vaccination of bus staff, canteen workers, teaching and non-teaching staff and all those who would come to school once they resume," he said.
Subodh Sinha, a banker and parent of two kids studying in standard eight and nine in a private school conceded to the worries stating that they have decided to not send their children to school for another few weeks. "We aren't going to send our children from March 1. We will wait and watch till we get the confidence and a clear cut idea of the trend. What is happening in other states is again worrying us. Education is important but safety of my kids is equally paramount," he said.