Parasnath Hills: Multi-faith effort to save Jain sacred site
Community believes that converting the place into a tourist spot would make it difficult to maintain its sanctity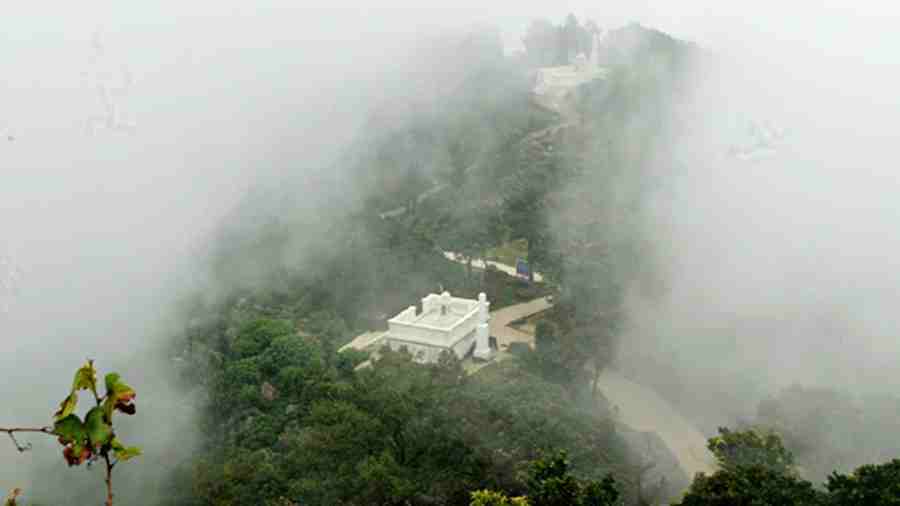 The shrine on the Parasnath Hills on a winter morning.
Sourced by The Telegraph
---
Ranchi
|
Published 02.01.23, 03:12 AM
|
---
Jain protesters will march to the Raj Bhavan in Ranchi on Tuesday as part of their ongoing agitation against the Jharkhand government's decision to promote religious tourism at the Parasnath Hills in Giridih district, the community's most sacred pilgrimage spot.
Representatives of other minority communities — Muslims, Christians and Sikhs — who on Friday took part in a Jain demonstration in Ranchi in an expression of solidarity, are also likely to join the march.
The Jains say that 20 of their 24 Tirthankars (saviours and spiritual teachers) had attained Mahanirvana (salvation) on the Parasnath Hills, referred to as Sammed Shikharji.
The community believes that converting the place into a tourist spot would make it difficult to maintain the sanctity of the place or the ban on non-vegetarian food there.
The Jains want the JMM-Congress-RJD government to revoke its decision, announced in July.    Jains have demonstrated against the decision in several places in the country, including Madhya Pradesh and Karnataka. 
"We shall start from Jain Mandir near Shaheed Chowk on Tuesday morning and march to the Raj Bhavan and hand over a memorandum to the governor demanding withdrawal of the state government's proposal," Ajay Jain, executive member of the local Jain Samaj, said.
At a Jain protest at Albert Ekka Chowk in Ranchi on Friday, Muslim, Christian and Sikh protesters were seen carrying placards that said they wanted Parasnath to remain a holy place and not a tourist spot. They formed a human chain to express solidarity with the Jains. 
"We all know the Jains are strictly vegetarian, and the consumption of meat and liquor is strictly prohibited at  Sammed Shikharji," said Nadim Khan, a social worker who participated in Friday's demonstration.
He said hotels and guesthouses would come up at Parasnath if it's turned into a tourist spot, making it difficult to maintain the sanctity of the place.  The Federation of Jharkhand Chamber of Commerce and Industry (FJCCI), the apex business body in the state, has written to chief secretary Sukhdev Singh asking the government to consider the Jains' sentiments and rethink its decision.
"FJCCI president Kishore Mantri signed the letter and it was sent to the chief secretary on Saturday," chamber spokesperson Jyoti Kumari confirmed. Madhya Pradesh Congress president and former Union minister Kamal Nath too is reported to have written to Prime Minister Narendra Modi and chief minister Hemant Soren requesting reconsideration of the decision to promote religious tourism at Sammed Shikharji.
A well-placed source in the Jharkhand government indicated that the administration was ready to review its decision on Parasnath, which was part of a larger policy to promote religious tourism at religious centres in the state.