Palamau: Steps after Covid-19 vaccine for dog bite
All the beneficiaries will have to answer a questionnaire before getting their jab from Tuesday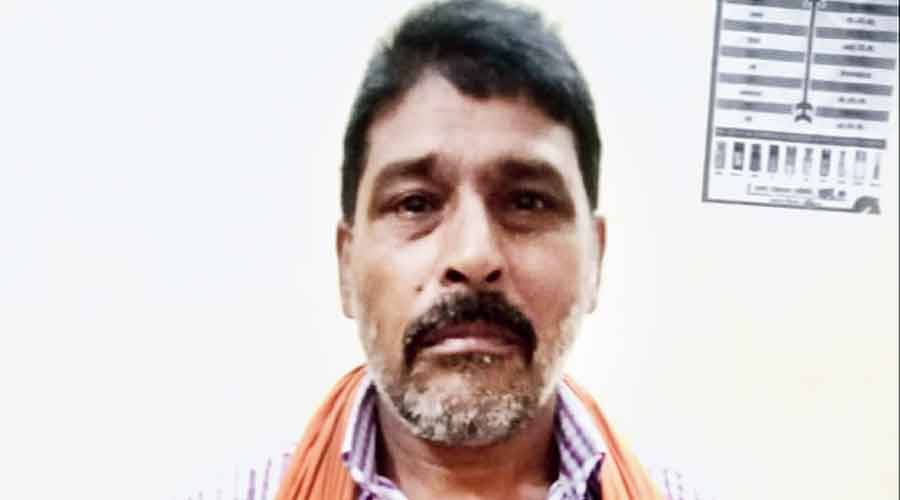 Raju Singh got a third dose of the Covid vaccine instead of the anti-rabies vaccine at Palamau.
Shabbir Hussain
---
Jamshedpur
|
Published 02.11.21, 12:57 AM
|
---
All Covid-19 vaccine beneficiaries in Palamau district will have to answer a questionnaire before getting their jab from Tuesday.
The development comes after Raju Singh, a 51-year-old tractor driver and a resident of Naudeeha village under Palamau's Patan block, was given a third dose of Covid-19 vaccine at the Patan community health centre instead of an anti-rabies vaccine after he was bitten by a dog.
"It was a lesson for us and we had to take up such a measure after the mistake came to light on Sunday. The questionnaire containing three questions have been circulated at all the vaccination centres by Monday evening. Instructions have also been given to display properly the signage of the Covid vaccination centre and places where other vaccines are being administered," said Palamau district civil surgeon Dr Anil Kumar.
All verifiers (auxiliary nurse midwife and health unit staff) have been directed to ensure that the questions are asked clearly before registering beneficiaries for vaccine doses. The beneficiaries will be asked if he was at the centre for his first or second dose. One will also have to specify the name of the vaccine in case of the second dose.
The civil surgeon said Singh had gone to the OPD of the community health centre after being bitten by a dog where he was given a slip stating his requirement of an anti-rabies vaccine. Singh mistakenly turned up at the Covid-19 vaccination centre. Asked by the verifier to furnish his mobile number to check his vaccination status, Singh did not provide the number with which he had registered for his first and second doses. Instead, he gave his neighbour's number. The verifier unknowingly administered him the third dose of Covid vaccine.
"We conducted an inquiry and came to the conclusion that the beneficiary did not produce the OPD slip and got registered with another person's mobile number, resulting in such a strange situation. However, that does not absolve the health staff and we will be taking action against her on the basis of the probe report," Dr Kumar said.
Meanwhile, the community health centre in-charge and an auxiliary nurse midwife have been asked to monitor Singh's health twice a day.
"The in-charge of the health centre and the ANM will be monitoring Singh's health both in the morning and in the evening for 14 days. We administered him the anti-rabies vaccine on Monday. Though he is doing fine, we cannot take any chances," said Dr Kumar said.