DC surprise visit to boys' home
Boot for paramedic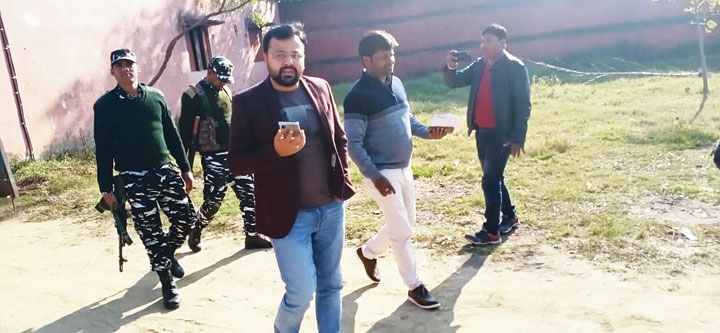 Palamau DC Shantanu K Agrahari at Children's Home for Boys on Monday.
Telegraph picture
---
Daltonganj
|
Published 13.01.20, 10:14 PM
|
---
Palamau deputy commissioner Shantanu K. Agrahari, who on Monday afternoon made a surprise inspection of the Children's Home For Boys, decided to remove the existing paramedic deputed here for dereliction of duty.
Speaking to the media, the DC said: "We need a dedicated paramedic here to take care of the common health problems of the boys."
Right now, 11 boys stay here and 15 others have been restored to their parents.
Last year, six inmates had escaped from here on two different occasions, but were later found safe and healthy.
Agrahari clarified that these inmates were not juveniles in conflict with the law. "They are victims of child labour, human trafficking, orphaned or abandoned by extremely poor parents," he said. "Some inmates are admitted to Samarth Awasiya Vidyalaya, a government school for unclaimed children or of children of Naxalite families who escaped, at Nawa Bazar. We are also planning to have a teacher posted here for these children."
A member of the district child welfare committee Dhirender Kumar said among the 11 inmates, there is a child from Manatu who came about six or seven months back. Neither has anyone come asking for him, nor is the child able to give any idea of his parentage.
The DC encouraged the boys to prepare a cultural show for Republic Day. "Prepare well and we will give you a stage and an audience," the DC said to the boys. He told the media: "They have taken up this challenge and it seems that the inmates have now a sense of belongingness."
District social welfare officer Aftab Alam has been asked by the DC to take help from the municipal corporation staff and keep the shelter clean and free of overgrown shrubs. Alam added: "The DC also asked me to give the boys ludo and carrom board without any delay."