'Padman of Jharkhand' to contest Bihar polls
Mangesh Jha, who independently helped over 600 rural households accept sanitary pads, files nomination from Harlakhi constituency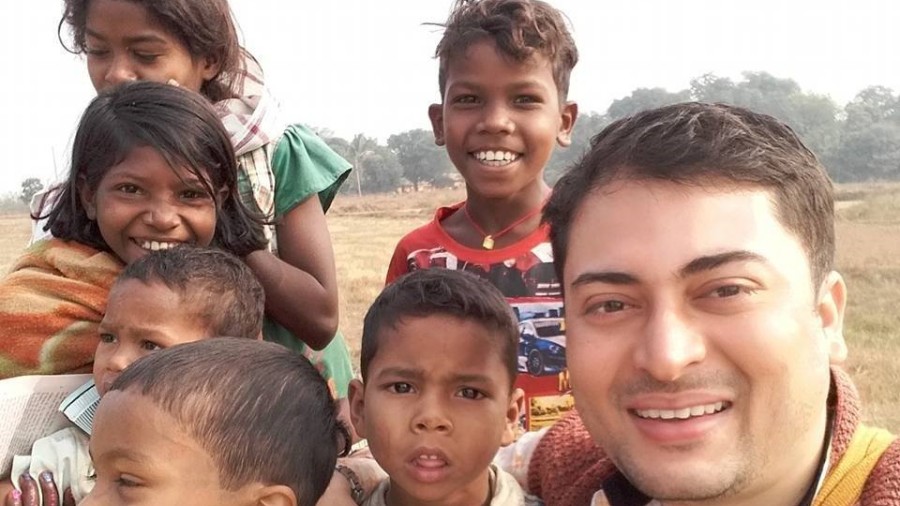 Mangesh Jha with villagers in suburban Ranchi during his stay in the Jharkhand capital.
Sourced by the correspondent
---
Ranchi
|
Published 21.10.20, 09:48 PM
|
---
A 33-year-old hotel management graduate turned social activist, who won the "Padman of Jharkhand" title for distributing sanitary pads among impoverished rural women and spreading awareness about menstrual hygiene in suburban Ranchi, is set to contest the upcoming Bihar Assembly polls from the Harlakhi constituency.
Mangesh Jha, whose independent efforts have led to the acceptance of sanitary pads in more than 600 rural households on the outskirts of Ranchi, has got a ticket from the Plurals Party in Bihar and is banking on the support of socially aware youths and women in his maiden shot at politics.
After working with top hotels in the country, Mangesh quit his job in 2014 with the intent to serve and uplift the rural society, especially women and children.
"I know that only distribution of sanitary pads cannot serve the larger purpose of making it a habit in rural areas. But we have to start somewhere," Mangesh told this correspondent in 2018 during a visit to Rasabera village in Ranchi, where he distributed sanitary pads for over a year.
In 2020, Mangesh aims at making menstrual hygiene a priority not only for activists but also for the government. Influenced by the ideologies of Swami Vivekananda and the teachings of Ramakrishna Paramhansa, this youth with no political history strongly believes in Vivekananda's famous quote: "Arise, awake and stop not until the goal is achieved."
Menstruation, he said, was still a taboo in Bihar. Hygiene and health of women needs to be a priority for the government, he added. His poll agenda, however, is not only restricted to issues related to women, but also covers other aspects of the society.
"So many migrants have returned to Bihar during the lockdown and are practically struggling to meet ends now. Unemployment is a major issue here," he said. "There has been no real development in Bihar in the past several decades. And I strongly believe that we will see development only when we overcome our prejudices based on caste, community, colour and sex," added Mangesh.
The poor state of affairs in Bihar encouraged him to enter active politics. "Be it Bihar or Jharkhand, our issues are more or less similar. Challenges in the health, infrastructure and education sectors continue to hold us back," Mangesh said over phone after filing his nomination for the elections.
Winning and losing, he said, was a part and parcel of life, and the election results will not deter him from achieving his goals. "I obviously want to win. But even if I don't, I will continue working for my people in whatever way I can. This is the time to change. We need more participation of youths in active politics in order to bring positive changes," he added.
Originally from Bihar, Mangesh calls Ranchi his second home. He has spent more than seven years in the city and keeps frequenting the Jharkhand capital.