Pact to revive WWII airport near Jamshedpur
The airport would be made operational in 18 months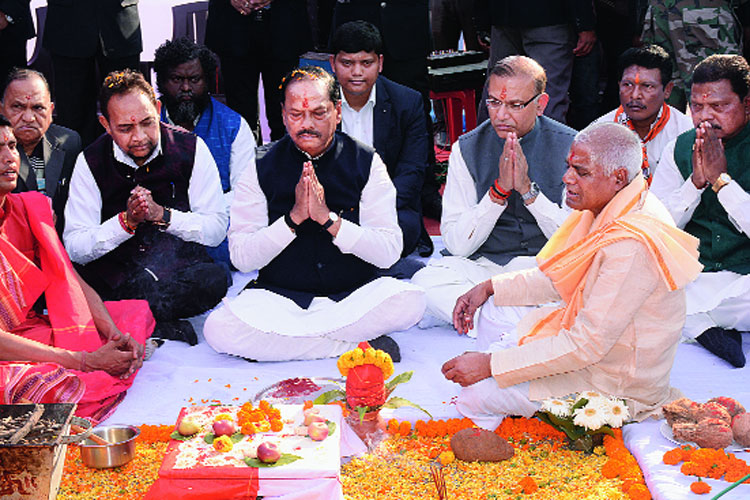 CM Raghubar Das flanked by Jayant Sinha (right) and Jamshedpur MP Bidyut Baran Mahto at a bhumi pujan at Dhalbhumgarh in Ghatshila on Thursday.
(Bhola Prasad)
---
Jamshedpur
|
Published 25.01.19, 07:37 AM
|
---
The state government and Airports Authority of India (AAI) inked an MoU on Thursday to develop an abandoned World War II-era airstrip nearly 65km from the steel city into a modern airport in the presence of a host of visiting dignitaries, including Union minister of state for civil aviation Jayant Sinha and department secretary R.N. Choubey who praised Jharkhand for being the first state to take the initiative to remodel an old airfield.
At a function organised at the airstrip at Dhalbhumgarh in Ghatshila, chief minister Raghubar Das also laid the foundation stone of the proposed airport after the MoU was signed by state director (operations) of transport and civil aviation Capt S. N. Sinha and director of Ranchi's Birsa Munda Airport P. R. Beuria.
The two officials also inked an MoU for a joint venture and land lease agreement for another airport at Deogarh.
Addressing the gathering, Choubey said, "We had found that nearly 400 such abandoned airstrips belonging to the British era exists in almost all states and Union territories. And as a part of the regional connectivity scheme, we had sent a proposal to all for their revival. With the laying of the foundation stone, Jharkhand has become the first state to start the process of revival of such airstrips," he said.
The civil aviation secretary who had held a series of meeting with state government officials both in Jamshedpur and Dhalbhumgarh over the last year, said that in the first phase, Rs 100-crore would be spent on construction of the airport on 240 acres. The airport, he promised, would be made operational in 18 months.
"In the first phase, ATR-72 planes will be operated from the airport which will have a terminal building of 15,000 sqft area with a capacity to accommodate 150 passengers at a time. It will have six check-in counters, sufficient parking space, capacity to accommodate two ATR planes at a time and a runway that is 1,745 metre long and 30 metre wide. In the second phase, we will require more land to accommodate Airbus 320 and Boeing planes," Choubey explained.
Chief minister recounted Jharkhand's progress in civil aviation ever since his government came to power in 2014.
"Till 2014 only 1,500 passengers used to fly daily on eight planes from Ranchi. Now, now more than 60,000 passengers take 30 daily flights. In 2018, over 25 lakh passengers boarded flights from Ranchi. It is for these reasons that we are committed to the Centre's regional connectivity scheme. Work has already begun for air connectivity in Dumka, Palamau, Hazaribagh and Bokaro, apart from the airport under construction at Deogarh and Dhalbhumgarh," he said.
The chief minister appealed to local residents to contribute land to expand the Dhalbhumgarh airport in the second phase.
"I have already asked East Singhbhum deputy commissioner Amit Kumar to initiate the process of land acquisition with the help of local gram sabhas. I appeal to local residents to provide 55 acre and promise to provide compensation as per the 2013 land acquisition policy to the tune of four times the market rate aalong with alternate land," he said, adding that the state government had given similar facilities to 600 families of Deogarh.
"If the local residents agree to part with their land, then we can have a bigger airport at Dhalbhumgarh in the next two-three years which will open up economic development of the region as it will attract passengers from neighbouring Odisha and Bengal," Das said.
The proposed airport at Dhalbhumgarh will require over 540 acres in all if the airport is to be made suitable for Boeings to land. As of now, government sources claimed that the bulk of land in the vicinity belonged to the government and the forest department. Only 55 acres were private owned.
Union minister Sinha recounted the country's progress in the aviation sector since 2014.
"In 2014, there were only 67 airports and today there are 102 airports. Passenger footfall has almost doubled, in 2014 only 6.5 crore passengers used to take flights annually while now over 13.5 crore passengers take flights annually. Our airlines have 700 planes and we have plans to buy 1,000 more planes to cater to the increasing footfall after increasing the number of airports under the regional connectivity scheme," he said.
Jamshedpur MP Bidyut Baran Mahto, who has been pursuing the Dhalbhumgarh airport project both with the Centre and the state for the last four years, termed it a historic day.
"The airport is an old demand of the people of the region. More than 35 per cent of air passengers of Ranchi Airport come from this region. I would also like to announce that two copper mines at Rakha and Chapri (operated by HCL) which have been closed for close to 19 years will also be opened in February, opening up job opportunities for the people of Ghatshila," Mahto said.
Among the others who were present were transport and civil aviation secretary Praveen Toppo, AAI regional director S. P Yadav and MLAs Laxman Tuddu (Ghatshila) and Meneka Sardar (Potka).