Overhead wires at Roshpa Tower threaten thousands
Overhead electric wires hang as low as 5 feet from the ground, often brushing people's heads and shoulders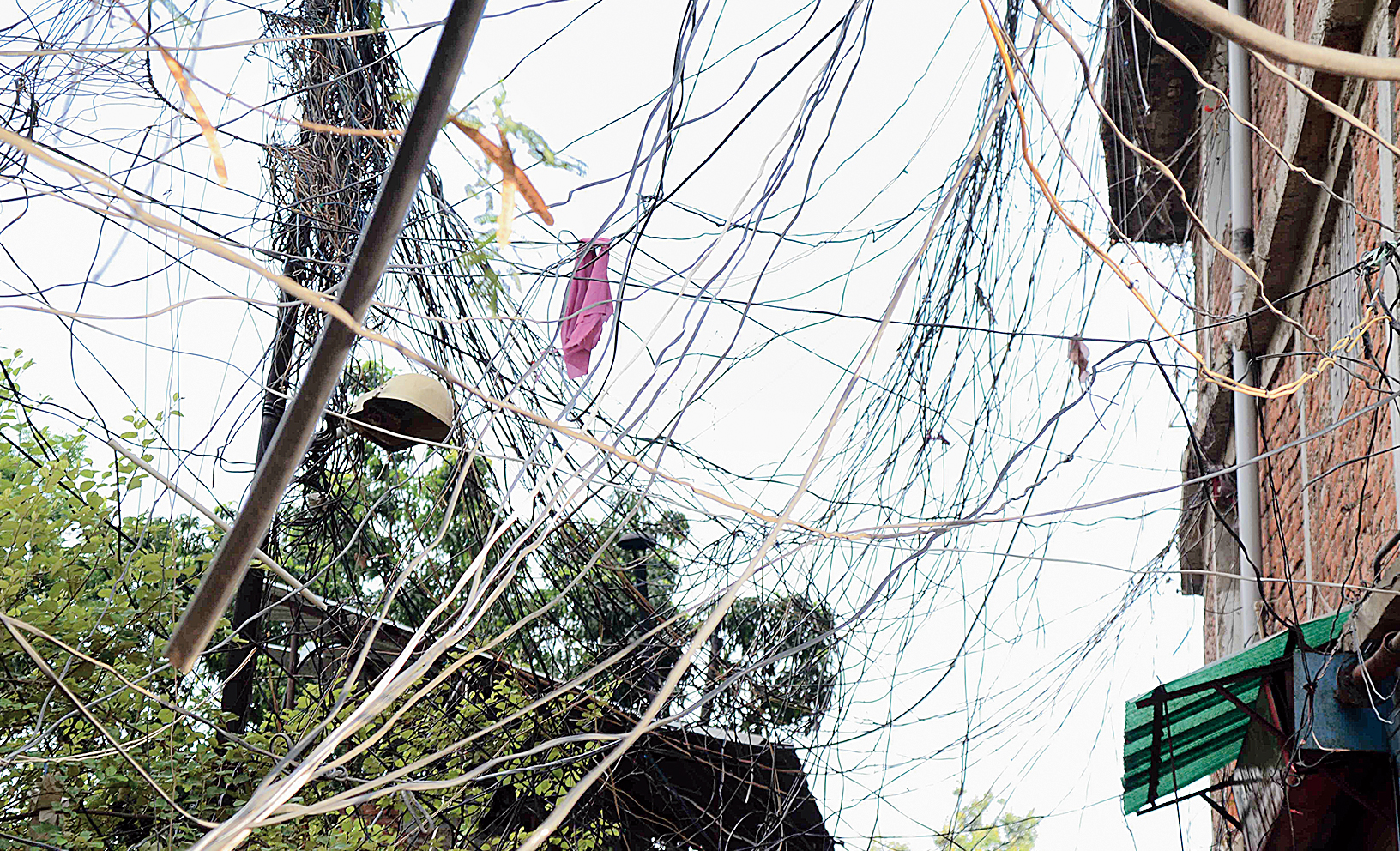 Thousands of overhead wires (left) dangle from Roshpa Tower on Main Road in Ranchi on Monday.
(Manob Chowdhary)
---
Ranchi
|
Published 03.06.19, 08:45 PM
|
---
A popular commercial hub in a crowded locality in the heart of the capital lives with the 24/7 threat of dangling overhead wires even as Jharkhand Bijli Vitran Nigam Ltd (JBVNL) gets underground cabling work done across the city to protect citizens and streamline power supply.
The place where dense spidery webs of overhead wires pose danger to thousands is Roshpa Tower, a seven-storey commercial building located at GL Church Complex area along Ranchi Main Road.
Overhead electric wires hang as low as 5 feet from the ground, often brushing people's heads and shoulders.
Roshpa Tower, set up over three decades ago in the days of United Bihar, was the closest Ranchi had to a mall back then. It has about 400 shops, many dealing in branded clothes, shoes and furniture. Despite its shabby look, customers throng Roshpa Tower for its popular outlets.
Ramji Prasad, one of the shop owners who has a general store on the ground floor of the building, said they took dangling wires in their stride.
"Nothing has been done to overhaul the wiring of Roshpa Tower since it came into existence," he said. "We are used to dealing with wires falling off during storms or heavy rains. Whenever an overhead wire snaps and falls on the ground, we inform JBVNL which then repairs whatever is needed."
He said traders like him had complained to JBVNL about overhead wires to no avail.
Frequent visitor to Roshpa Tower, customer Subroto Pal said it was absurd the way wires dangled at the commercial hub. "I never visit Roshpa Tower when it rains," he said.
JVBNL general manager Sanjay Kumar conceded the danger at Roshpa Tower but blamed building owners and shopkeepers for the mess. "Shopkeepers have drawn power lines directly from a nearby pole, instead of installing a power panel at a tower in the building. It's an illegal shortcut to get power, which is why you see so many wires," he said.
He added the JBVNL had served notices to building owners many times, urging them for proper wiring linked to each of the 400 shops after installing a power panel.
"They haven't paid heed. We might be compelled to disconnect power supply to the building in view of people's safety," he said.