Over 30% black fungus patients of Jharkhand could not survive
10 of 33 mucormycosis patients have died, recovery rate close to 25 per cent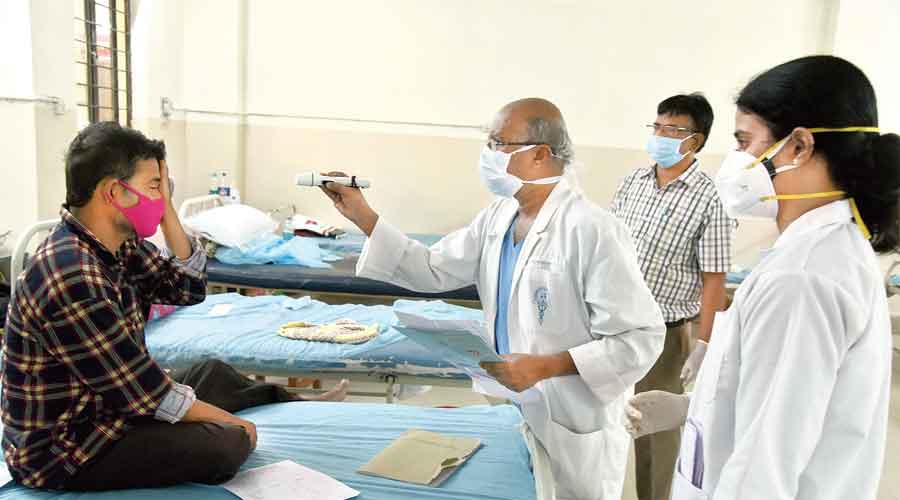 ---
Ranchi
|
Published 31.05.21, 07:14 PM
|
---
Jharkhand has registered a fatality rate of over 30 per cent and a recovery rate of nearly 25 per cent in mucormycosis cases reported in the state so far, while as many as 15 confirmed patients of the fungal infection and 46 suspected patients were undergoing treatment in various hospitals on Monday, health officials said.
As per government data on Monday, the state has so far reported 33 confirmed cases of mucormycosis, or black fungus, and at least 10 of these patients could not survive. On the other hand, as many as eight patients have recovered from the infection and have been discharged.
While Ranchi and East Singhbhum have reported three deaths each, two patients died in Ramgarh and one each in Dumka and Chatra. Ranchi also accounted for five of the eight recoveries so far, while East Singhbhum, Palamau and Ramgrah reported one recovery each, as per data released by the state government on Monday.
However, the state did not report any fresh deaths caused by mucormycosis since May 26. Besides, most of the eight recoveries were reported during this period from May 26 to Monday. In the past two days, the state did not find fresh confirmed cases of the fungal infection, but two patients were suspected to have developed the infection and were under observation.
Doctors claim that murocmycosis, common among those with diabetese and immunocompromised conditions, has a fatality rate of 50 per cent. This means the fatality rate in Jharkhand was lower than the average fatality rate of mucormycosis in general.
"Quick diagnosis and treatment were the key to check the fatality rate in patients," said Dr Anindya Anuradha, an ophthalmologist treating mucormycosis patients at Ranchi-based Bhagwan Mahavir Medica Superspecialty Hospital.
Mucormycosis, also called black fungus, is a rare infection caused by exposure to mucor mould found in soil, plants, manure and decaying fruits and vegetables. The line of treatment includes surgery and administering anti-fungal drugs, mostly Amphotericin B.
Several thousand cases of Covid-induced mucormycosis were reported in India in the past one month and doctors claimed that use of high dosage steroids for treatment of severely-ill Covid patients was one of the reasons for the spike.
Last week, the government made Mucormycosis a notifiable disease and asked the Integrated Disease Surveillance Programme (IDSP) to maintain records related to the lethal fungal infection. The civil surgeons of all the districts have been asked to report fresh confirmed and suspected cases of Mucormycosis to the IDSP every day.