Over 1.15 lakh get vaccinated in Jharkhand
Another mucormycosis case in Ranchi; Dhanbad, Ranchi, Bokaro report rise in active Covid cases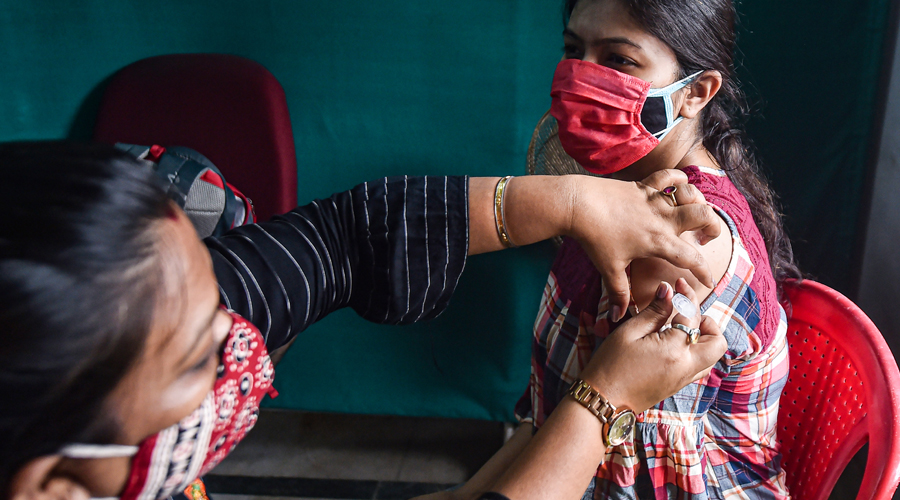 More than 20,000 residents were vaccinated at 83 session sites across Ranchi, while 85 session sites inoculated over 18,000 residents in East Singhbhum.
File picture
---
Ranchi
|
Published 08.08.21, 11:35 AM
|
---
Jharkhand on Saturday vaccinated more than 1.15 lakh residents against Covid-19 as over 1,086 session sites remained operational across the state, inoculating at least 100 residents each on average, figures released by the health department highlighted.
As per provisional data released by the National Health Mission (NHM), as many as 92,071 residents were administered the first dose of vaccine on Saturday, while at least 24,999 received their second jab. Almost 85,000 beneficiaries were  in the age bracket of 18 years to 44 years.
More than 20,000 residents were vaccinated at 83 session sites across Ranchi, while 85 session sites inoculated over 18,000 residents in East Singhbhum, as per the Co-Win portal. At least 68 session sites opened their doors for beneficiaries in Dhanbad on Saturday and more than 11,000 residents got vaccinated.
Vaccine figures shared by the NHM on Saturday evening highlighted that the state had more than 4 lakh doses in stock, enough to last about four days. Jharkhand has so far received 1,01,66,910 Covishield and Covaxin doses from the Centre and inoculated 1,00,99,082 residents by utilizing the vaccines sent from the Centre and additional Sputnik V doses purchased separately by private hospitals.
Jharkhand on Saturday reported another confirmed case of Covid-induced mucormycosis, which took the total count of confirmed black fungus cases to 105, data released by the Integrated Disease Surveillance Programme (IDSP) highlighted. The fresh case was reported in Ranchi, the worst-affected district which has reported 41 confirmed cases of black fungus and at least 11 fatalities caused by the fungal infection.
According to IDSP, Jharkhand has also reported 59 suspected cases of this fungal infection, while at least 31 patients suffering from black fungus have died in the state so far.  
Meanwhile, the active caseload of Covid-19 dropped further down to 221 in Jharkhand on Saturday as the state reported at least 42 Covid recoveries against 37 fresh cases of infection, the daily Covid-19 bulletin released by the NHM highlighted. However, the active caseload witnessed a spike in Ranchi, Dhanbad and Bokaro.
The count of active cases increased in Ranchi for the second day in a row as at least nine fresh cases were reported in the district against only five recoveries. As many as 61 people were battling the viral infection in Ranchi by the end of Saturday, stated the NHM bulletin. The active caseload also rose to 8 in Bokaro as seven fresh cases were reported there against five recoveries, while four cases against one recovery took the active caseload in Dhanbad to 22.
At least 14 of 24 districts in Jharkhand did not report fresh Covid cases on the day. As per government data, East Singhbhum reported three cases against the same number of recoveries and the active caseload there remained 15. No Covid casualties were reported in the state on Saturday and the toll remained 5130, the NHM bulletin further stated.
Jharkhand on Saturday tested swab samples of 52,947 residents and 0.06 per cent of them were found infected by coronavirus. So far, over 3.47 lakh people have been infected by the virus in the state and 98.45 per cent of them have recovered, while 1.47 per cent of patients could not survive.