Over 1,000 workers, most of them women, return home in train from Kerala
Many firsts in the way Jharkhand has ferried back migrants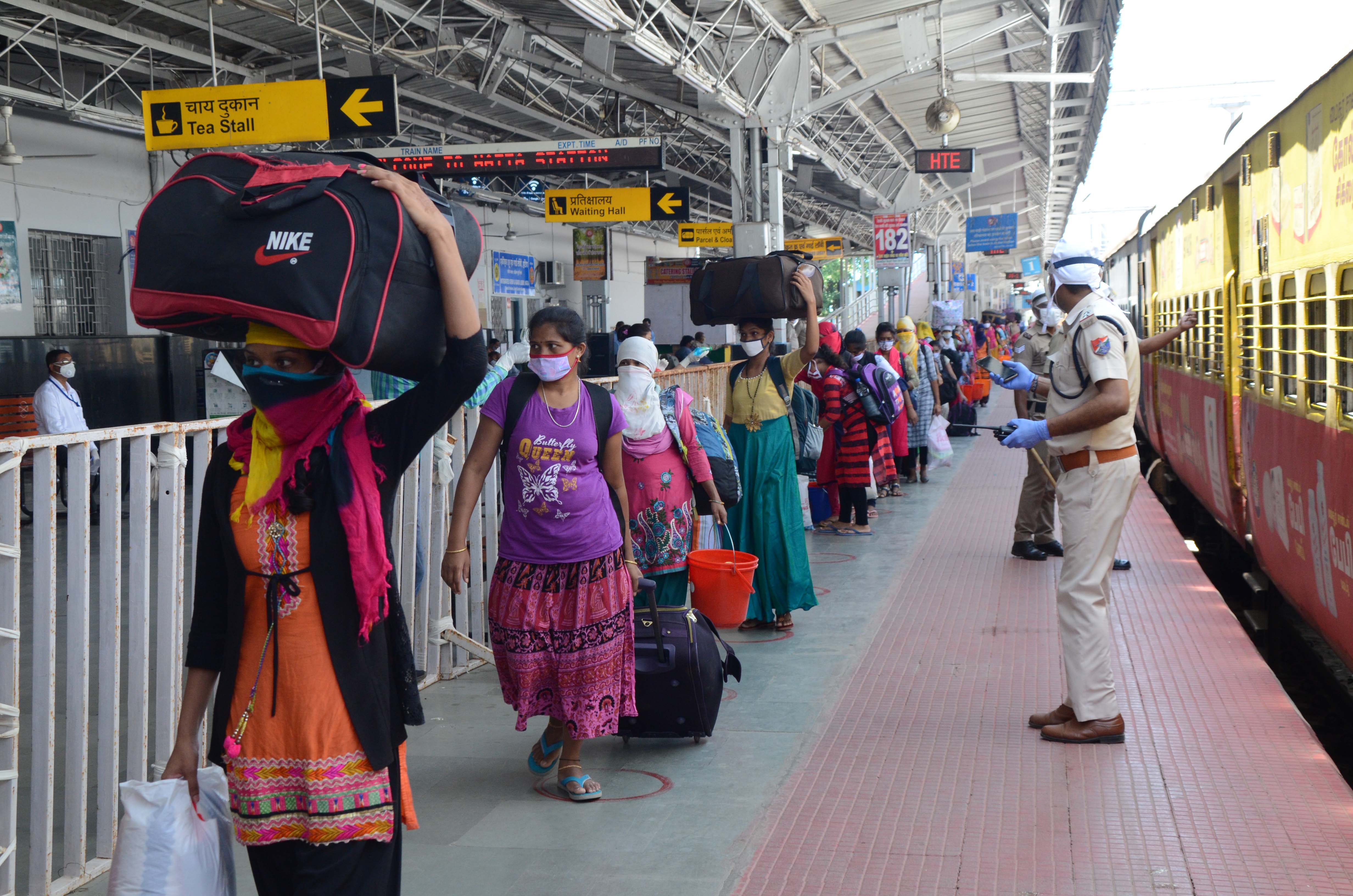 Migrant workers and their families leave the platform after their train reached Ranchi station on Saturday.
Manob Chowdhury
---
Ranchi
|
Published 06.06.20, 01:45 PM
|
---
As for brining migrants back home, Jharkhand has many firsts to its credit. The train that had left Hyderabad for Hatia on May 1 was the first one used to ferry workers.
A group of 180 such workers were flown from Mumbai to Ranchi by a chartered flight on May 28 by the members of Alumni Network of National Law School of India University, Bangalore. That was first such initiative by any group.
That was followed by another airlifting, that of 60 workers from Leh by a commercial flight. The trip was organised by the Jharkhand government, the first by any state government.
Not many were keen on talking but indicated they had approached the government for help to return to Jharkhand. "We were not offered anything to eat during our two-day journey," one of them said, adding they shared whatever food they could bring with them or were able to buy on the way.
According to information from state government sources, over 200 special trains have brought back around 2.90 lakh migrant workers to the state so far.
Besides, many more reached home, either walking or by cycle. Some said they had hitch-hiked all the way.
Another flight on June 4 brought back 180 workers stranded in Andaman and Nicobar Islands. This was also a first of its kind as the journey was sponsored by Interlink Foods Pvt Ltd, a Delhi-based private company that responded to a call for help by chief minister Hemant Soren. The company spent around Rs 22 lakh for the flight.
A special train from Kerala with over 1,000 workers, mostly young women, reached Hatia station in Ranchi around 11am on Saturday morning.
According to railway sources, 836 of them, including nearly 600 women, got down at Hatia while the rest continued their journey till Hazaribagh.
The women, most of them working in garment factories in Kerala, were stranded there ever since the lockdown. After their arrival here, they were temperature screened and given food packets and water bottles by the administration.
The government also arranged buses to send them to their respective hometowns in Bokaro, Simdega, Gumla, Khunti and Latehar districts.