Outrage after attack
Slogan face-off in Ranchi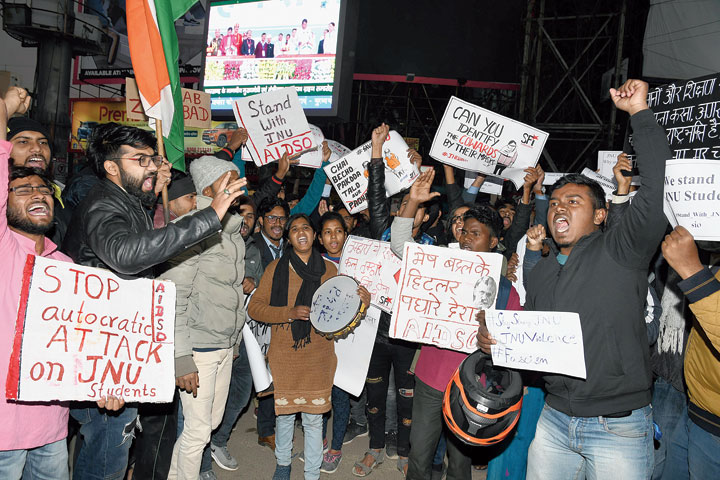 Students at Albert Ekka Chowk in Ranchi on Monday protest against the violence on JNU campus.
Picture by Prashant Mitra
---
Ranchi
|
Published 06.01.20, 10:27 PM
|
---
Baton-wielding cops stood like a wall as two opposing groups of youths had a face-off at Albert Ekka Chowk on Monday evening.
While some 80 students and activists condemned Sunday's attack on JNU students, allegedly by masked ABVP members, a smaller rival group of rightwing outfits opposed them. Slogans and counter-slogans — Students' unity zindabad and CAA zindabad; ABVP murbabaad and Left murdabaad — rent the air.
Both groups waved the Indian Tricolour.
As announced beforehand, a group of youths assembled at the chowk to protest the JNU attack around 5.30pm. But hardly had they reached, another smaller group sprang up from nowhere and started shouting counter-slogans. Within a few minutes, another group of students, comprising a good number of girl students, joined the group that was denouncing attack on JNU students, outnumbering their opponents by a large number.
"The JNU attack must be condemned and ABVP should be banned the way once RSS was banned," said Ankita Agarwal, a student of political science of the City University of New York, visiting her family in Ranchi, who joined the protest.
After about half an hour, the police asked both groups to disperse but neither budged. After an hour, the police ensured both groups left the venue. They left in two processions in opposite directions.