Out attending nature's call, man trampled to death by elephant
Tamar villagers furious with foresters for not warning them about tusker movement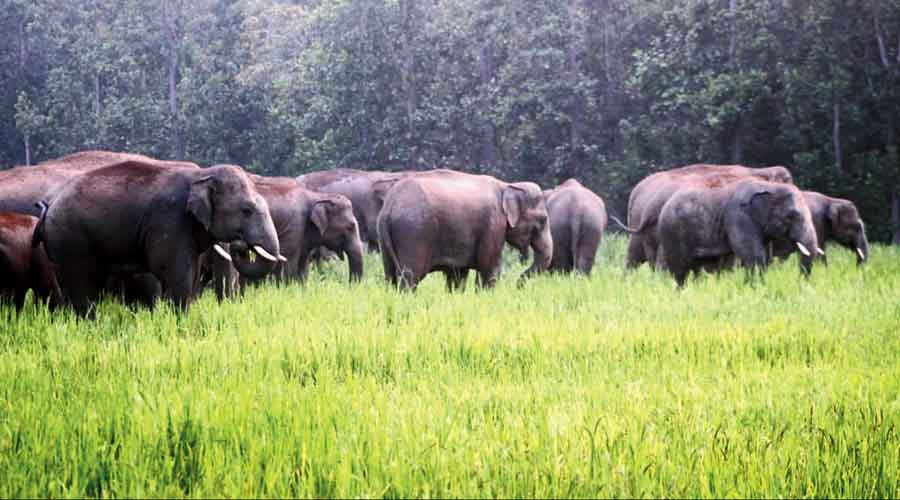 ---
|
Ranchi
|
Published 24.01.21, 07:15 PM
---
Out to attend nature's call in the open, a tribal man was trampled to death by a wild elephant in Ranchi's Tamar block past Saturday midnight, triggering outrage among villagers over the alleged lackadaisical approach of forest officials in alerting residents about the presence of wild tuskers.
In his forties, Budhram Munda, a resident of Kundala village under Tamar police station around 50 km from the state capital, sustained severe internal and external injuries after an elephant caught hold of him and rammed him on the ground several times. A profusely bleeding Budhram was rushed to a nearby hospital where doctors declared him dead, villagers said.
The deceased's brother, Sanjay Munda, said that Budhram, who was unaware of the presence of elephants in the area, ventured out of his house to defecate at around 1.30am. When Budhram did not return, Sanjay rushed out of the house and found him unconscious in a nearby jungle. The villagers rushed Budhram to a nearby hospital, but it was too late by then, said Sanjay.
Tamar block falls under the jurisdiction of the Khunti forest officials. Forest Range Officer of Tamar Amarnath Bhagat said elephants usually moved from Jharkhand to Bengal during this time of the year and often turn aggressive upon encountering humans at night.
The incident has also raised questions on the government's claim of ensuring zero open defecation in Jharkhand. "I am not sure if the deceased had a toilet at home or not, but in many cases, villagers defecate in the open despite having toilets at home," said Bhagat.
The incident occurred in the forest area and the deceased's family immediately got compensation of Rs 50,000, he said. A remaining amount of Rs.3.5 lakh would be paid to the family after verification.
Jharkhand was declared Open Defecation Free (ODF) by the former BJP-led state government in 2018.
Villagers in Tamar block claim to live under constant fear of elephants, who have destroyed farmland, ransacked houses and killed many in the past. Tamar falls in the elephant corridor, and villagers claim that forest officials have not developed any mechanism to inform them about the movement of elephants in the area.
About 10 months ago a dozen tuskers had damaged standing crops and a few houses at Dimra village close to Kundala village where Budhram died on Sunday. In December last year, one Devashish Sahu lost his life after he was attacked by an elephant at Salgadih village in Tamar.
Kundala and surrounding localities are also part of the elephant corridor leading to the Dalma Wildlife Sanctuary.