Trafficked tribal girl feared killed is back
The Oraon tribal girl was sold in Delhi and feared to have been murdered after a girl's butchered body was found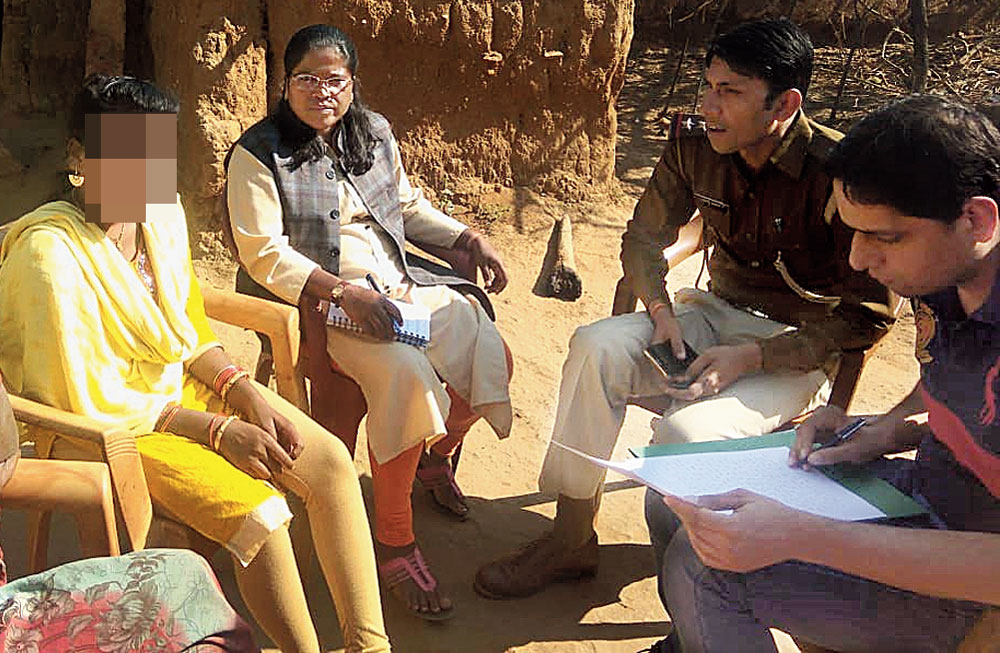 ---
Ranchi
|
Published 24.11.18, 06:58 PM
|
---
A tribal Oraon girl, who was trafficked from Lapung in the capital district last year in July to Delhi and was thought to have been murdered this May, has returned home alive and well.
The girl has been accepted by her family while the identity of the actual murder victim is now a mystery that needs reinvestigation, Delhi Police ASI Ravi Kumar, who went to Dahada village in Lapung, 40km from district headquarters, on Saturday, said.
On May 3, dismembered body parts of a girl, said to be aged 16, were found stuffed in a black bag near a drain in outer Delhi's Mianwali Nagar. During probe, police had arrested a trafficker Manjeet Kerketa, a resident of Kamdara of Gumla district, who claimed she was a girl of Lapung. Delhi police came to Lapung and took the Lapung girl's brother Shankar to Delhi to identify the body. Though the body was dismembered and badly decomposed, Shankar identified it as that of his sister.
In the "Lapung girl murder", Delhi Police had in October arrested another trafficker Gauri, a woman from Alipurduar in Bengal.
But on November 16, the Lapung girl came back home, helped by Delhi NGO The Earth Saviours Foundation. Her parents and brother identified her but did not inform police. On November 19, Lapung thana came to know that the girl, who was given up as murdered, was back home alive, and informed Ranchi district headquarters, which in turn informed Delhi counterparts of this sensational development.
Veena Mehra, who heads The Earth Saviours Foundation, said Delhi's Vasant Kunj police had handed over the Lapung girl to them on July 20. "She was weeping on the road and told police her employer did not pay her and so she ran away. We traced her home and address after a lot of difficulty," said Mehra.
Lapung OC Vikas Kumar said details were sketchy.
"Family members and villagers have identified the girl. But we are not probing this case as no missing report had been lodged by her family when she disappeared last year. Her family did not inform us when she came back too. Now, the real mystery is who is the girl found murdered in the bag in Delhi," he said.
This girl, he said, claimed she was 22 years old, while her family claimed she was about 17. But the police are not sure about her age. The girl said she had been persuaded to go to Delhi by a Bero man named Ravinder Lohra. "On Monday, we will visit her school to get correct details of her year of birth, as she has said she studied up to Class VIII," he said.
Jharkhand State Commission for Protection of Child Rights (SCPCR) chairperson Arti Kujur also visited Lapung for an hour-long discussion with the girl and her family.
"She said that from Delhi she had been taken to Tamil Nadu where she worked at a house for four months. From Tamil Nadu she came to Delhi and then Noida," Kujur said. "But she can't pinpoint the places where she stayed and worked as a domestic help. Her brother said he had identified the body as his sister out of nervousness. We are now anxious to know who was the murdered girl," Kujur added.