Opp BJP members disrupts Jharkhand Assembly's monsoon session
Lawmakers carrying vegetables and placards stage demonstrations demanding government to declare state as drought-hit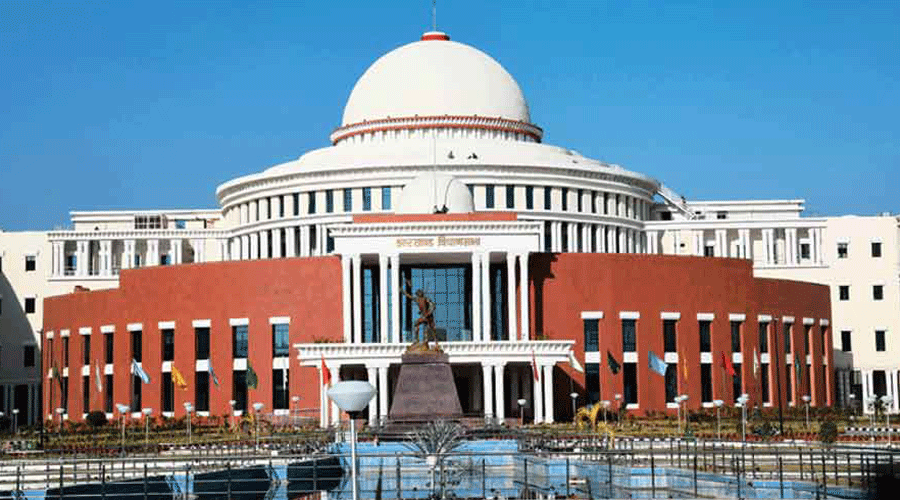 Jharkhand Assembly.
File photo
---
Jamshedpur
|
Published 02.08.22, 02:54 AM
|
---
Opposition BJP members created uproar disrupting proceedings on the second day of the Jharkhand Assembly's monsoon session on Monday demanding the JMM-Congress-RJD alliance government in Jharkhand to declare the state as drought-hit.
As soon as the House started, several BJP lawmakers, some of whom dressed as farmers and carrying vegetables and placards staged demonstrations outside the Assembly demanding the government to declare the state as drought-hit.
As the House began BJP lawmakers disrupted the proceedings several times by protesting at the well of the House leading to adjournments in the afternoon and evening and disrupting question hours.
The assurance by Speaker Rabindra Nath Mahato and parliamentary affairs minister Alamgir Alam that a special discussion is scheduled on the matter in the second half and that the government is serious on the drought situation failed to placate them.
Responding to the discussion on drought later in the day during the Assembly session, agriculture minister Badal Patralekh admitted that the government is worried due to scanty rainfall and that the topic had been discussed with the chief minister in the last cabinet meeting.
"Agriculture department has apprised the chief minister and the disaster management department of the situation. So far, crop cover has been done on 6.89 lakh hectares, while the cultivable land in the state is 27 lakh hectares. We have achieved 35 per cent of the target so far. Rainfall is less than 50 per cent. The government is soon going to hold a meeting under the chairmanship of the chief minister," said Patralekh.
The minister added that the government is also working on the alternate cropping scheme and increasing new ration cards beneficiaries by nearly five lakh and if need arose then community kitchens will be opened, as it operated during Covid pandemic lockdown.
"The government will take a decision after assessing the situation on drought. Decisions on drought are usually taken in the month of October, but under special circumstances, drought can be declared even in the month of August," said Patralekh.
Chief minister Hemant Soren blamed the BJP lawmakers for disrupting house proceedings.
"They are conspiring to paralyse the entire house by protesting. The government is ready to discuss the drought situation. The government is completely sensitive and serious towards all the people of the state, especially the rural areas. The government will take the right decision in the interest of farmers," said Soren.
Earlier, amid this uproar, the Jharkhand government presented the first supplementary budget for the financial year 2022-23. The supplementary budget is Rs 3436 crore 55 lakh 36 thousand.