Onion tears unlikely to dry up soon
Costly onions look set to continue being a tear-jerker till the Jharkhand Assembly elections are over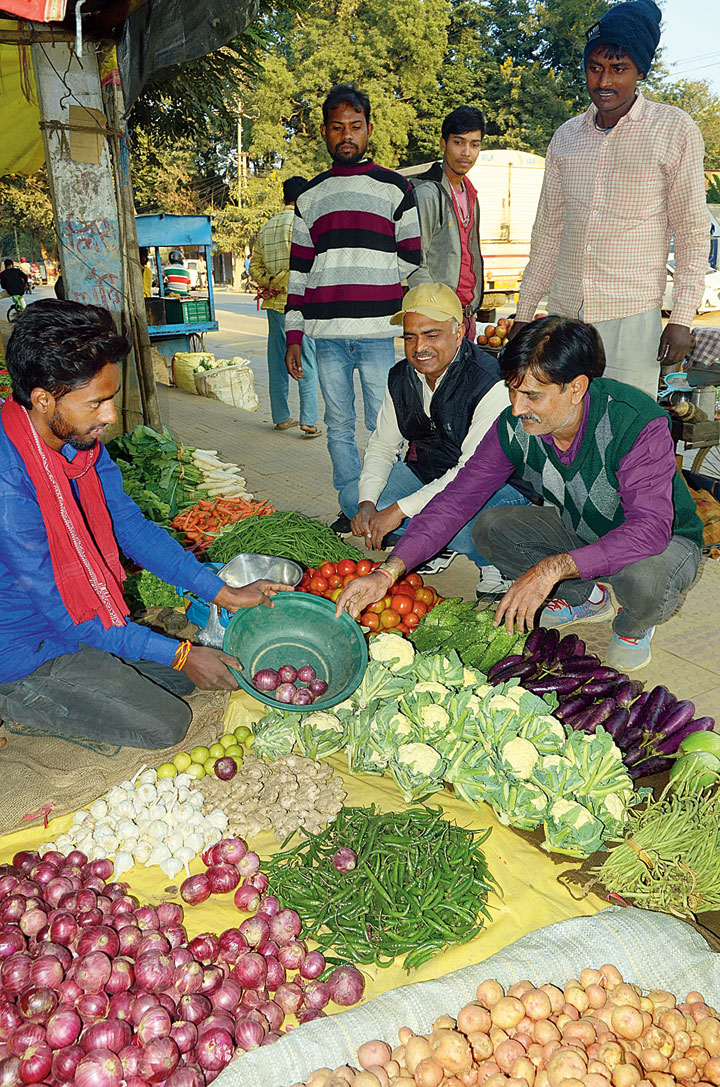 ---
|
Ranchi
|
Published 06.12.19, 06:58 PM
---
Two bags stuffed with onions worth Rs 10,000 were stolen from a vegetable market near Ranchi station on Friday when the kitchen staple was being sold at Rs 100-110 per kg across capital markets.
The costly onions look set to continue being a tear-jerker till the elections are over.
Vegetable vendor Bablu Kumar said he purchased onions for Rs 90 per kg from the wholesale market in Pandra and was selling them for Rs 100 per kg.
"Those who used to buy 1kg of onions per day are now buying just 250gm," he said.
Mohammed Sajid, a vendor at Hindpiri market, said many had replaced raw onion in their diet with radish that cost Rs 20 per kg.
A homemaker at Naya Toli, Jyotirmani Ekka, said she had not expected the price of onions to stay above Rs 100 for such a long time.
"Earlier, whenever the prices of onions had shot up, it had come down within four to five days," Ekka said.
On why the district administration had failed to take any remedial measure, district supply officer Neeraj Kumar said: "During the election, any populist measure will be termed as a violation of model code of conduct. Consumers will have to wait till December 23 for the onion prices to come down," Kumar said.
An official at the district supply office said the prices would continue to remain high till the middle of January.
"The Centre is importing onions from Egypt and Turkey. All consignments are expected to reach India by the second week of January. Currently, onions coming from Rajasthan and Nasik are being able to meet only half of the requirement. The city have to make do with 50-56 tonnes per day against the demand of 112 tonnes," the official said.
In the steel city, the onions were sold by retailers at Rs 120-130 per kg on Friday while the wholesale rate (old stock) stood at Rs 100-110.
Ranganath, a wholesale dealer of onion in Sakchi market, ruled out possibility of a reduction in price till the middle of next month.
"We are expecting a slight hike in prices in the next few days," he said adding that they were not allowed to stock more than 25 tonnes following the restriction imposed by the state government.
Satya Narayan Agarwal , a senior functionary of Parsudih-based Krishi Utpad Bazar Samiti, said: "Only two trucks full of onions are rolling into steel city every day against eight to 10 trucks earlier. We see no immediate respite. "
In Dhanbad, onion traders are expecting prices to ease after 10 days following the arrival of fresh consignments from Nasik and South India.
On Friday, retailers sold the kitchen staple at Rs 120 per kg and wholesellers at Rs 105 per kg.
Brij Kumar, a Krishi Bazar-based wholeseller, said: "Rains have stopped in onion producing areas such as Alwar in Rajasthan and Nasik in Maharastra. Fresh dry consignments are ready to be dispatched. Prices will come down by Rs 20-30 per kg as soon as the new stock hits the markets."