Onion tears return, minister cracks whip
Retail markets sold onions between Rs 70 and Rs 80 per kilo whereas wholesale prices ranged between Rs 52 and Rs 54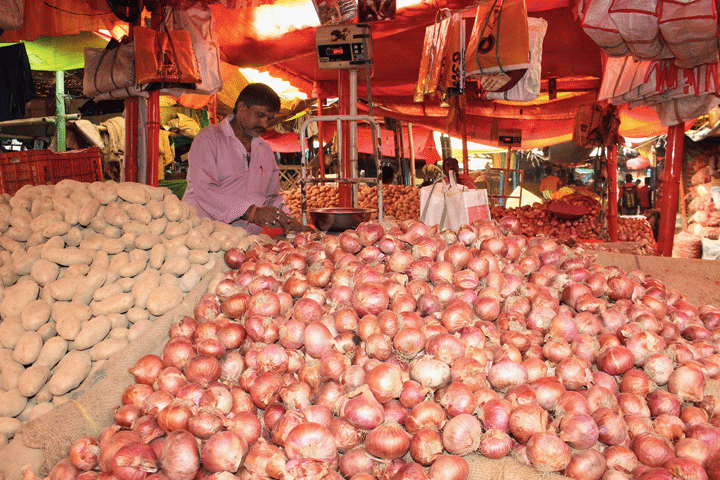 ---
Ranchi/Jamshedpur/Dhanbad
|
Published 05.11.19, 06:55 PM
|
---
Onion prices hitting Rs 70 to Rs 80 a kilo in Jharkhand's three major cities on Tuesday prompted food and civil supplies minister Saryu Roy to order an advisory to curb its retail price.
Roy on Tuesday evening ordered that under no circumstances should the difference between the wholesale and retail price of onions exceed Rs 5 per kilo.
However, The Telegraph, in its survey of onion prices in Ranchi, Jamshedpur and Dhanbad on Tuesday, saw that the difference between wholesale and retail was much more — in some cases three times higher — than what the minister had prescribed.
On Tuesday, retail markets of Ranchi sold onions between Rs 70 and Rs 80 per kilo. Wholesale prices ranged between Rs 52 and Rs 54.
In Dhanbad, a kilo of the bulb retailed for Rs 70 on Tuesday. Wholesale price was Rs 62 a kilo. In Jamshedpur, retailers sold onions for Rs 70 to Rs 75 a kilo, and wholesalers between Rs 55-58 per kilo.
A wholesaler in Ranchi said that they were helpless as they had to depend on supplies from Nashik and Indore, but the long transport and bad weather ended up hiking the prices beyond their control.
"It rained since August and a lot of onions rotted," he said. In Jamshedpur, a Sakchi wholesaler agreed.
"Rains have damaged crop and supplies are also less and not of a very high quality. Plus, there is damage en route." A Dhanbad retailer from Jharia, Mukesh Verma, said that they could not blame wholesalers. "They are as helpless as us, and the customer has to bear the brunt."
For customers on a tight budget, cutting corners is the only way out. Ranchi homemaker Anita Kumari of Kishoreganj said that after Chhath, she had looked forward to make a rich non-vegetarian dish with an onion-based gravy. "But that will have to wait," she said. "I can't digest onions for Rs 80."