On Rakhi, a green message from 'most polluted' Jharia
Environmentalists tie rakhis around tree trunks in a vow to protect them and create a pollution-free environment for the town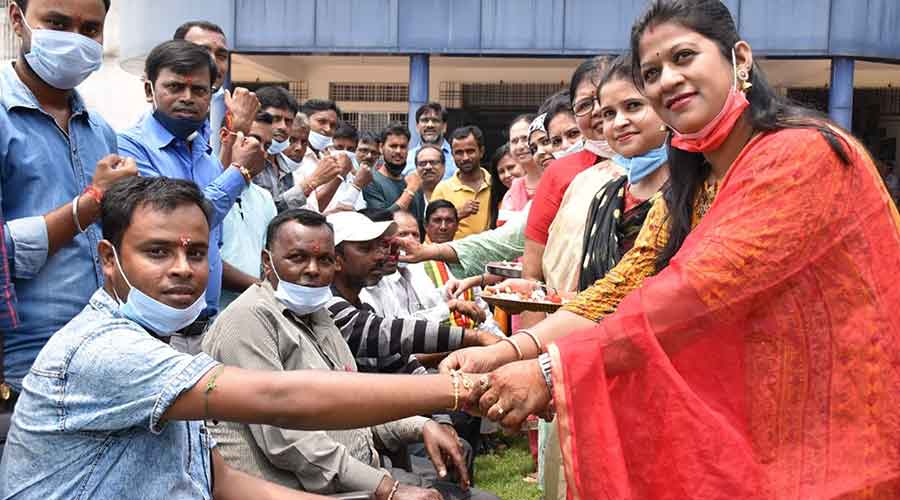 Teachers of Dr. JK Sinha Memorial International School at Nawadih tie Rakhis to newspaper vendors and hawkers.
Gautam Dey
---
Dhanbad
|
Published 22.08.21, 10:49 PM
|
---
Coal town environmentalists celebrated Rakshabandhan in Jharia by tying Rakhi to tree trunks during a function at children park during which they also took the oath to save the trees to secure a pollution free environment for the town.
The function held under the leadership of Dr Manoj Singh, a physiotherapist and environmentalist of Jharia began at around 11am and concluded at around 1.30 pm during which other environmentalists including Akhlaque Ahmad, and Anil Jain were also present.
"We organised the programme on the occasion of Rakhi with the aim of creating awareness about the significance of trees in conservation of environment," said Singh.
"We tied the rakhi to the trunks of around 50 trees under the shade of which we played during our childhood days," said Singh and added that such effort assumes greater significance for Jharia which figured in the list of most polluted cities/towns across the country for several years during the recent past due to high PM10 and PM2.5 level in the air.
Akhlaque Ahmad, who also participated in the drive, said, "Conserving the existing vegetation as well as newly planted sapling is equally important than carrying out plantation."
Meanwhile, the teachers of Dr J.K. Sinha Memorial International School, a CBSE affiliated School also celebrated Rakhi in a special way by tying Rakhi on the wrists of newspaper vendors.
Talking to The Telegraph Online during the function, Shobha Sinha, founder of the host school Dr JK Sinha said, "We organised the programme for acknowledging the services rendered by these persons whose contribution towards creating awareness among the people often remain unrecognised."
"At the time of pandemic when the information was the key to make people aware about the disease, these newspaper vendors played crucial role in distributing newspapers as the source of information," said principal of the school, B Jagdish Rao and added the despite the unhindered services their efforts often remain  unacknowledged so they organised the programme to felicitate them.
Chandana Ghosh, a Hindi teacher of the school, who led the programme said, " We felt quite satisfied after tying Rakhi to our such brothers who play a significant role in spreading information in the society."
Dharnidhar Mandal, president of Dhanbad Zila Akhbar Vikreta Sangh, who also participated in the function along with 18 other newspaper hawkers said, "We felt quite elated when we received information from the school about the Rakhi celebration and felt proud after being tied Rakhi by lady teachers of the school."