On Day One, too few buses on the road; very few passengers too
Ranchi, Jamshedpur operators worried at poor response, long routes worst hit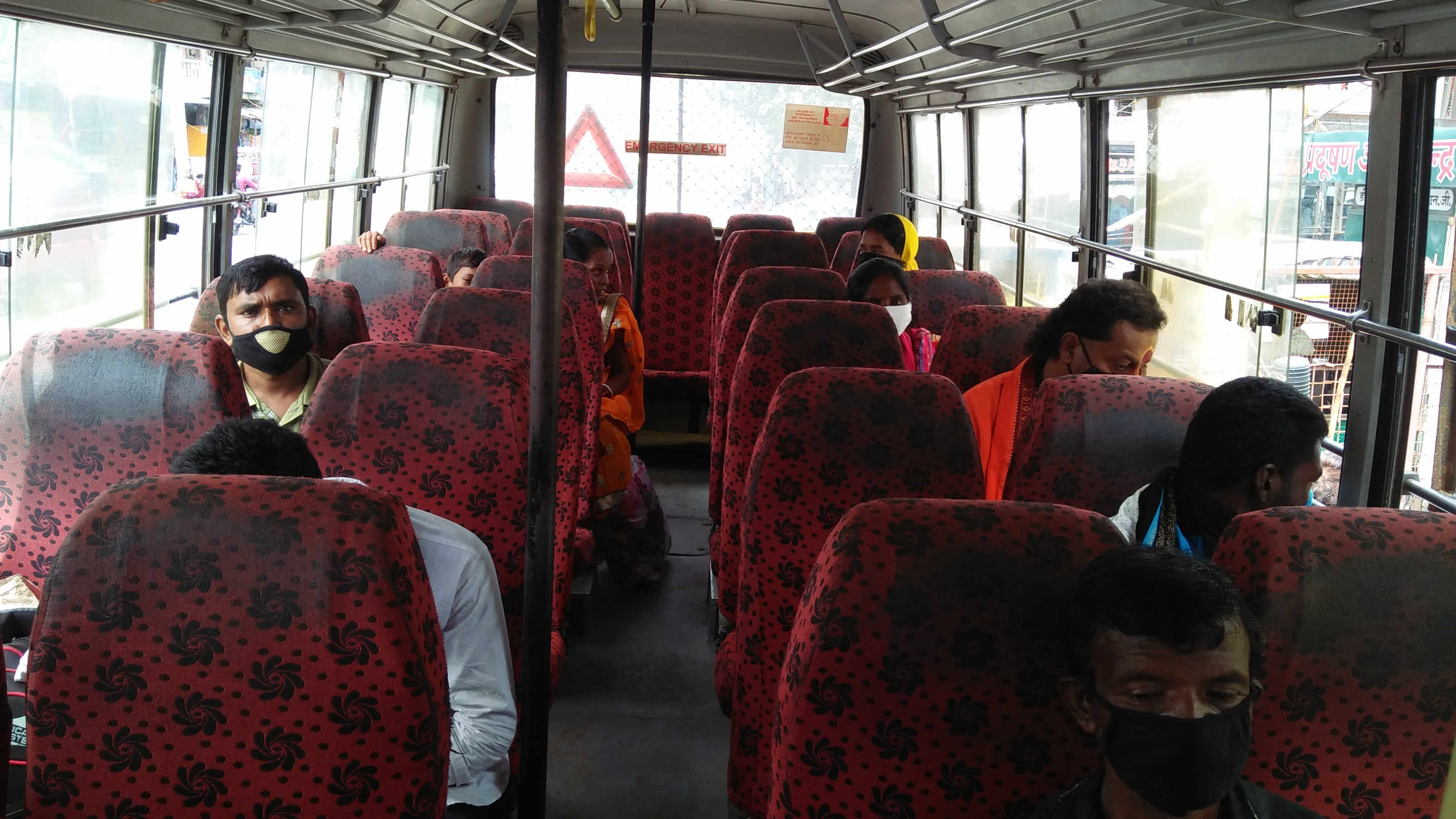 At Birsa Munda Bus Terminus in Ranchi, a bus bound for Bundu waits for more passengers on Tuesday.
Telegraph picture
---
Ranchi, Jamshedpur
|
Published 01.09.20, 07:50 PM
|
---
If Day One of resumption of intra-state bus services in the state saw few buses hitting the road, the number of passengers were even less.
After being grounded for the last five months, barely 10 per cent of Ranchi's 2,000 buses were on the road on Tuesday. At Jamshedpur's Sitaramdera bus terminus, 30 per cent of 400 buses rolled out for duty.
Officials of Ranchi Bus Owners Association said they did not expect passenger counts to be so low when they agreed to resume services, even with 50 per cent occupancy, in accordance with the state government's directive issued for the JEE-NEET tests that began on Tuesday. "We did not expect this kind of a response. It was very bad on Day One. We don't know what to do if the trend continues. People aren't coming out of their homes it seems," said association president Krishna Mohan Singh.
Patrons-in-chief, Jamshedpur Bus Owners' Welfare Association, Upendra Sharma said the first day of the resumption of inter-district bus services was not encouraging at all.
"Very few passengers turned up. Maybe not everybody is aware about the resumption of bus services. But if passengers do not turn up in good numbers, then the condition of bus operators will deteriorate," he told The Telegraph Online.
Ranchi's transport hub Birsa Munda Bus Terminus remained sleepy through the day. Shops at the terminal were open, but there were no customers. Busses lined up the platforms while a few cleaning staff went about their job.
Raju of Chanchal buses plying between Ranchi-Hazaribagh said they got two passengers till 10am. "In two hours, only two passengers came to go to Hazaribagh. Two others who came preferred to go on bikes as they did not want to wait for long," he said, adding that most probably he would cancel the trip.
Md Shakeel, a driver of a bus going to Simdega, said only short-route buses managed to ply with daily wagers. "A handful of buses to Bundu, Khunti and Simdega managed to get passengers in form of the labourers who usually go to these places from Ranchi. But buses to Jamshedpur, Chaibasa, Dhanbad and Hazaribagh could not run because of poor response," he said. At Sitaramdera bus terminus, operator Vijay Kumar, who wanted to ply his vehicles on the Ranchi-jamshedpur route, expressed his disappointment at the way things unfolded.
"In my bus there are 38 seats and I can take only 19 passengers. But despite waiting for over hours together only 10 passengers boarded the bus. This number of passengers will not even generate enough revenue for the fuel cost. I hope people start to travel by bus gradually," he said.
Bus owners have decided to double fares to make up for losses, accrued over the months of lockdown and in view of the 50 per cent occupancy directive. But Ranchi Bus Owners Association chief Singh ruled out any further reduction in fairs.
"How can we reduce fares? In the wake of Covid, we are now incurring more expenses in the form of procuring sanitisers, masks and other safety gear for staff and passengers. Let alone the hike in fuel prices," he said.