Officials, police conduct raid at Dhanbad jail
Small amounts of tobacco, cash, chess pieces, playing cards and other material were seized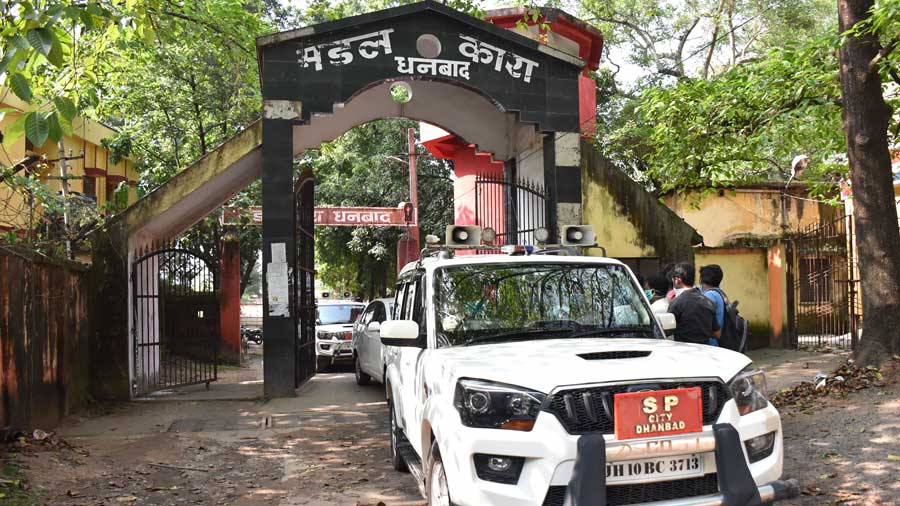 City superintendent of police R Ramkumar and other officials leave the Dhanbad jail after the raid
Shabbir Hussain
---
Dhanbad
|
Published 18.10.20, 11:53 PM
|
---
A high-level team of district officials and police on Sunday conducted a raid at Dhanbad divisional jail and seized tobacco, cash, chess pieces, playing cards and other material.
The team, led by city superintendent of police R. Ramkumar, comprised officials including ADM (law and order) Chandan Kumar and subdivisional officer Surendra Prasad and others. The raid was conducted after a tip-off regarding the presence of illegal arms in the jail. 
Ramkumar said: "The raid was part of our regular drive at various jails."
When asked about the articles seized from the jail, he said: "We have seized only small amounts of cash and tobacco from the jail and no other objectionable material was found."
The raid began around noon and concluded around 2.30pm during which all the 34 wards of the jail situated over 15 acres were thoroughly searched by six teams.
This is the second raid at the jail in the recent past. On August 27, a similar raid was conducted at the jail under the leadership of Ramkumar and SDO Raj Maheshwaram after the death of BJP leader Satish Singh, who was close to Dhanbad MLA Raj Sinha.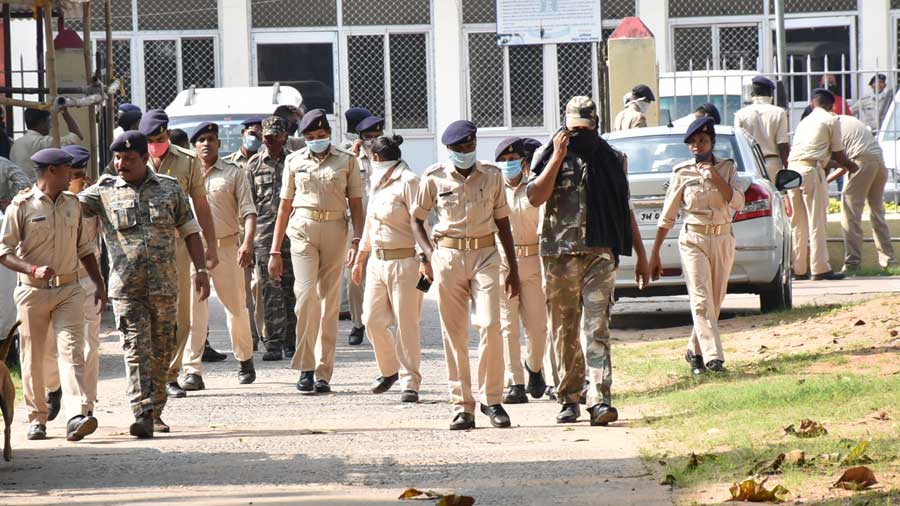 The five accused in the murder of deputy mayor Niraj Singh — Aman Singh (arrested on May 3, 2017, from Mirzapur), Quarban Ali alias Sonu and Sagar Singh alias Shibu or Vijay (arrested from Varanasi cantonment area and Pratapgarh police station area, respectively, on June 23), Satish Singh alias Chandan Singh (arrested from Varanasi on July 9) and Pankaj Singh (arrested on September 16, 2017) — are lodged in the jail. Former Jharia MLA Sanjeev Singh, who is believed to be the key conspirator in the case, is also lodged in the jail.
The special branch of Jharkhand police recently informed the prisons department about the possibility of shooters lodged in the jail and the possibility of their causing a major incident. Following this, inspector-general of prisons Birendra Bhushan instructed the authorities to shift all the five accused to different jails. The plan is to shift Aman Singh to Hotwar jail, Sagar Singh to Gaghidih jail in Jamshedpur, Qurban Ali to Medininagar jail in Palamau, Satish Singh to Dumka jail and Pankaj Singh to Hazaribagh central jail.
The five prisoners had petitioned seeking a stay on their shifting but additional district and sessions judge Alok Kumar Dubey on Friday dismissed their petition.