No water in Jharia, residents burn effigy of civic body
Protesters threaten to lay siege on JMADA office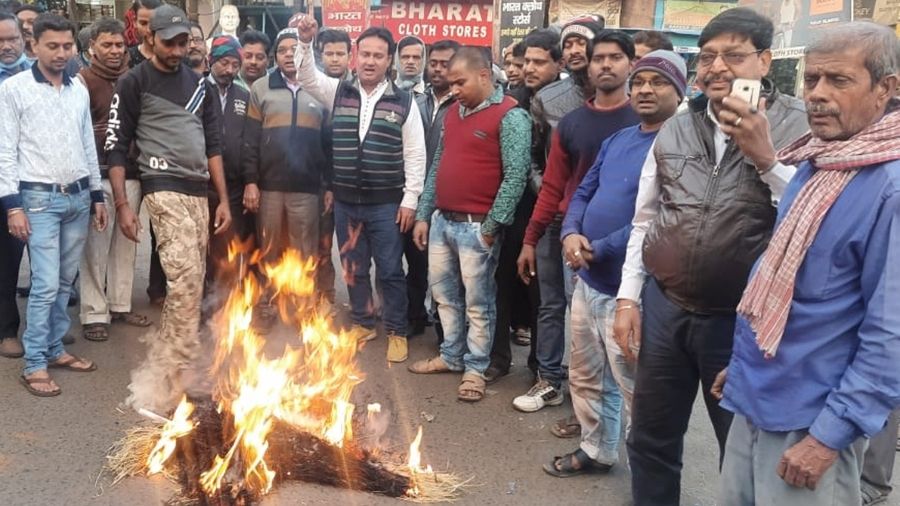 Residents burn an effigy of JMADA managing director Dilip Kumar, at the Bata More in Jharia, on Sunday
Picture by Gautam Dey
---
Dhanbad
|
Published 27.12.20, 05:44 PM
|
---
Over a hundred Jharia residents staged a protest against the prominent Bata More Chowk on Sunday afternoon against various water-related issues, including irregular and insufficient supply.
The protesters, representing over five lakh dissatisfied citizens of Jharia, burned an effigy of the Jharkhand Mineral Area Development Authority(JMADA), and served an ultimatum of four days to JMADA Managing Director, Dilip Kumar. They threatened to siege the civic body's office if their demands were met.
Residents of Jharia, for more than two years, have been facing water supply problems, owing to reasons like leakage in old, British-era pipelines, and malfunctioning of motors and pumps of Jamadoba based-water treatment plant.
Anup Sao, former councillor of the Ward Number 37 in Jharia, who led the protest, said, "The water supply in Jharia was best in the district and much better than the adjoining Dhanbad town. We used to get regular water supply twice in a day but things gradually started taking a downturn over the past five years. This happened due to the old water supply infrastructure of the JMADA developing issues due to lack of proper maintenance, and wear and tear effect."
He told The Telegraph Online that the supply further deteriorated in the last two years and despite requests, the JMADA did not take any steps to better the water supply infrastructure at Jamboda.
"The lack of regular maintenance is the main reason for the problem. The JMADA is spending huge amounts of money to lay new pipelines but not concentrating on improving the existing infrastructure," said Satyadeo Singh, a resident of the Hetli Bandh locality.
In a related development, Dhanbad MP P.N. Singh, taking cognisance of the problems, wrote a letter today to Dilip Kumar. He tried to draw his attention to the problems faced by residents of several localities, including Fatehpur Lane, Hanuman Gadhi, Niche Rajbari, Dumariyatand, and Hetli Bandh. He said water supply in these areas is being made once in two to three days.
Singh demanded immediate steps to fix the problem by carrying out a thorough probe regarding the reason for the issue.
Sub Divisional Officer of Water Supply Division, JMADA, Pankaj Kumar Jha said, "We are working to fix the problem. Four out of eight filter plants of the JMADA at Jamadoba have already been overhauled. The overhauling of two plants each will be completed Sunday and Monday after which the water supply is likely to improve"
He admitted the partial water supply to several of localities of Jharia and added that hyacinth lying on river bed also chokes the pump during the night leading to the disruption of water supply during the morning hours.
JMADA supplies more than 176 lakh liters of water from river Damodar through its Jamadoba based water treatment complex to Jharia and Katras. Out of this, around 105 lakh liters of water is supplied to Jharia and adjoining areas through a 12 million gallon per day capacity WTP while remaining around 71 lakh liters is supplied to Kendua, Putki, Moonidih and other areas of Katras.