No Ravan Dahan in steel city this time
Wary of crowds, local outfits to skip annual Dussehra event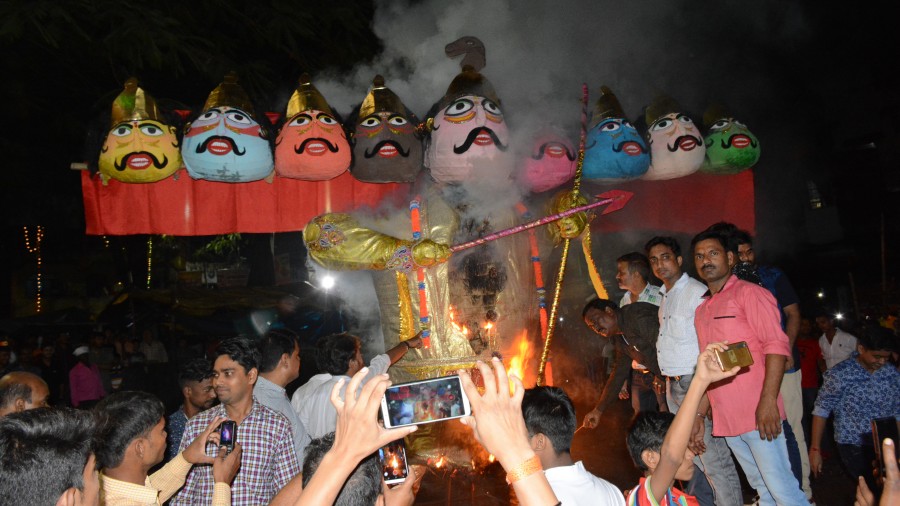 The demon king's effigy is up in flames during last year's Ravan Dahan on Dussehra at Ramleela Ground in Sakchi.
Bhola Prasad
---
Jamshedpur
|
Published 24.10.20, 06:50 PM
|
---
Giant effigies of demon king Ravan that are set ablaze in this traditional depiction of the victory of good over evil during Dussehra will be missing this year in the steel city.
All cultural outfits which used to organise Ravan Dahan on Dussehra _ this year, it's on Monday, October 26 _ have decided to give it a miss this year to avoid crowding amid the ongoing ovid-19 pandemic.
Ramleela Utsav Samity of Sakchi would have organised the event for the 98th year this time. "In 2022, we would be celebrating the centenary of the grand Ravan Dahan event. This is for the first time in 98 years that we have decided to skip the event because of the pandemic," said Munna Babu Gupta, the general secretary of the samity.
Last year, the samity had made 16-feet-high effigy Ravan which drew huge crowds at the Ramleela Ground in Sakchi.
Similarly, Veer Kunwar Singh Ravan Dahan Samity at Chotta Govindpur, near Telco, has also cancelled the event. "The event witnesses a huge turnout on Dussehra. If we organise it, we won't be able to control the crowd. Hence, we decided to do away with the event this year," said a member of the group.
Last year, the Veer Kunwar samity, which has been organising Ravan Dhan since 2007, had made a 40-feet-high and 10-feet-wide Ravan. Members claimed that last year, they spent over Rs 2 lakh on creating the effigy and the crackers that were bought from Odisha.
New Star Club Ravan Dahan Samity in Golmuri has also decided not to observe Ravan Dahan.
Last year, Ravan Dahan Samity in Bagunhatu had burnt a 32-feet effigy at the local ground in Sidhgora with elaborate fireworks. The event witnessed a huge gathering. But this year, the group has decided to skip the event.
"We do not want to risk people's life. Safety is first and foremost. By skipping the event we will help check the transmission of the coronavirus," said S. Kumar, a member of the Ravan Dahan Samity.