No move to track Jharkhand baby-killer quack
48 hours after tragedy, East Singbhum's health boss says he can't do anything without a complaint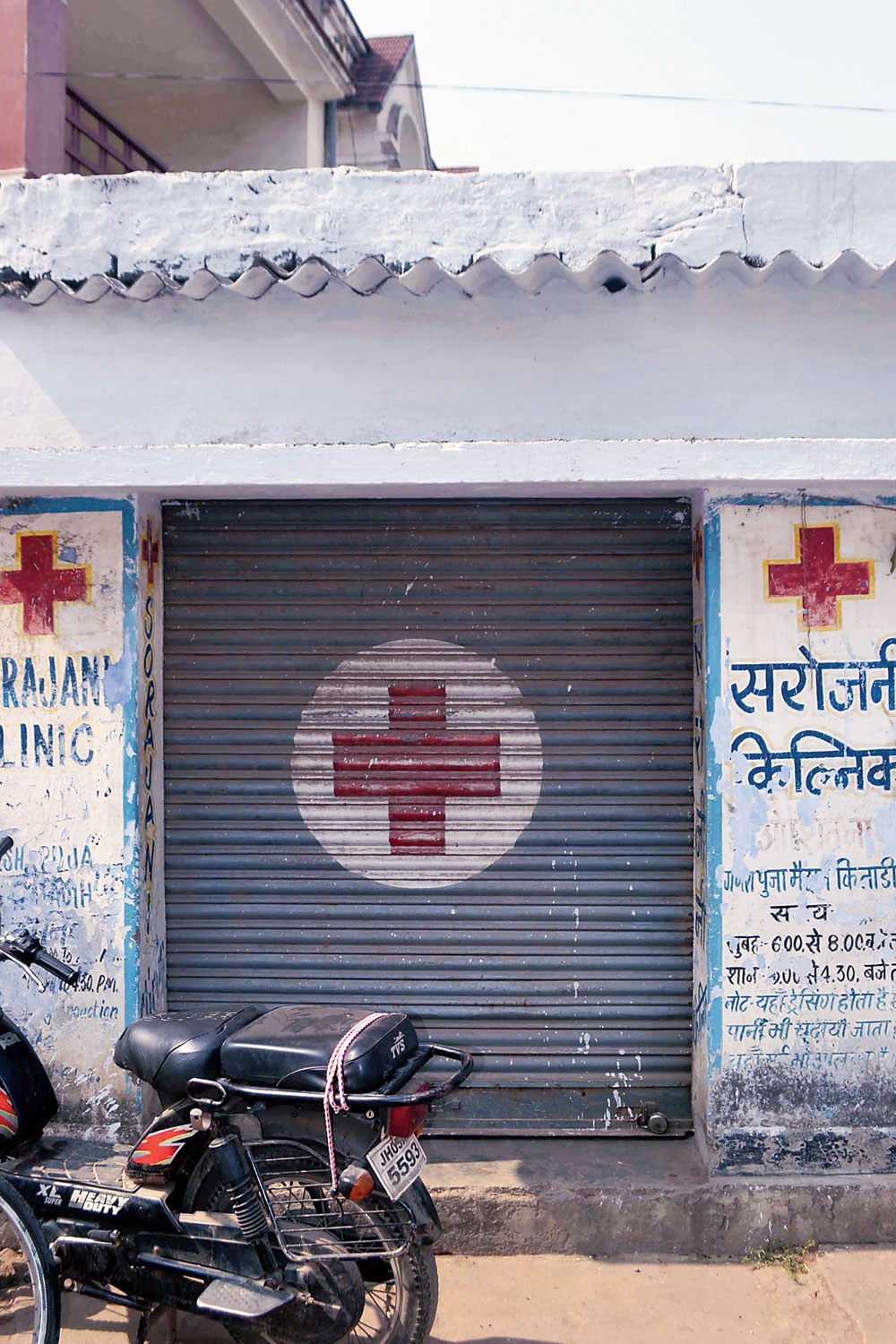 ---
---
The state health department is in no hurry to crack down on the quack who fled his clinic after an infant died of an injection he administered on him last week, with the East Singhbhum civil surgeon citing the usual litany of excuses to justify his inaction in the matter that came to light more than 48 hours ago.
Police located the clinic, Sarojini Medicals, at Kitadih on the outskirts of the steel city after the two month-old boy's father, Sunny Sharma (32), lodged an FIR with Parsudih thana on Saturday. But the clinic was locked with local residents revealing that that the alleged quack, Ashish Nayak, who had been running it for the last three years, had left along with his family.
East Singhbhum district civil surgeon Dr Maheswar Prasad said he was aware about the infant's death at the hands of the quack. But he was waiting for a formal complaint.
"We are aware about what has happened. But unless we get a complaint, how can we do something?" he told The Telegraph nonchalantly, adding that he was currently busy with the state health department's measles-rubella vaccination campaign.
Pressed further, Prasad came around to say, "Still, we will start an inquiry for necessary action against the quack at our own level."
The infant's father, Sharma, was at the police station on Monday to know if there had been any progress in investigations based on his FIR. He said he had to go to the clinic since there was no paediatrician at the Sadar Hospital at Khasmahal, 3km from their Carriage Colony residence at Burmamines.
"My wife and I had been to the sadar hospital at 3pm, but there was no paediatrician there. My son was running very high temperature and he was throwing up. One of the staffers advised us to go to the nearby Sarojini Medicals," he told this paper.
"On reaching there, the medical store owner (Ashish Nayak) checked my son and administered an injection. After we returned home, our son's condition deteriorated further. Without any delay we rushed to MGM Medical College & Hospital at Sakchi but doctors who were at the emergency declared him dead on arrival," Sharma, who works at a private transport company, said.
Civil surgeon Prasad, however, denied Sharma's contention that there was no paediatrician at the sadar hospital when they had gone there.
"Once I got to know about the incident and the parents' contention, I made enquiries. I found out that Dr Bhubaneshwar Shah, who is a child specialist, was on duty at the hospital on that day," the civil surgeon said.
Sub-inspector Dilip Kumar, who is also acting OC of Parsudih thana, said they had been to the clinic at Kitadih. "The accused, Ashish Nayak, fled the city with his family after locking his home and clinic on Saturday night. But, we are keeping tabs. We will nab as soon as he returns," Kumar said.
Local residents, especially those from poor families, admitted they visited the clinic often for minor ailments. But they were all shocked at what had happened with Sharma's son.
"Nayak would give us medicines whenever we had fever, headache or stomach ache. For serious ailments we go to the sadar hospital. But now that we have come to know he is not a qualified doctor, we will not go to his clinic any more," said local resident Sumitra Karmakar.
Shatrughan Prasad, a carpenter who lives at Gwala Basti, said he had been going their for the last two years. "The doctor who charges Rs 50 as fees also gave medicines," he said.